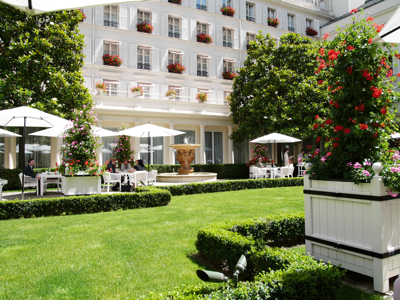 Date of lunch : june 2009
Résumé en français
Très sincèrement, un repas (encore un anniversaire de mariage) vraiment délicieux et très très agréable, dans un cadre bucolique enchanteur, entouré d'un personnel plus qu'aimable et professionnel mais je n'ai pas été impressionnée comme j'avais pu l'être aux Amabassadeurs ou, dans une moindre mesure, au Pré Catelan. Il manquait cette petite magie (ou folie?) qui m'avait fait dire "wouah" toutes les deux minutes chez Jean-François Piège et Frédéric Anton.
A three-star Chef
Eric Frechon, at the age of 45, has already spent 32 years in a professionel kitchen ! Originally from the Somme region, he arrived in Paris at the age of 20 and worked as a commis at "La Grande Cascade". Two years later, he entered the Bristol's kitchen at the same position. After his military duty, he spent two years in Spain, six years at le Crillon under the orders of Christian Constant, opened his own restaurant "Les Verrières" before being hired in 1999 by the Bristol as the main Chef. That same year, he obtained his first michelin star. The second was in 2001 and third in 2009. He is the only Chef to join the "three star club" this year. No wonder our President Nicolas Sarkozy is a regular in his restaurant !
The Food
For lunch on week days, you can choose between a business menu (95 euros) or "à la carte" selection. Given that a single appetizer à la carte can cost up to 85 euros, we chose the business menu without any hesitation.
In the business menu, one is given the choice between two starters, two main dishes (seafood/meat) and two desserts (or a cheese platter from the cart). We managed to taste everything as we chose different items from starter to dessert.
Before starting, one is served an assortment of different individual breads,we chose the roasted shallots bread for me and seaweed for hubby. Other breads were served during the meal : cereals, olives, traditional, all with Jean-Yves Bordier's salted butter (THE best dairy products supplier in France).
Keyword of this luch was "jelly". We had jelly eveywhere, from starter to dessert.
Several amuse bouches : on a cute little rectangular plate, we had to eat in a certain order a tuna lollypop, an oyster in a jelly and another amuse with foie gras. We also had a very modern version of the classic tomato/mozzarella salad : tomato dices surrounded by a basil jelly and topped with a mozzarella foam.
As a starter, my husband chose the "Asperges Blanches en fin velouté, mousseline de petits pois et menthe fraîche" (white asparagus in a chilled creamy soup, peas purée and fresh mint), a very refreshing dish. I had the "maquereau de petit bateau, cuit au vin blanc, aromates et baies de cassis, relevé au raifort" (mackerel cooked in white wine, herbs&spices, berries, with horseradish) a beautiful and flavorful starter.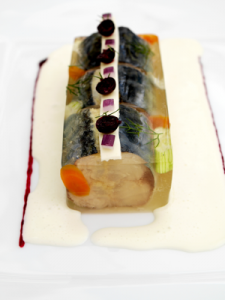 Main dishes : For A, "le meilleur du cabillaud, poudré d'aneth et de caviar de citron, ratte écrasée au beurre salé et pamplemousse" (The best of cod, with fresh dill, lemon caviar, smashed ratte potato and grapefruit). I had never heard of lemon caviar, it is a very rare lemon (see this picture) from Corsica which contains tiny balls the size and the texture of caviar balls. The taste is very lemoney of course but not too tart. This fish dish was perfectly cooked and very delicate.
For me, "pigeon de bresse rôti au crumble de pignons, pomme crousti-fondante au cumin, jus à la diable" (pigeon topped with a pine nuts crumble, cumin melty apples, and spiced juice). The presentation of the main dishes were not as modern as the starters, they were more traditional but perfectly cooked and, again, flavorful.
Before the desserts, we had a "sorbet citron vert, dés de pommes vertes et fraises des bois" (a lime sherbet, with granny tiny dices and wild strawberries). Refreshing. But disappointing compared to the amazing assortment of pre-desserts we have had at "Les Ambassadeurs".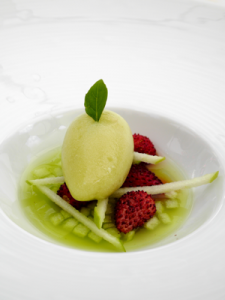 I was surprised we had to choose between cheese platter and desserts. Usually, in this kind of places, you have both !
Desserts were also on the classic side : for me, a cherry sherbet with chocolate cake, this time the presentation was quite architectural with two textures for the chocolate cake ; a fudgy one and a crunchy one. Good, very good, but not impressive. For my husband, an assortment of coffee-based desserts : a jelly, a foam, an ice-cream with a light mascarpone cream. As a coffee amateur, he was very pleased with his choice. No pictures of the desserts, sorry.
With coffee (not included, you can choose between Peruvian, Colombian and Ethiopian), we were served a selection of caramels, pomegranate guimauves (marshmallows), chocolates and nougats.
The wine
Of course we had Roederer champagne to celebrate our wedding anniversary. Beware of the rates, it costs about 30 euros per person.I stayed with water for the rest of the lunch.But the sommelier seemed to be very knowledgeable from what I have seen at the closest tables.
The customers and the decoration
Really very enjoyable. It was warm that day but as it rained a little in the morning, we could not seat in the garden. But the room was vast, it was a canopy glasshouse, and our table was just a step from the courtyard and as the door was wide open, we felt we were earting outdoor.
Classic Bacarrat chandeliers, exclusively designed Limoges porcelain dinnerware, Christofle silverware, fine linens, crystal glasses added to the experience.
The customers were French, mostly businessmen.
The Service
We had at least 3 people taking care of us, charming and professional.The only thing I did not like was their...jackets, in an awful beige color, not classy at all.
As a conclusion
A very nice meal in a great atmosphere. But if you really have to choose a restaurant for a very special occasion, I would recommend that you go to "Les Ambassadeurs" at Le Crillon Hotel.
Practical Information/Infos pratiques :
Le Bristol
Hôtel Le Bristol
112 rue du faubourg Saint Honoré
75008 Paris
Tél. : +33 1 53 43 43 40
website : http://www.hotel-bristol.com
Pictures : Copyright : Cuisiner en Ligne