I had already mentioned the "Refuge" restaurant last summer here. Each visit to this restaurant (and this was my 4th), confirms my first impression : the best quality for price ratio in Megève (French Alps) hands down ! When one eats there, one has the feeling that there is a passionate Chef behind his "piano" : the freshest produce, the nice presentation, the large portions (too large according to some people, but hey, you have the choice not to lick your plate !) and the amazing staff. As for Brasserie Puck, it is a true Megevan institution which offers an above average gourmet experience on a very large terrace. It used to belong to michelin starred Chef Emmanuel Renaut, but he sold it to focus his energy on his gastronomic restaurant located in a brand new high-end place that offers some rooms too. Renaut is still the owner of Brasserie Flocons Village but as he is no longer physically present, there was some problems with the service, the food and the clients the time I ate there. But don't misunderstand me, Renaut is an amazing Chef, I had the opportunity to take a cooking class with him, and I was mesmerized by his talent.
Je vous avais déjà parlé du "Refuge" l'été dernier (voir critique ici); chaque visite à ce restaurant haut-perché ne fait que confirmer mon opinion : pour moi le meilleur rapport qualité-prix de Megève, et haut la main s'il vous plait ! On sent qu'il y a un vrai Chef passionné aux commandes, la fraîcheur et la préparation des produits en attestent, ainsi que la recherche dans certains assortiments et dans la présentation. Le seul petit reproche que lui font certains est que les portions sont parfois trop copieuses, mais franchement reprocher à un Chef sa générosité est un peu idiot et puis l'on n'est pas obligés non plus de finir toutes ses assiettes. La Brasserie Puck, quant à elle, est une véritable institution Megevanne, qui a récemment changé de mains. Après le Chef étoilé Emmanuel Renaut, place à un anonyme mais qui propose tout de même une cuisine plus qu'honnête et abordable. J'ai également testé le "Flocons Village", la brasserie d'Emmanuel Renaut qui possède également un restaurant gastronomique mais j'ai été relativement déçue : on sent l'absence du maître des lieux dans un service un peu relâché, des plats vraiment trop simples et quelques ratés de cuisson. En plus, ce jour-là, nous avions l'impression de déjeuner dans une crèche, car il y avait un nombre invraisemblable de bambins certes très mignons, mais super bruyants qui hurlaient et couraient dans tous les sens. J'adore les enfants, mais là, c'était vraiment too much. Dommage car j'avais eu l'occasion de rencontrer Mr Renaut lors de son cours de cuisine très sympa, que je vous raconterai ultérieurement.
Le Refuge (montagnard)
Vegetable Salad with local ham, and Goat Cheese Pastry. Vegetables were numerous (carrots, asparagus, green beans, runner beans, brocolis, cauliflowers and so on) and perfectly cooked "al dente". Another starter was the Seared SalmonFillets served with a finely-diced Ratatouille and Arugula salad greens.
Salade de légumes, jambon de pays et croustillants de chèvre chaud. Les légumes coupés en fines lamelles étaient al dente, vraiment parfaits. Il y avait des carottes, haricots verts, mange-tout, brocolis, choux-fleurs, asperges, etc.
Autre choix d'entrée : un saumon mi-cuit sur une brunoise de légumes à la niçoise et roquette.
Sirloin Steak with baby potatoes, and aniseed carrot purée. The beef quality and cooking was perfect, and the carrot cream was incredibly smooth and tasty. Another main dish : a melting-in-the-mouth rabbit with prune, apricots, carrots and cilantro served with "gratin dauphinois" (potatoes au gratin).
Le faux-filet grillé avec pommes grenailles (servies à part) et crème de carottes anisée. Qualité et cuisson de la pièce de boeuf : impeccables, et la finesse de la purée était incroyable. Autre choix : lapin aux pruneaux, carottes, abricots et coriandre, tout était fondant à souhait et très très parfumé. Avec le lapin, un gratin dauphinois joliment présenté dans une cocotte Staub.
Strawberry millefeuilles with lemony cream was superb. the cream tasted like a light version of lemon curd and as always, the fruits were of excellent quality, very sweet. Coffee is served with home-made chocolate nougats, fruit jellies and biscuits. To sum up, this Chef serves quite a modern cuisine using traditional and local ingredients and top quality produce. Add to this the nicest staff of Megève and you will understand why I am hooked.
Le mille-feuilles aux fraises et crème citronnée : une tuerie : la crème avait le goût d'un lemon curd mais en plus allégé et les fraises ainsi que la pâte : irréprochables. Puis le café gourmand et ses pâtes de fruit, sablés et nougats chocolaté maison. En résumé, une cuisine assez traditionnelle mais avec une touche de modernité, de la recherche dans les saveurs, une technicité impeccable et surtout, car cela compte énormément, le service le plus sympatique de Megève. Bravo à toute l'équipe. Et j'oubliais : la vue imprenable sur la montagne.
Le Refuge
Hameau du Leutaz
74120 Megève
Tél : +33 4 50 21 23 04
website : http://www.refuge-megeve.com/
La Brasserie Puck
Mussels soup with pesto : very flavorful but a little bit oversalted.
La Soupe de moules au Pistou : très parfumée, quoiqu'un chouïa trop salée. Mais c'est bien agréable de déguster des fruits de mer en altitude.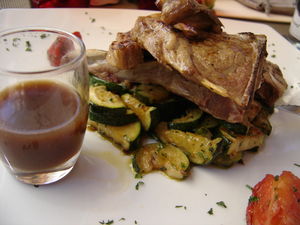 Racks of Lamb with provencal zucchinis. Large portions, perfect rare cooking for the lamb.
Les côtes d'agneau rôties et ses courgettes provençale. Portion très généreuse, cuisson rosée bien respectée.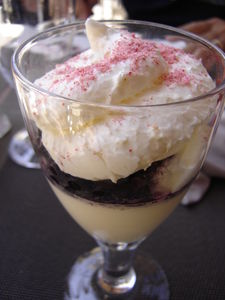 Blueberry Panna Cotta, with a good taste of vanilla and not too sweet. The whipped cream on top was to die for.Yummy !
La Panna Cotta aux Myrtilles, le fruit local. Bien sucrée et vanillée, pas fade du tout et surmontée d'une chantilly ex-cel-lente ! Miam !
La Brasserie Puck
192, rue Charles Feige (sur la patinoire, on the ice-skating rink)
74120 Megeve
Tél : +33 4 50 21 06 61