Tartare de Saumon aux Granny Smith et à l'Avocat
Salmon Tartare with Avocado and Granny Smith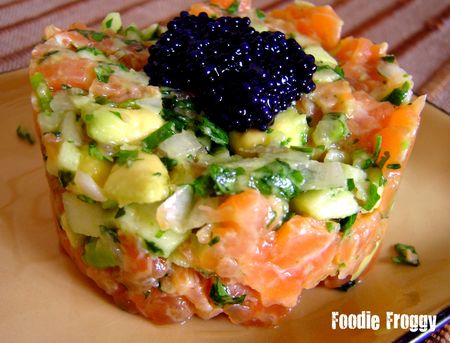 Last summer, I was in Alaska. Mind you, I was wearing fleece and a raincoat while you were parading on the beach in your tiny bikinis, lol ! But there, I had the priviledge to see tons of wild fish happily living their lives in the ice-cold rivers, swimming against the current. Sometimes I had the feeling that the river was made of salmons, not of water ! One has to know that wild salmon is not an endangered species in Alaska thanks to strict rules about fishing. So today let me introduce you to a "nostalgic" recipe : a little variation from Fred's recipe : I replaced smoked salmon by fresh salmon, and cucumber by avocadoes and granny apples. Why granny ? As salmon and avocadoes are very soft, I wanted something with a strong contrast in terms of taste and texture : granny was the answer with its crunchiness and tartness.Chives, cilantro and lime juice give a nice "asian" touch to this very fresh starter. As for black roe, it is optional but quite pleasant to the eyes.
Cet été en Alaska (oui, j'étais en polaire et coupe-vent pendant que vous paradiez en maillot rikiki sur les plages), j'ai eu le privilège de voir des kilos, que dis-je, des tonnes de saumon en liberté dévaler des rivières à contre-courant. Certaines fois, j'avais l'impression qu'il y avait plus de saumons que d'eau, c'était impressionnant !! Il faut savoir que le Saumon Sauvage d'Alaska n'est pas une espèce menacée car la pêche y est strictement réglementée. Alors, voici une petite recette "nostalgique" aujourd'hui, une petite variante de celle de Fred qui, lui, la compose avec du saumon fumé et du concombre. Je préfère le saumon frais et l'idée de la Granny m'est venue un peu par hasard, je voulais quelque chose qui contraste à la fois en goût et en texture : avec son côté acidulé et très croquant, mon ingrédient magique était tout trouvé. Les herbes fraîches et le citron vert parfument énormément ce Tartare et lui apportent une petite touche "asiatisante" très sympa. Fred mélange les œufs de lump à la préparation, mais pour moi, cela rend l'ensemble un peu trop "iodé", je préfère en mettre une petite lichette sur le dessus pour la déco, le noir rend l'ensemble assez classe.
Salmon Tartare with Avocado and Granny Smith
For 8 servings
800g (1.8 lbs) very good quality fresh salmon, in the tail, skinned, pin-boned, and cut into tiny dice
2 Granny Smith apples, peeled, core and seeds removed, cut into tiny dices
2 ripe avocados, peeled, bone removed, cut into tiny dices
1/2 bunch of chives, finely chopped
2 spring onions, finely chopped
1 bunch cilantro, finely chopped
The juice of two limes
Extra virgin Olive Oil, about 8 tbsp
Black Roe for the decoration
Sea Salt and freshly ground pepper
Mix salmon, apples, avocados, herbs and olive oil in a large mixing bowl. If you make the Tartare several hours ahead, add lime juice and season no more than half an hour before serving, so the salmon won't get "cooked".
Refrigerate until serving. use rings for the presentation or arrange in small glasses.Serve with toasted slices of good bread.
Tartare de Saumon aux Granny Smith et à l'avocat
Pour 8 personnes
800g de saumon frais, dans la queue, sans la peau, coupé en petits dés
2 pommes Granny Smith, pelées, cœur et pépins retirés, coupées en petits dés
2 avocats murs, pelés, noyau retiré, coupés en petits dés
1/2 botte de ciboulette, hachée finement
2 petits oignons, hachés finement
1 botte de coriandre fraîche, hachée finement
Le jus de deux citrons verts
De l'huile d'olive extra vierge (suffisamment pour que la mélange ne soit pas trop sec, soit environ 8 CS)
Des œufs de lump noirs pour la déco (facultatif)
Sel et poivre du moulin.
Mélangez le saumon, les pommes, les avocats, les herbes et l'huile d'olive.Si vous faites le Tartare à l'avance, ajoutez le jus de citron et l'assaisonnement poivre et sel une demi-heure avant de servir afin que l'acidité du jus ne cuise pas trop le saumon.
A réserver au frais jusqu'au service. Utilisez des cercles pour la présentation, ou disposez dans des verres à tapas. Servez avec des tranches de Poilane toastées.