Confiture de Coings simplissime
Easy Quince Jam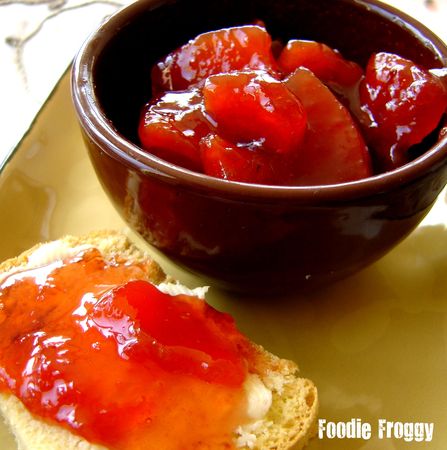 My very first jam...and an unexpected sucess : the taste and the texture were exactly like my grand-mother's and let me tell you that it was quite a challenge ! At the beginning, when I took a look at my sauce pan, I really thought that I was going to face a big failure : my quinces did not want to turn into a gorgeous red color ! What happened ? I just waited a bit longer and finally, a miracle ! They blushed, hehe ! One just has to be patient, it can take from 1 to 3 hours to get this result, depending on the size and quality of the fruit and also on the utensil used (my recommandation : heavy bottom sauce pan). Also the quince slices have to be very tender, easy to cut, even with a silicon spatula (a good test). I prefer my jam with whole slices and jelly but if you prefer when it is puréed, go ahead ! Do not discard core and skin, you can make quince jelly with them or even quince paste. Actually, the tougher part in this recipe is to peel and cut the quinces, they are so hard that you really need to have muscled arms. Some cooks blanch them ahead for a few minutes to make the cutting part easier. Quite a good tip, actually...
Première confiture...et réussite inattendue : le goût et la texture étaient comme celle de ma grand-mère, et ce n'est pas peu dire, lol ! Au début, j'étais persuadée que j'allais faire face à un ENORME ratage, car les coings tardaient à prendre la belle coloration rouge de la photo. Il faut simplement être patiente : une heure sur feu très doux puis 1h30 sur feu moyen. Cette durée varie évidemment selon la qualité des coings et de votre casserole (fond épais recommandé), donc surveillez, il faut que les coing aient une belle couleur rouge foncée et que les morceaux puissent se découper très facilement, même avec une spatule en silicone (test imparable !). Je préfère la texture avec des morceaux et la gelée autour, mais vous pouvez bien évidemment les mixer en purée. Ne jetez pas la peau et les cœurs, vous pourrez en faire de la gelée de coings. En fait, le plus pénible dans cette recette, c'est de peler et découper ces fruits, il faut de sacrés biscottos, c'est pourquoi certaines les blanchissent avant, cela facilite le travail.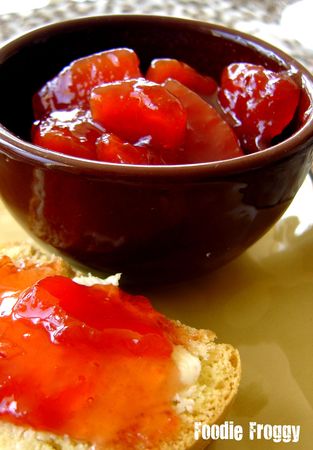 Quince Jam
For 2 jars
2 quinces (about 1.5 lbs )
The juice of one lemon
1 3/4 cup granulated sugar
5 little cloves
Peel the quinces, using a fruit&vegetable peeler. Quarter quinces, remove core and seeds then cut each quarter into thin slices. Beware when you cut quinces, they are really tough : use a large knife and a cutting board to quarter then a paring knife to remove core and seeds. Put all quince slices in a large mixing bowl and add lemon juice. Mix well, so the quinces don't get black. Put quinces in a large heavy bottom sauce pan, cover with water and add sugar and cloves. Let cook at very low heat during an hour, then medium heat for more than an hour or until quinces get dark red and are very very tender and water is sirupy.
remove from the heat and put in sterilized jars. As for me, I have just let the jam cool to room temperature, then arranged it in a tupperware. We enjoyed it so much that it was finished within two days !
Découper chaque quartier en fines lamelles, les mettre dans un grand saladier et les arroser de jus de citron au fur et à mesure afin qu'elles ne noircissent pas.
Confiture de coings
Pour 2 pots
2 coings (soit environ 700g )
le jus d'1 citron
350g de sucre en poudre
5 petits clous de girofle
Peler les coings avec un économe. Les couper en quatre avec un grand couteau (en faisant bien attention) sur une planche et retirer le coeur et les pépins avec un couteau d'office (là encore, attention). Découper chaque quartier en fines lamelles, les mettre dans un grand saladier et les arroser de jus de citron au fur et à mesure afin qu'elles ne noircissent pas.
Dans une casserole à fond épais, disposer les lamelles de coings et bien recouvrir d'eau. Ajouter le sucre et les clous de girofle et cuire tout d'abord une heure à feu très doux (température 1 sur 6 pour moi) puis à feu moyen (3 sur 6) pendant une heure et demie. Cela peut être plus rapide pour vous, il faut que les coings aient une couleur rouge foncée, que le liquide soit réduit et aie consistance de gelée et surtout que les fruits soient très très tendres.
Retirer du feu et metter dans des bocaux stérilisés. Personnellement, je laisse refroidir à température ambiante et je mets dans un tupperware, cette confiture se déguste tellement vite chez moi que je ne m'embarrasse pas de pots stérilisés.