Rillettes de Poulet à l'Estragon et aux Echalotes
Chicken Rillettes with Tarragon and Shallots
I have already evoked my little "concern" about roast chicken leftovers : the carcass is easy to use (home-made broth), but what about the little pieces of flesh stuck on it and the wings (no wings amateurs in my little family) ? I thought it was a challenge to find fun ways to recycle them, until I realized that I now had quite a good list of "reasonable-housewife -wannabe" recipes in my own foodblog ! Three of them are Thaï inspired : Chicken and Coconut Savory Loaf Cake, Bangkok-style Salad or Galanga and Coconut Cream Soup. Another one is more mediterranean (Cep mushroom Risotto) and today's recipe, chicken rillettes, is very, very local and quite traditional and "old-fashioned" too.With a crusty baguette or Poilane bread, pickles or preserved lemons and a good bottle of wine, you could not be more French !
For an ideal consistency, I have a little tip. I do not recommend to blend the rillettes : yes, the rillettes will be easily spreadable but all the flavors will be mixed into one and this is not something I like. Using a mortar and pestle to pound the chicken is the best way to go (IMHO) : you can easily identify the tastes, you can pleasantly feel some bites and the aspect is much "sexier" than the sort of paste you will obtain from a food processor.
J'avais déjà évoqué mon "souci" sur les restes de poulet rôti : autant la carcasse se reconvertit systématiquement dans un bouillon maison, autant les petits bouts de chair collés ainsi que les ailes sont parfois moins aisés à recycler.Enfin, c'est ce que je pensais il y a encore quelques mois mais, depuis, je constate que ma liste de recettes spéciales "fô pô gacher" s'est bien étoffée : on s'évade à trois reprises vers la Thaïlande avec le Cake Poulet et Lait de Coco, la Salade comme à Bangkok et la Soupe au Lait de coco et Galanga, puis on se rapproche du bassin méditerranéen avec le Risotto aux Cèpes, et enfin aujourd'hui on donne à fond dans l'apéro bien d'chez nous, traditionnel à souhait : les rillettes ! Avec du bon pain et des citrons confits (qui se marient étonnement bien avec l'estragon !), sans oublier une bonne bouteille : ambiance cozy "coin du feu" garantie !
Pour une consistance idéale, j'ai une petite astuce : personnellement j'évite de passer les rillettes au mixer car je n'apprécie pas du tout cet aspect "pâte à tartiner" où tous les goûts sont amalgamés, mais si on les laisse en l'état, elles ont tendance à se casser la gu figure sur une tartine de pain : bref, je les écrase tout simplement au mortier : les saveurs restent intactes, on sent les morceaux mais pas trop, l'aspect est beaucoup plus appétissant et surtout "ça se tient" sur la baguette !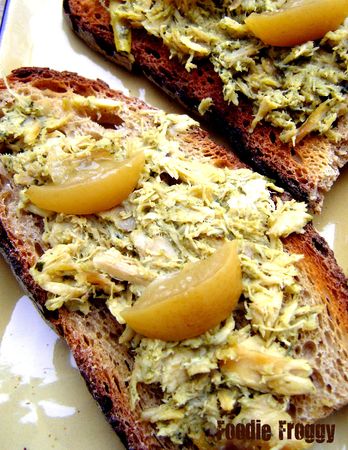 Easy Chicken Rillettes
For a little bowl of rillettes
200g (7oz) roast chicken flesh, skin removed, shredded
2 shallots, finely chopped
2 tbsp fresh tarragon, finely chopped
1 tbsp flat-leaf parsley, finely chopped
25g (2 tbsp) salted butter
3 à 4 ladlefuls chicken broth, home-made (see below)
For the home made chicken broth:
Home-made chicken broth :
Leftover chicken carcass
2 carrots
1 shallot
2 garlic cloves
Some fresh thyme
Some fresh bay leaves
salt
4 cups of water
The first step, after having devoured the roast chicken, is to pick the most meat you can from the chicken carcass. Usually, wings don't have lots of fans, so they remain intact and if you are as talented as I am to cut a roast chicken, you will have plenty of flesh stuck on the carcass too ! All in all, I managed to have about 200grams of flesh, enough for a small bowl of rillettes.
Second step is to make a home-made chicken broth : much easier than it sounds : arrange the "cleaned" carcass at the bottom of a large sauce pan, add coarsely chopped carrots, shallot and garlic cloves, then bay leave and thyme. Cover with water and bring to a boil. Reduce the heat and let simmer for an hour. Strain through a strainer. If the broth gets colder, skim the scum on top.Season.
Meanwhile, prepare ingredients for the rillettes : finely chop shallots, tarragon and parsley.
When chicken broth is ready to use, melt butter in a skillet over medium heat. Add shallots and when they are tender, stir in tarragon and parsley, then shredded chicken. Add 3 ladlefuls of chicken broth and let simmer over medium heat until iquid is evaporated. Add a fourth ladleful of broth and continue simmering until chiken is very moist and little liquid remains.Set aside and let cool to room temperature.Season to taste.
If you like a "paste" consistancy, process in a blender but if you prefer bites, just put in a mortar and pound with the pestle until it flattens (my recommandation).
To be served with pickles, freshly baked baguette and a good wine.
Rillettes de Poulet faciles
Pour un petit saladier de rillettes
200g de chair de poulet rôti, sans la peau
2 échalotes finement hachées
2 CS d'estragon frais finement haché
1 Cs de persil plat finement haché
25g de beurre demi-sel
3 à 4 louches de bouillon de poulet
Pour le bouillon :
1 carcasse de poulet
2 carottes
1 échalote
2 gousses d'ail
Du thym frais
Du laurier frais
sel
1 litre d'eau
La première étape, après avoir dégusté le poulet rôti, consiste à récupérer le maximum de chair. En général, les ailes comptent peu d'amateurs et restent souvent intactes, et si vous êtes aussi doué(e) que moi pour découper un poulet, il devrait y avoir pas mal de chair collée sur la carcasse.Au final, j'ai réussi à dépiauter un peu plus de 200g de poulet.
Puis, il faut préparer un bouillon : déposez la carcasse "nettoyée" au fond d'une casserole ajoutez les carottes, l'échalote et l'ail grossièrement coupés, puis le thym et le laurier. Recouvrez d'eau, amenez à ébullition et laissez frémir une bonne heure. Filtrez ensuite le bouillon et utilisez-le encore chaud. Si il a refroidi, écumez le gras à la surface.
Pendant ce temps, préparez les ingrédients des rillettes : hachez les échalotes, l'estragon et le persil.
Lorsque le bouillon est prêt et assaisonné, faites fondre le beurre dans une poêle sur feu moyen, ajoutez les échalotes et lorsque celles-ci sont tendres, ajoutez les herbes (estragon et persil). Mettez la chair de poulet, mélangez bien et versez 3 louches de bouillon. Laissez mijoter sur feu doux-moyen jusqu'à ce que le liquide se soit évaporé et rajoutez une dernière louche. Continuez à cuire jusqu'à ce que le poulet soit vraiment tendre (qu'il se "défasse" facilement) et qu'il ne reste que très peu de liquide. mettez de côté et laissez refroidir à température ambiante.Assaisonnez.
Selon la consistance souhaitée, soit vous les écrasez au mortier (ma préférence) soit vous les passez au mixer.
A servir avec du citron confit (délicieux) ou des cornichons, de la baguette et du bon vin.
My other recipes using roast chicken leftovers :
Mes autres recettes pour accomoder les restes de poulet rôti :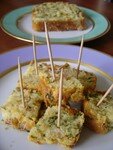 « A la Thaï » Chicken and Coconut Milk loaf/Cake Poulet et Lait de Coco « à la Thaï »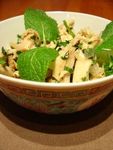 Thai Chicken Salad/Salade Thaï de Poulet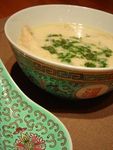 Coconut Milk and Galanga Chicken Soup/Soupe Galanga et Poulet au Lait de Coco
Cep Mushrooms and Chicken Risotto/Risotto aux Cèpes et Poulet