Blancs de Poulets farcis au Foie Gras et aux Cèpes
Foie gras and Porcini Stuffed Chicken Breasts
This recipe is a classier (and more expensive) version of one of my big classics. Or how to impress your guests without sweating in the kitchen. It is all in the way of incising the chicken breasts in order to create a large "pocket" for the stuffing and most importantly, in the way of "mummifying" them with puff pastry strips. After baking, the result is really gorgeous, so do not hesitate to show your beautifully golden brown "treasures" to your guests before slicing them. They will wow you and you will be in heaven for the rest of the evening !
Cette recette est une déclinaison plus chic d'un de mes grands classiques qui remporte tous les suffrages à chaque fois. Ou comment bluffer ses invités sans verser une goutte de transpiration dans sa cuisine. Tout tient à la façon d'inciser le blanc de poulet de façon à former une large poche à l'intérieur pour la farce, puis à littéralement le momifier avec des bandes de pâtes feuilletées. C'est vraiment super joli, et d'ailleurs ne vous privez pas de montrer votre oeuvre à vos invités avant découpage en tranches, vous entendrez des "oh" et des "ah" qui vous enchanteront pour le restant de la soirée !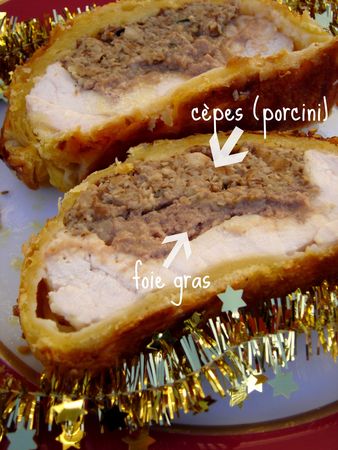 Foie gras and Porcini Stuffed Chicken Breasts
You need for 6 servings
3 skinless and boneless large chicken breasts
1 lb fresh ceps (porcini mushrooms), brushed clean
3.5 oz or 8 tbsp foie gras
1 onion
2 sliced cloves garlic, finely minced
A bunch of fresh flat-leaf parsley, finely chopped
2 sheets, good-quality fresh puff pastries
2 egg yolks
Extra Virgin Olive Oil
Sea salt and freshly ground pepper
Heat oven 400°F.
Finely chop the cep mushrooms and the onion. Heat a skillet with olive oil over medium-high heat. Add the ceps and the onion and, once most of the liquid evaporates, add 2 olive oil tablespoons and continue cooking.
Add garlic, salt and pepper at your convenience. Add finely chopped parsley and transfer to a food processor. You obtain a coarse purée.
Take one breast and make a long incision without touching the bottom, incise also on the sides to create "a pocket" . See pictures.
Stuff the inside with a third of the foie gras, then enough cep mixture to fill the breast completely and even form a little mount. Then close the breast with your hands.
Roll out the puff pastry. Place it on a work surface.Cut the puff pastry in large strips. Take one by one 3 strips and wrap them around the chicken breast as if you wanted to "mummify" it.
Beware, the puff pastry (and your hands!) has to be cold in order to manipulate it easily, so put it in the fridge and use them one by one, leaving the others in the fridge until they are used.
Glaze with egg yolk, so you will have a nice golden color after cooking.
Do the same with the 2 other breasts.
Place the 3 wrapped chickens on a baking sheet and bake in the oven 30-35 minutes.Remove from the oven. After showing your guests the cooked wrapped chickens (they are beautiful and your guests will be impressed !), cut them into slices,using a bread knife.
2 or 3 slices per person.Then spoon some mushroom sauce on top (obtained with the remaining mushroom mixture and some heavy (double) cream).
Serve with potato purée or baby spinach salad.
Blancs de Poulets farcis au Foie Gras et aux Cèpes
Pour 6 personnes
3 gros blancs de poulet, sans peau et sans os
500g de Cèpes frais, nettoyés
100g de foie gras mi-cuit
1 oignon
2 gousses d'ail pelées et émincées
1 bouquet de persil plat émincé
2 pâtes feuilletées toutes prêtes (230 à 250g chacune)
2 jaunes d'oeufs
Huile d'Olive extra Vierge
Sel marin et poivre du moulin
Chauffez le four à 200°C.
Emincez les oignons et les cèpes et faites-les revenir dans une poêle avec un peu d'huile d'olive, jusqu'à ce que toute l'eau soit rendue. Lorsqu'il n' y a plus d'eau dans la poêle, ajoutez l'ail et le persil (rajoutez un peu d'huile d'olive si nécessaire). Continuez un peu la cuisson, puis transférez tout cela dans le bol d'un mixer electrique.
Mixez jusqu'à obtention d'une purée grossière. Il faudra, au vu de la quantité, probablement procéder en 2 fois. Mettez cete purée dans un saladier.
Prenez une poitrine de poulet et incisez-la dans la longueur, sans la percer dans le fond. Une fois que votre lame est dans le poulet, incisez pour créer de la place sur le côté aussi.
Farcissez chaque poitrine avec un tiers du foie gras au fond, puis la purée de cépes par-dessus. Soyez généreux, n'hésitez pas à former un petit "mont" avec la farce.
Fermez la poitrine farcie avec vos mains.
Déroulez la première pâte feuilletée et coupez des bandes larges (environ 4-5 cm). Prenez 2 ou 3 bandes de pâte, une par une, dans votre main et enroulez-la autour d'une poitrine farcie. Comme si vous vouliez "momifier" le poulet. Renouvelez l'opération avec chaque poitrine. La pâte feuilletée doit être vraiment froide pour faciliter cette manoeuvre délicate.
Dorez les feuilletés avec du jaune d'oeuf battu et placez-les côte à côte sur une plaque à pâtisserie recouverte de papier cuisson. Enfournez pour 30 à 35 minutes. Sotez-les du four et coupez-les en tranches épaisses avec un couteau à pain. Servez 2 à 3 tranches par invité et de la sauce sur le côté (obtenue avec le reste de farce aux cèpes revenue à la poêle avec de la crème fraîche épaisse).