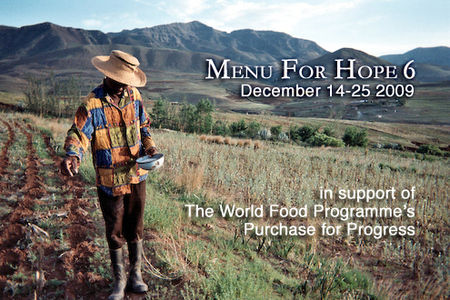 What is Menu for Hope?
Menu for Hope is an annual fundraising campaign hosted by Pim of Chez Pim and a revolving group of food bloggers around the world. Six years ago, the devastating tsunami in Southeast Asia inspired Chez Pim to find a way to help, and the very first Menu for Hope was born. The campaign has since become a yearly affair, raising funds to support worthy causes worldwide. In 2008, Menu for Hope raised $92K.Each December, food bloggers from all over the world join the campaign by offering a delectable array of food-related prizes for the Menu for Hope raffle.
This year, we wish to raise money for the United Nations World Programme's Purchase for Progress program, which assists low-income farmers to raise crops and support their local economies. Anyone – and that means you too - can buy raffle tickets to bid on these prizes. For every $10 donated, you earn one virtual raffle ticket to bid on a prize of your choice. At the end of the two-week campaign, the raffle tickets are drawn and the results announced on Chez Pim (january 18th).
What Does Foodie Froggy Have to Do with This?
I'm offering a prize! Read below.

Walking Tour of Paris Aligre Market (bid item code EU17)
You'll begin your day at the lively Marché d'Aligre in Paris with a croissant and expresso before discovering the fantastic colorful market. I will introduce you to the friendly stall keepers and bring you to wonderful gourmet shops around the market : a wonderful pâtisserie, a North African bakery, a wine cave, and shops specializing in chocolates, cheese, and Alsatian treats, where you will sample the tastiest items. Then we will head to rue Paul Bert, to check out its famous restaurants and gourmet bookstore. This street has been called "the most gastronomic street in Paris" by the Financial Times !
Tour is good for up to four people and is in English or French, available Tuesday through Friday, anytime except french school holidays (last two weeks of December, plus July and August).
Tour lasts from 9 am to 12 pm, and can be followed by lunch (not included, but I can make reservations for you). Expiration date: End of January 2011.
Bid item code: EU17

What Next?
To Bid
1. Browse the amazing array of delectable items offered by food and wine bloggers from all over the world. You can browse the bid items by region:
Europe (hosted by David Lebovitz)
Asia Pacific (hosted by Ed of Tomatom)
USA: East Coast (hosted by Helen of Tartelette)
USA: West Coast (hosted by Shauna of Gluten Free Girl)
Canada (hosted by Tara of Seven Spoons)
or if you're a wine geek you might want to head directly to see Alder at Vinography for the wine related bid items.
2. Fill the brand new donation form (much easier than the former one).
3. Follow the steps described in the new donation form

And please pass this post along to friends and others via links on your blog and via social networks, such as Twitter and Facebook.
I really count on you and your generosity !!Don't forget, my code is EU17 !!
Remember that last day to bid is december 25th !!Good luck on the raffle !!
Cheers,

Anne
All pictures of Aligre Market : copyright Foodie Froggy