Tiramisu au Nutella
Nutella Tiramisu
Good resolutions, what good resolutions ? While plenty of foodblogs are now proposing detox recipes, I am just doing the exact opposite with this totally decadent dessert ! Mascarpone cheese and Nutella, what can be richer ? And yes, just like you, I had my dose of foie gras, smoked salmon, roast poultry, bûches and so on, but I always have an itsy bitsy room for dessert ! I got the idea from a restaurant where we had dinner last week : my hubby chose it on the menu and when he tasted it, he looked at me and I immediateley understood what he had in mind : "please, honey, could you try to re-create it at home?". Aahh, men...Since last week, I have already done it twice ! Everybody raved about it and specially all male friends of ours : Have I accidentally found The Love Potion of 2010 ? wink ! wink !
Bonnes résolutions ? Quelles bonnes résolutions ? Alors que les recettes detox fleurissent sur la plupart des blogs culinaires, et ben, moi, comme d'hab, je vais à contre-courant ! Oui, oui, comme vous, j'ai eu mon compte de foie gras, saumon fumé, chapons, marrons, buches et tout le toutim, mais malgré tout, il me reste une ch'tite, toute ch'tite place pour ce tiramisu complètement décadent et méga calorique ! Nutella et mascarpone, qui dit mieux ? J'ai emprunté l'idée à un restau où nous sommes allés dîner après le spectacle de Patrick Timsit (génial, et pourtant je ne suis pas fan du personnage); mon mari avait commandé un tiramisu au nutella et m'avait ensuite regardé d'un oeil humide et suppliant. Ok, j'avais compris le message : "my honey, tu peux nous le refaire à la maison, steuplait ?". J'ai trouvé la recette parfaite chez Pure Gourmandise, et depuis je les ai faits pour le repas de Noël et en version minis pour le Nouvel An chez des amis. A en juger par les regards concupiscents de nos amis masculins, je me suis même demandée si, par hasard, je n'avais pas fabriqué Le Filtre d'Amour version 2010 ?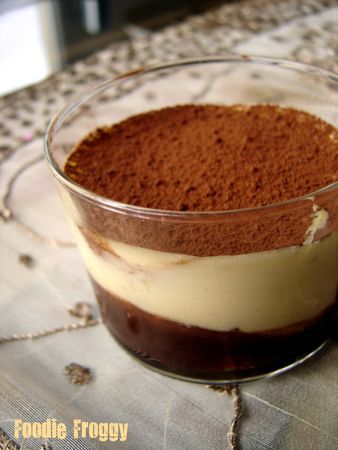 Nutella Tiramisu
To be made a day ahead
For 8 servings
1 cup unsalted Mascarpone cheese, chilled
3 eggs
1/2 cup granulated sugar
2/3 cup Nutella spread
4 tbsp heavy cream
1/2 cup milk
12 ladyfingers
Unsweetened cocoa powder
Hazelnut meal
Separate whites and yolks. Put the yolks in a large mixing bowl, and using an electric mixer, mix with the sugar until pale yellow. Stir in mascarpone.
Meanwhile, heat nutella and cream in a sauce pan over low heat, until nutella is melted. Whisk until the mixture is smooth. Remove from the heat.
Whip the whites (with a pinch of salt) until stiff and carefully fold to the mascarpone mixture.
Pour the milk in a bowl and heat in the microwave for 30 to 45 seconds. Add 1 or 2 tbsp cocoa powder and mix.
In each glass, do as follow : first, soak one ladyfinger and a half in warm cocoa milk and arrange it at the bottom of the glass. Generously cover with nutella sauce. Cover with mascarpone mixture to the 3/4 of the glass. Smooth the top.
Refrigerate overnight.
At the last minute, mix 2 tsp coca power and 2 tsp hazelnut meal and dust each glass with this mixture.
Tiramisu au Nutella
Recette (légèrement) modifiée de Pure Gourmandise
A faire la veille
Pour 8 verrines format "tapas"
250g Mascarpone
3 Oeufs
100g Sucre en poudre
150g Nutella
60g Crème épaisse
10 cl Lait
12 Biscuits à la cuiller
Cacao amer en poudre
Poudre de noisettes
Séparer les blancs des jaunes. Mettez les jaunes dans un saladier et battez avec le sucre jusqu'à ce que le mélange soit jaune pâle. Ajoutez le mascarpone et mélangez.
Pendant ce temps, mettez la nutella et la crème à chauffer dans une casserole sur feu doux, jusqu'à ce que le nutella soit fondu et et fouettez pour obtenir un mélange lisse.
Montez les blancs en neige ferme avec une pincée de sel. Ajoutez-les délicatement au mélange jaunes/mascarpone, en soulevant.
Mettez le lait dans un bol et faites chauffer 30 à 45 secondes au micro-ondes. Ajoutez une à deux cuillères de cacao en poudre et mélangez.
Dans chaque verrine, procédez comme suit : trempez un bicuit et demi dans le lait chaud cacaoté et disposez-les au fond de la verrine. Recouvrez généreusement de la sauce au Nutella.
Recouvrez de la crème au mascarpone jusqu'au 3/4 de la verrine.Tapotez légèrement afin de lisser le dessus.
Mettre au frais toute la nuit.
Au dernier moment, mélangez 3 cc de cacao avec 3 cc de poudre de noisettes et saupoudrez le dessus des verrines de ce mélange.