Artichauts et Courgettes en Crumble de Parmesan et Noisettes
Artichoke and Zucchini with Parmesan and Hazelnut Crumble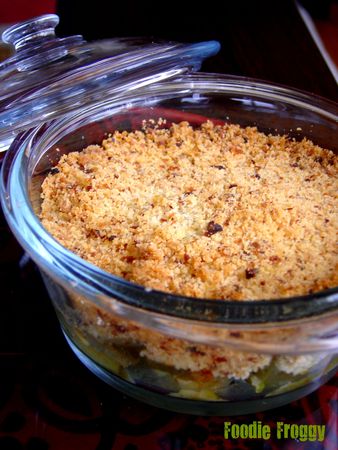 When I have guests, it is quite easy for me to decide on a menu : I try to fit my guests tastes (when I know them), their possible restrictions (vegetarians, kosher, food allergies,...), or simply my feelings of the moment. Well, I should be more precise : Choosing a starter, a main and a dessert is an easy task, but, as for the sides, I often find myself without a clue : a purée ? not classy. A gratin ? Too rustic. A wok ? Why not, if the menu is asian-inspired. What saved my life (!) is that I had just received four mini glass pots (a gift from Pyrex). I wanted a side with different layers that could be seen through the glass sides : sauteed vegetables topped with a crunchy powder, in other words, a "crumble". Nice, isn't it ?
Lorsque je reçois, je ne mets pas très longtemps à trouver un menu ad-hoc qui corresponde à la fois aux goûts de mes invités, à leurs restrictions éventuelles (allergies,végétariens, cachers,...), parfois à une thématique ou à mon envie du moment. Mouais, enfin, ceci est valable pour l'entré, le plat et le dessert. Mais pour le légume d'accompagnement, je l'avoue, c'est là que les choses se corsent ! Je ne sais jamais quoi faire : une purée ? pas très classe. Un gratin ? trop rustique. Un wok ? Pourquoi pas, si le menu est exotique. Cette fois-ci, je venais de recevoir des mini-cocottes en verre Pyrex, gracieusement offertes, et l'envie de les inaugurer me démangeait furieusement...Pour profiter de la transparence des moules, l'idée de "couches" s'est imposée, puis celle d'un crumble. Sympatique, non ? Et je vous garantis, que côté effet "wow", 100% de réussite !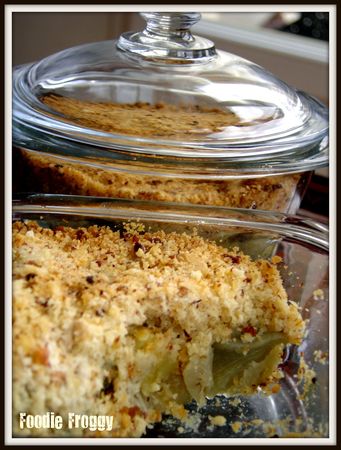 Artichoke and Zucchini with Parmesan and Hazelnut Crumble
For 4 servings
1 large onion, peeled and minced
1 large zucchini, peeled and thinly diced
2 large artichoke bottoms, peeled and thinly diced (same size as zucchini)
1 pinch of espelette pepper
Extra virgin olive oil
Salt and pepper
Crumble :
3 1/2 oz (1/2 cup) all-purpose flour
3 1/2 oz (1/2 cup) hazelnut meal
1 3/4 oz (1/4 cup) freshly grated Parmesan
3 oz (3/4 stick) salted butter, at room temperature
Preheat oven 350°F.
In a skillet, heat olive oil and cook the onion until translucent (not golden). Add zucchini and artichoke dices and sauté until cooked through.Season to taste.
Divide among 4 individual "au gratin" dish molds (or a large one), arranged on a baking sheet lined with parchment paper.
In a large bowl, use your fingertips to mix flour, hazelnut meal, grated parmesan, espelette pepper and butter, until the mixture resembles coarse breadcrumbs.
Cover the vegetables with this crumble.Bake for about 20 minutes, or until the crumble is golden brown.
Carefully transfer each mold to a plate and serve at once with the main dish of your choice (for me , it was salmon fillet).
Artichauts et Courgettes en Crumble de Parmesan et Noisettes
Pour 4 personnes
1 gros oignon, pelé et émincé
1 grosse courgette, pelée et coupée en petits dés
2 gros fonds d'artichaut, coupés en petits dés de la même taille que la courgette
Huile d'olive extra vierge
Sel et Poivre
Crumble :
100g de farine ordinaire
100g de poudre de noisettes
50g de parmesan fraîchement râpé
80g de beurre salé à température ambiante
Une pincée de piment d'espelette
Préchauffer le four à 180°C.
Faire revenir les oignons dans un peu d'huile d'olive, dans une sauteuse, jusqu'à ce qu'ils soient transparents mais pas colorés. Ajouter les dés de courgettes et d'artichauts. Faire sauter jusqu'à ce que tous les légumes soient cuits. Goûtez et assaisonnez.
Répartissez les légumes dans 4 plats à gratin individuels ou un grand moule à gratin, disposés sur une plaque à pâtisserie recouverte de papier cuisson.
Dans un autre saladier, mélangez du bout des doigts la farine, la poudre de noisettes, le parmesan, le piment d'espelette et le beurre. Continuez jusqu'à ce que le mélange ressemble à un sable grossier. Au besoin, rajoutez du beurre si le mélange est trop sec ou de la farine si il est trop humide.Répartir le crumble sur les légumes dans le ou les moule(s).
Faire cuire au four environ 20 minutes (jusqu'à ce que le crumble soit bien doré). Si vous utilisez les moules individuels Pyrex, faites cuire sans le couvercle, puis recouvrez après afin de maintenir le crumble au chaud.
Servir bien chaud avec le poisson ou la viande de votre choix (pour moi, filets de saumon).