Tajine d'Agneau aux Poires
Moroccan Lamb Tagine with Pears
Really, I swear the photos don't do justice to this dish. I can even say that if I had seen these pictures on someone else's foodblog, I would have thought : " my god, this lamb looks fatty !". Actually, what looks like fat is the thick pear sauce on top of the meat. I really was craving for comfort food : we have had an awful weather here; it has snowed three times in two weeks, which is very rare in Paris. Even though I do not have any moroccan origin, I love to cook tagines (often with chicken) : it is easy, fast and I love to mix sweet and savory flavors. I always slow-cook the meat on the stove rather than in the oven so I can regularly check the tenderness of the meat (me, a control freak?).
I have had the opportunity to travel twice to Morocco and I have always been impressed by their gastronomy and by the way they wisely use spices like cinnamon, saffron, ginger and many others.As for me, I love cinnamon in savory dishes but I cannot stand it in desserts ! How odd is that ? What about you ? Do you also have a special relationship with spices ?
Bon, alors là, les photos ne rendent pô, mais pô du tout justice au plat ! C'est bien simple, si je les avais vues sur un autre blog, je me serais dit "beurk, mais ça a l'air gras, ce truc". En fait, c'est la sauce aux poires qui donne cette impression, les fruits se sont un peu défaits à la cuisson, mais la viande n'était pas grasse du tout. Elle était fondante, et ma crainte sur le goût parfois fort de l'agneau s'est révélée totalement infondée. Miam, avec le froid sibérien ambiant, j'avais envie de ce plat depuis longtemps et je n'ai pas été déçue. Bien que n'étant pas d'origine marocaine, j'adore cuisiner les tagines : c'est simple, c'est rapide, c'est réconfortant et puis comme j'adore le sucré-salé, là, je suis aux anges. Je procède toujours de la même façon : je fais confire la viande dans la cocotte sur le feu, ainsi je maîtrise mieux sa tendreté puisque je peux goûter régulièrement, ce qui est plus compliqué quand le plat est au four.
Lors de mes deux séjours à Marrakech, j'ai vraiment eu l'occasion de me rendre compte que la cuisine marocaine était l'une des meilleures au monde, j'ai vraiment été émerveillée par leur usage toujours approprié des épices comme la cannelle, le safran, le gingembre, la coriandre...Ce qui est très étrange, c'est que je ne supporte pas la cannelle dans les desserts, mais dans les plats salés comme le tajine, ça passe tout seul. Et vous, quelle relation entretenez-vous avec les épices ?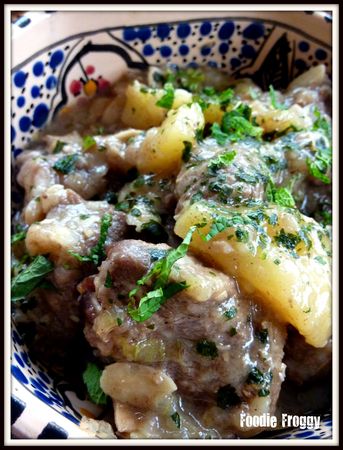 Moroccan Lamb Tagine with Pears
For 6 servings
2 lbs boneless lamb shoulder, cut into large cubes
3 ripe pears (Bosc or Anjou), peeled, cored and quartered
2 large onions, peeled and sliced
2 garlic cloves, chopped
1 tbsp freshly grated ginger
1 cinnamon stick
1 tsp ground cinnamon
2 pinches "ras-al-hanout" (North African blend of herbs and spices)
1 pinch saffron threads
1/2 bunch of fresh cilantro, cleaned and chopped
1 tbsp unsalted butter
2 tbsp brown sugar
2 tbsp liquid honey (optional, specially if you don't want the tagine to be too sweet)
Extra virgin olive oil
2 tbsp roasted sliced almonds
Combine the onions, garlic, and two tablespoons olive oil in a pot, and cook over medium heat until softened, stirring regularly.
Add lamb cubes and brown on all sides.
Stir in spices : ginger, cinnamon, ras-el-hanout and saffron. Let cook 10 more minutes, cover with water and add half the cilantro and butter.
Let cook, covered, for an hour to an hour and a half (until meat is very tender) over medium-low heat, stirring from time to time. Season to taste. Remove cinnamon stick and lamb cubes.
In the pot, add brown sugar and let reduce until almost syrupy. Add pears and cook for 15 more minutes.
Preheat oven 425°F.
Arrange lamb in a tagine dish, cover with the pears, onions and sauce, honey (optional) and bake for 15 minutes, until warm.
Sprinkle the remaining cilantro and the sliced almonds over the dish and serve with couscous.
Tajine d'Agneau aux Poires
Pour 6 personnes
1 kilo d'épaule d'agneau, sans l'os, dégraissé et coupés en gros dés
3 poires mûres (conférence ou williams), coeur retiré, pelées et coupées en "quartiers"
2 gros oignons, pelés et émincés
2 gousses d'ail hachées
1 CS de gingembre frais râpé
1 bâton de cannelle
1 cc de cannelle en poudre
2 pincées de ras-al-hanout
1 dosette de safran en poudre
1/2 bouquet de coriandre fraîche, haché
1 CS de beurre doux
2 CS de sucre cassonade
2 CS de miel (facultatif, si vous ne voulez pas que ce soit trop sucré)
Huile d'olive extra-vierge
2 Cs d'amandes effilées torréfiées
Faites revenir les oignons et l'ail dans une cocotte sur feu doux avec de l'huile d'olive.
Ajoutez, quand les oignons sont bien "tombés", les morceaux d'agneau. Passez sur feu moyen, et faites colorer la viande sur toutes ses faces.
Mettez les épices : gingembre, cannelle, ras-el-hanout et safran. Laissez cuire environ 10 minutes, recouvrir d'eau et ajouter la moitié de la coriandre ainsi que le beurre.
Faites cuire à couvert pendant une heure à une heure et demie (ou jusqu'à ce que la viande soit très tendre) sur feu moyen-doux, en remuant de temps en temps. Goûtez et assaisonnez. Retirez le baton de cannelle et l'agneau.
Dans la cocotte, ajoutez la cassonade, et faites réduire le jus jusqu'à consistance sirupeuse, presque caramélisée. Ajoutez les poires et continuez la cuisson pendant 15 minutes.
Préchauffez le four sur thermostat 210°C.
Disposez l'agneau confit dans un plat à tajine, recouvrez des poires, oignons et sauce, ajoutez le miel (facultatif) et faites cuire au four 15 minutes pour que l'ensemble soit servi bien chaud.
Pour servir, disposez le plat à table et parsemez du reste de coriandre hachée et des amandes effilées torréfiées. Servez avec de la semoule.