Extra Coulants "Mogador" au Chocolat au Lait, cœur de Passion
"Mogador" Very Molten Milk Chocolate Cakes, Passionfruit "heart"
For those of you who don't know Pierre Hermé (have you been actually living on planet earth these last ten years , lol ?), he is one of our greatest Pastry Chefs. He simply is a Master. Pierre, will you marry me ? Oops, sorry, I disgress. He is known for his creative flavor pairings, which are so institutional now that they actually have names : "Ispahan" is for raspberry-rose-litchi, "Satine" for passion fruit-orange and, last but not least, "Mogador" for passion fruit (again !) and milk chocolate. At his boutiques, you can find these taste combinations available in all sorts of pastries : from macarons to loaf cakes, tarts, choux and so on...Back to our recipe : the sweetness of milk chocolate with the tartness of passion fruit : sounds interesting, mmmh ? Well, actually, whether you love it or hate it ! At home, my husband and my grown-up daughter simply snubbed my molten cakes while my little one and I almost had an argument to finish the leftovers !! If you don't want to take any risk, simply melt a tablespoon of milk chocolate in the micro-wave, top it with the flesh of a passion fruit and taste them all together ! Wait a few seconds and see what happens : if you smile, then, you can make today's recipe !
Pour ceux qui ne le connaissent pas (vous vivez sur quelle planète, au juste, lol ?), Pierre Hermé est l'un de nos plus grands pâtissiers. Il est réputé, entre autres, pour certaines de ses associations gustatives qui sont devenues de véritables marques déposées : "Ispahan" (framboises-rose-litchis), "Satine" (Orange-Passion), "Mogador" (Chocolat au lait -Passion) et plein d'autres. Pour cette dernière, l'alliance de la douceur extrême du chocolat au lait avec l'acidité de la passion peut surprendre, mais c'est justement ce qui la rend intéressante. On ne peut y être indifférent : soit on adore, soit on déteste ! C'est bien simple, chez moi, c'est fifty-fifty : mon époux et ma fille aînée ont "snobé" mes fondants tandis que ma p'tite dernière et moi-même nous sommes presque battues pour finir les restes ! Si vous ne voulez pas prendre de risque, commencez par gouter l'un de ses macarons "Mogador" et vous saurez tout de suite si vous aimez ou non. Ou plus simple encore, faites fondre au micro-onde un peu de chocolat au lait dans une petite tasse, puis ajoutez la chair d'un fruit de la passion, goûtez ensemble : si vous souriez, bienvenue dans le monde des Mogador-addicts !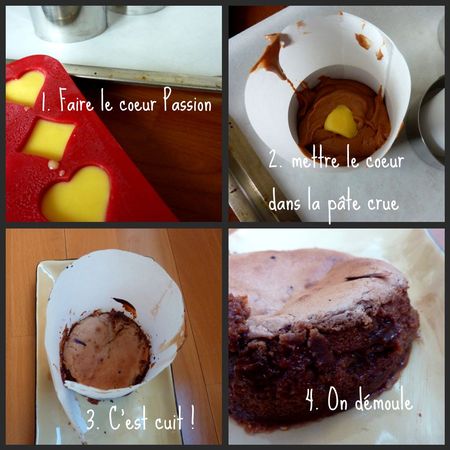 Individual Molten Milk Chocolate Cakes, Passionfruit ganache
You need for 6 servings :
7 oz milk chocolate
4 large eggs
1/2 cup granulated sugar
1/3 cup all purpose flour
2/3 stick (2.6 oz) unsalted butter
Passionfruit "ganache" (to be made a day-ahead) :
1/2 cup passionfruit puree
1 tbsp honey
3.5 oz white chocolate
You need silicon molds (6 muffins) or 6 individual cooking rings (buttered and floured)
One day ahead, make the Passionfruit ganache : blend passionfruit puree and honey. On a double boiler, melt white chocolate, then stir in passionfruit puree. Pour this mixture into small chocolate molds. Let cool to room temperature then freeze overnight.
For the cakes : melt milk chocolate and butter on half power in a microwave oven during 2 or 3 minutes (gently mix every minute).In a medium bowl, whip the eggs and sugar with a hand mixer, until they are pale yellow. Then add flour. Mix again and add melted chocolate with a rubber spatula.
Arrange the mold or ramequins or cooking rings with parchment paper on a baking sheet . Pour half the batter into each mold, then arrange 1 passionfruit ganache in the center. Add the remaining half of the batter (to the 3/4). Let cool and refrigerate one hour.
30 minutes before serving, pre-heat oven 200°C(400°F). When oven is warm, bake the molds for about 11 minutes. Add 2 minutes if you don't want them to be too molten. Remove from the oven, unmold very carefully on a clean baking sheet and transfer on each plate, using a flat spatula. Serve at once.
Petits Coulants au Chocolat au Lait, Ganache Passion
Pour 6 personnes :
200g chocolat au lait à pâtisser
4 gros œufs entiers
100g sucre en poudre
70g de farine ordinaire
75g de beurre doux
Ganache aux Fruits de la Passion :
100g de purée de fruits de la Passion (ou la chair de 8 fruits de la Passion, pépins retirés à travers une passoire)
1 CS de miel
100g de chocolat blanc à pâtisser
La veille, préparez les mini-ganaches à la Passion : mixez la purée de passion avec le miel. Faites chauffer le chocolat blanc au bain-marie sur une eau tiède, et une fois fondu, ajoutez la purée de passion.Retirez du bain-marie et mélangez bien. Versez dans des alvéoles de moules à chocolat et congelez pour la nuit.
Pour les mini-coulants : fondre le chocolat au lait en morceaux et le beurre au micro-onde ou au bain-marie selon vos préférences. Au Micro-ondes, j'utilise la puissance moyenne (500W) et je fais fondre une minute et je mélange, puis une autre minute et je re-mélange.
Dans un saladier, battez les oeufs et le sucre jusqu'à une couleur jaune pâle. Ajoutez alors la farine. Battez encore. Puis enfin, ajoutez le chocolat-beurre fondus, et mélangez avec une spatule.
Disposez le moule à muffins ou les ramequins ou les cercles individuels sur une plaque à pâtisserie. Remplissez chaque alvéole (ou ramequin ou cercle) jusqu'à la moitié. Marquez une pause et disposez la ganache passion démoulée au centre, puis continuez à ajouter la pâte jusqu'au 3/4 de l'alvéole (ramequin). Réservez au frais une heure.
30 minutes avant de les servir, préchauffez votre four à 200°C. Lorsque le four est chaud, faites cuire les coulants 11 minutes. Ajoutez 2 minutes si vous ne les voulez pas trop coulants. Sortez-les du four, démoulez-les délicatement sur une plaque propre et transférez-les à l'aide d'une spatule plate dans chaque assiette. Servez de suite.