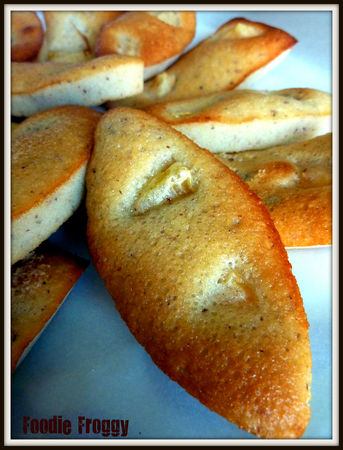 One of the rare things I like in winter are citrus fruits. Isn't it funny that those round-shape, golden colored fruits looking like...the sun are at their peak in the middle of the freezing cold season ? Moreover, they do bring one very good thing along with their deliciously tart flavor : vitamin C ! Great to improve our general shape, and great for our skin and stomach, too. Aaah, I love them so much that I had the idea to make citrus fruits financiers, with slices of tangerines inside, like a little juicy surprise inside a cozy little gift.
L'une des rares choses que j'apprécie en hiver, ce sont les agrumes. C'est étonnant que ces fruits dodus, de couleur dorée qui ressemblent tellement à un...soleil soient à leur pic en plein frimas ! Et en plus, ils nous apportent une très bonne chose pour nous aider à traverser cette période propice à la fatigue et aux rhumes : de la vitamine C. Sans compter ses bienfaits pour la peau et l'estomac. Ah, que je les aime ces agrumes, leur petit goût frais et acidulé et puis ils se conservent tellement bien : enfin des fruits que l'on n'est pas obligés de consommer quasi dans la minute ! Pourquoi des financiers aux agrumes ? Bien qu'ils soient omniprésents dans les blogs culinaires, je n'en avais encore jamais croisés à ce "parfum", ce qui est tout de même surprenant...Et j'ai souhaité ajouter des quartiers de clémentine dans la pâte, comme une petite surprise : une petite touche de fraîcheur juteuse pas désagréable du tout...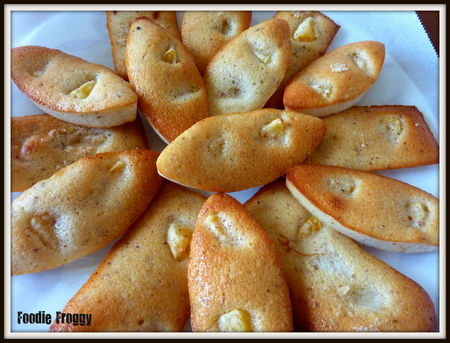 Citrus Fruit Financiers
Makes 20 to 25 financiers
Courtesy of Goosto, partly modified by yours truly
150 g powder sugar
75 g all purpose flour
50 g almond meal
50g hazelnut meal
1 pinch of salt
150 g unsalted butter,mlelted (either in the microwave over 500 W for 2 minutes or in saucepan) then slightly cooled in a bowl
6 egg whites
1 tbsp liquid honey
2 or 3 drops almond extract
The zest of one orange
About 20 to 25 tangerine slices, seedless ( so 3 to 4 tangerines)
I used two silicon 1 3/4" Boat Mold Sheets and one silicone financier mold
Assemble powder sugar, flour, almond and hazelnut mels, and salt in a large mixing bowl. Whisk.
Slightly whisk egg whites with a fork. Pour egg whites into the same bowl. Whisk until smooth.
Add honey, almond extract, orange zest and mix. Stir in melted butter and mix.
In each cavity, arrange one slice of tangerine cut into two pieces. Cover with the batter to the 3/4, using a large spoon.
Refrigerate for 15 minutes.
Preheat oven to 350°F. Bake financiers for 15 minutes or until slightly golden.
Remove from the oven, unmold and let cool on a rack.
Financiers aux agrumes
Pour 20 à 25 financiers
Recette de goosto, modifiée par mes soins
150 g de sucre glace
75 g de farine
50 g de poudre d'amandes
50g de poudre de noisettes
1 pincée de sel
150 g de beurre fondu (micro-ondes puissance 500 W 2 minutes ou à la casserole) puis tiédi dans un bol
6 blancs d'oeufs
1 CS de miel liquide
2 ou 3 gouttes d'extrait d'amandes amères
Le zeste d'une orange
Une vingtaine de quartiers de clémentine sans pépins, soit environ 3 clémentines.
J'ai utilisé un moule à financier rectangulaire et deux moules ovales

Versez le sucre glace, la farine, les amandes, les noisettes et le sel dans un bol. Mélangez à l'aide d'un fouet.
Battez très légèrement les blancs d'oeufs à l'aide d'une fourchette. Versez-les dans le bol. Mélangez le tout à l'aide d'un fouet.
Ajoutez le miel, l'extrait d'amandes amères, le zeste d'orange puis mélangez. Ajoutez le beurre fondu et tiédi et mélangez.
Dans chaque empreinte des moules, disposez 1 quartier de clémentine coupé en deux. Versez la préparation par dessus, en remplissant aux ¾ à l'aide d'une grande cuillère.
Réservez au frais pendant 15 minutes.
Préchauffez votre four à 180°C (th.6). Enfournez les financiers pour 15 minutes,ou jusqu'à ce qu'ils soient légèrement dorés.
Sortez les financiers du four. Démoulez et laissez refroidir sur une grille.