Gâteau au Yaourt, Mascarpone et Framboises, coulis de Framboises
Raspberry and Mascarpone Yogurt Cake, Raspberry coulis
I know no one around me who does not have a sweet memory linked to yogurt cake made with his/her mum or his/her Granny. Baking was not as precise as today, and it was so much fun for us to measure ingredients with the help of the actual yogurt tubs (2 tubs of sugar, 4 tubs of flour,...). And there are so many versions of this cake that you can't really get bored of it : with fruits, marbled, topped with syrup...All yummy ! I had found a mouth-watering recipe with raspberries, apples, butter and almond meal in an old issue of the australian magazine "delicious.", but guess what, it was a total miss ! The cake never rose, it was flat, heavy and inedible : it finished its very short life in the garbage can. To miss a yogurt cake : a good lesson for one's self-esteem, lol ! I immediately made a simpler version but I kept what attracted me in the australian version : fresh raspberries and mascarpone in the center, and raspberry coulis on top ! This time, the cake was top notch and ended its life in my family's stomaches !
Je ne connais pas une personne de mon entourage qui n'aie un souvenir d'enfance lié au gâteau au yaourt de sa mère ou sa grand-mère. Et il y a autant de versions que...de mamans ou presque !! Sans compter les déclinaisons aux fruits (pommes ou fruits rouges bien souvent), les marbrés, les recouverts de sirop,etc...Et puis, à l'époque on cuisinait plus au feeling et c'était tellement amusant de mesurer les ingrédients en "pots de yaourts". Au départ, j'avais trouvé cette recette dans le magazine "delicious" (édition australienne, s'il vous plait) et il y avait de la poudre d'amandes, du yaourt, du beurre, des pommes et des framboises... Hélas, une pure cata : le gâteau n'a jamais levé et était tout simplement inmangeable, une masse lourde et indigeste qui a vite fini à la poubelle...N'écoutant que mon amour-propre blessé (rendez-vous compte, rater un gâteau au yaourt !), j'ai immédiatement refait un cake plus classique en gardant tout de même ce qui m'avait plu dans la recette australienne : le mascarpone et les framboises au milieu ! Et le coulis ! Ouf, l'honneur était sauf et le gâteau, un régal qui n'a pas fait long feu...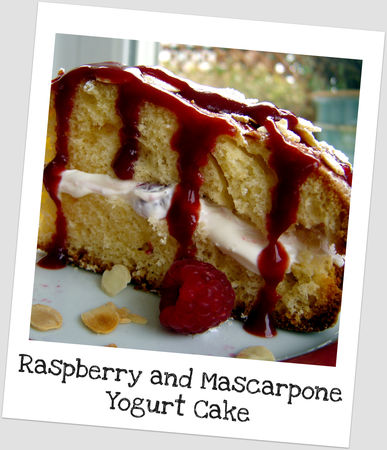 Raspberry and Mascarpone Yogurt Cake
For 8 servings
1 cup plain yogurt
2 cups all purpose flour
1 cup granulated sugar
1 tsp vanilla extract
3 eggs
1/3 cup vegetable oil
2 tsp baking powder
1 cup fresh raspberries, cleaned
1 cup mascarpone cheese
Icing sugar to dust
Raspberry coulis :
9 oz raspberries
½ lemon juice
2 tablespoons of sugar
Make the raspberry coulis : wash raspberries, put them on absorbing paper and then in a bowl. Add sugar and lemon juice.Put the mixture in a food processor. Press through a sieve. Discard seeds.
Preheat oven to 350°F.
In a large mixing bowl, assemble yogurt, flour, sugar and vanilla extract. Add the 3 eggs and mix again. Stir in oil, mix, then the baking powder.
Mix until smooth and pour in a buttered and floured springform pan. Bake for 30 minutes or until a skewer inserted in centre comes out clean.
Cool in pan, then turn out onto a rack to cool completely.
Split cake, spread with mascarpone and raspeberries, then replace top and dust with icing sugar. Serve with raspberry coulis. You can also decorate the cake with toasted sliced almonds.
Gâteau au Yaourt, Mascarpone et Framboises
Pour 8 personnes
2 pots (250ml) de yaourt nature
4 pots ( 250g) de farine
2 pots (200g) de sucre
1 cc de d'extrait de vanille
3 oeufs
3/4 pot (80ml) d'huile neutre (tournesol ou équivalent)
1 sachet de levure chimique
1 barquette (125g) de framboises fraîches
250g de mascarpone
Du sucre glace pour saupoudrer
Coulis de framboises :
200g de framboises
le jus d'un ½ citron
2 CS de sucre en poudre
Faire le coulis de framboises : Mixer les200g de framboises, le sucre et le jus de citron. Passer le mélange au Chinois afin de retirer les pépins.
Laver les framboises restantes (la barquette) et disposer sur du papier absorbant.
Préchauffez le four à 180°C.
Dans un grand saladier, mélangez les yaourts, la farine, le sucre et l'extrait de vanille. Ajoutez les oeufs et remélangez. Ajoutez l"huile, mélangez, puis la levure.
Mélangez bien jusqu'à ce que ce soit lisse et versez dans un moule à manqué préalablement beurré et fariné. Enfournez pour 30 minutes ou jusqu'à ce que la pointe d'un couteau insérée au centre ressorte sèche.
Laissez refroidir dans le moule puis retournez sur une grille. Coupez en deux le gâteau dans l'épaisseur, étalez le mascarpone et répartissez la barquette de framboises.Replacez le haut du gâteau et saupoudrez de sucre glace.
Servez avec le coulis de framboises. Vous pouvez aussi décorer le gâteau avec des amandes effilées torréfiées.