Praliné glacé, Sauce Caramel au Beurre Salé
Frozen Praliné Parfait, Salted Butter Caramel Sauce
It is quite funny because this recipe has been in my files for many years and I had never dared posting it for I thought it was too simple ! I think I can even say that I had totally erased it from my mind ! And yet, this recipe has gained me the first "wows" from my friends when I was a beginner in the kitchen, how ingrateful I am ! So, why did I change my mind, you may ask ? It all happened when a friend of mine called me last week, in total panic : she wanted me to send her back the recipe by mail 'cause she had lost it and had guests the following day. She raved about this dessert and told me she was very surprised I had not posted it yet on my blog.When I gave her my reasons, she was shocked : "but this is exactly why it is a great recipe : it is super fast and super good !! " (these were her words). Really, I swear I was very (pleasantly) surprised by her reaction, and this is thanks to her that you can now read this post !
C'est drôle parce que cette recette fait partie de mes archives depuis plusieurs années, et je n'avais jamais osé la publier car je la trouvais trop simpliste. Pour ne rien vous cacher, j'avais même tout simplement oublié son existence...Et pourtant, quelle ingratitude de ma part, car c'est l'une des toutes premières qui m'aie permis de bluffer mes invités lorsque j'étais encore novice en cuisine.C'est l'appel de l'une de mes amies la semaine dernière qui m'a rafraichi la mémoire : elle voulait absolument que je lui renvoie la recette par mail, elle l'avait égarée et tenait à la servir à ses invités car elle en gardait, je cite, "un souvenir ému" !! Ah bon, vraiment ? Et de me conseiller de la mettre en ligne ASAP, car selon elle, c'était une recette, certes simplissime mais bluffante et succulente ! Ah, ce que l'amitié peut nous faire faire...
Frozen Praliné Parfait, Salted butter Caramel Sauce
To be made a day ahead
For a 9x5x3-inch loaf pan, or a 6-medium muffin mold 7'' x 11-3/4'', or a 10 cannelé mold (Sheet 11-7/8"L x 6-7/8"W; Molds 2"Diam x 2"H)
4 egg yolks
30g brown sugar, packed
100g ready made praline powder or make your own (recipe here)
25cl heavy whipping cream
Salted Caramel butter sauce
2.5 oz granulated sugar
2 oz salted butter, diced
2/3 cup liquid whipping cream, heated (30 seconds in the MW, over medium power)
Some coarse salt (optional)
Start by chilling a clean stainless steel bowl, a whisk, and the cream in the freezer for 15 minutes (but don't freeze the cream).
Meanwhile, make the caramel sauce : in a heavy-bottom skillet or sauce pan over medium heat, melt sugar until goden brown. Do not mix the sugar, just shake the skillet by the handle.
Add the salted butter, mix, then the heated whipping cream. Mix well and reserve at room temperature. If you happen to have small caramel bites, drain the sauce through a sieve.
Make frozen praliné parfait : remove bowl, whisk and cream from the freezer. Pour chilled cream into the bowl, and whisk using an electric mixer.Beat slowly at first then faster until stiff. Beat longer until cream holds peaks.
In another bowl, assemble egg yolks and brown sugar. Beat well. Add praline powder and mix well. Stir in whipped cream, little by little, lifting carefully the mixture with a spatula. Pour the mixture into the pan of your choice (loaf cake, muffin or cannelé). If you choose the loaf pan, line it with plastic wrap, leaving generous overhang then fold film over top of mixture.
Freeze overnight.
The day after, remove from the freezer, dip bottom of loaf pan into warm water or into cold water for the other pans.
To serve, cut slices of frozen parfait (for the loaf version) and arrange nicely in each plate (2 slices per person). For the other pans, arrange the unmold individual parfaits. For all versions, pour some salted caramel sauce on top.
Other recommended sauces : warm chocolate coulis or segments of blood oranges cooked in a sauce pan until syrupy (totally in-season).
What to do with the egg whites leftovers ? Home-made amaretti (recipe here) will be a perfect accompaniment.
Praliné glacé, Sauce Caramel au Beurre Salé
A faire la veille
Pour 1 moule à cake, ou 6 empreintes de moules à muffins ou 10 empreintes de moules à cannelés.
4 jaunes d'oeufs
30g de sucre roux
100g de pralin en poudre
25cl de crème liquide entière (important car sion la chantilly ne monte pas)
Caramel au beurre salé
80g de sucre en poudre
60g de beurre salé, coupé en dés
15 cl de crème liquide, chauffée 30 secondes au micro-ondes sur puissance moyenne (500W)
Un peu de gros sel si vous souhaiter corser un peu plus le côté salé (facultatif)
Entreposer les 25cl de crème liquide entière au congélateur pendant 1/4 d'heure, ainsi que les fouets et le bol inox dans lequel vous fouetterez la crème.
Pendant ce temps, faites la sauce au caramel : Dans une poêle ou une casserole non-adhésive (à fond épais de préférence, mais pas indispensable), faites fondre le sucre sur feu moyen.
Surtout, ne mélangez pas le sucre, ou vous aurez des cristaux : afin de répartir le sucre, il faut remuer le manche de la poêle ou de la casserole.
Lorsqu'il atteint une belle couleur ambrée, ajouter le beurre coupé en dés. Là, vous pouvez mélanger avec un fouet ou une cuillère en bois. Si des cristaux apparaissent à ce moment là, pas de panique.
Ajoutez la crème liquide (15cl) chauffée. Mélangez bien, laissez un peu sur le feu doux-moyen afin que les cristaux fondent un peu puis retirez du feu et laissez refroidir à température ambiante. Filtrez la sauce à travers une passoire ou un chinois afin de retirer tous cristaux résiduels.
Faites le praliné : retirez la crème liquide, les fouets et le bol du congélateur. versez la crème dans le bol et montez en chantilly à l'aide d'un batteur électrique. Battez doucement au début, puis augmentez la vitesse au fur et à mesure. La chantilly est réussie lorsqu'elle forme un bec et que, lorsque le bol est penché, la crème ne glisse pas le long des parois.
Fouettez, dans un autre bol, les 4 jaunes d'oeufs et le sucre roux. Rajoutez le pralin. Mélangez bien. Incorporez la chantilly, petit à petit, en soulevant doucement à l'aide d'une spatule.
Si vous utilisez un moule à cake, chemisez-le avec du film alimentaire lègèrement humidifié pour une meilleure adhérence. Idem pour les moules individuels si ils ne sont pas en silicone. Je vous déconseille cependant d'utiliser le moule à cannelés si il n'est pas en silicone.
Versez la préparartion dans le lou les moules. Tapoter adin de mettre à niveau. Mettre au congélateur pour la nuit.
Le lendemain, trempez le fond du ou des moules dans un peu d'eau chaude pour le moule à cake (et à peine tiède pour les autres moules) afin de faciliter le démoulage. Si vous avez utilisé le moule à cake, découpez des tranches.
Pour servir, disposez 2 tranches ou le praliné indivisuel dans chaque assiette et recouvrez de sauce caramel.
Autre coulis recommandés : une sauce chocolat tiède ou, c'est de saison, des segments d'orange sanguine ( au moins 3 oranges coupés à vif) revenus à la poêle jusqu'à consistance sirupeuse.
Que faire avec les blancs d'oeufs restants ? Des amaretti (recette ici) qui accompagneront agréablement votre praliné.
My other recipes with salted caramel that might interest you (click on the picture)/ Mes autres recettes avec du caramel au beurre salé (cliquez sur la photo) :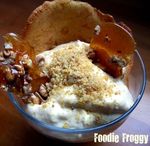 Salted Butter Caramel Mousse/Mousse de Caramel au Beurre Salé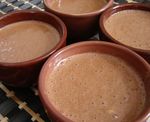 Milk Chocolate and Salted Caramel Mousse/Mousse Chocolat au lait et Caramel Salé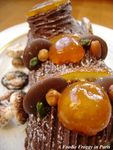 Chocolate and salted Caramel Yule Log/Buche de Noël au Chocolat et Caramel Salé