Lentilles Corail, Pâtes et Courgettes au Chèvre Frais
Red lentils, Pasta, Zucchini and Goat cheese
Pasta and red lentils in the same dish, this may seem a bit "too much". And yet, if I tell you that this recipe comes from Laurence Solomon, the Queen of diet Haute Cuisine in France, you will inevitably be as surprised as I was. But when one comes to consider the ingredients more precisely, one realizes that they are all quite "light" (apart from the goat cheese) : wholewheat pasta, grated raw zucchini, sun-dried tomatoes... What I like most about it is that it is satisfying without being "heavy". My English-speaking friends use a word I really affectionate : "hearty", which does not have a perfect translation in french but I like the ideas that come to mind when hearing this word : comforting, warm, friendly, cheerful, passionate...A good way to celebrate the end of winter.
Des pâtes et des lentilles corail dans un même plat, cela peut sembler un peu "beaucoup". Et pourtant, si je vous dis que cette recette vient de Laurence Salomon, la papesse de la cuisine diététique, vous serez forcément aussi surpris que moi. Mais c'est vrai que lorsque l'on étudie les ingrédients plus précisément, on se rend compte que tout est assez léger, hormis peut-être, le chèvre : les pâtes complètes, la courgette crue râpée, les tomates séchées. En tous les cas, pour l'avoir bien évidemment goûté, c'est un plat satisfaisant car rassasiant sans être écoeurant. Les anglophones utilisent un terme que j'aime beaucoup : "hearty", qui veut dire à la fois robuste et chaleureux et je trouve que c'est tout à fait l'impression que l'on a à la dégustation.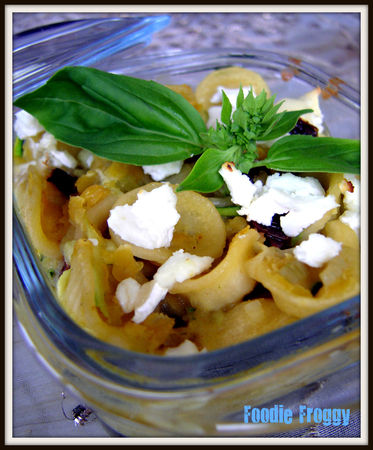 Red lentils, pasta, zucchini and goat cheese
Recipe by Laurence Salmon, goosto, for 4 servings
half a pound of wholewheat pasta (orrechiette for me, any kind of long and curled pasta for the recipe's author)
a quarter of a pound red lentils, rinsed
4 shallots, peeled and finely chopped
a quarter of a pound fresh zucchini, grated
3 sun-dried tomatoes, finely minced
12 fresh basil leaves
1 fresh goat cheese
2 tbsp extra virgin olive oil + some for baking
3 pinches curcuma (curry instead for me)
sea salt and freshly ground pepper
Preheat oven 350°F.
In a skillet, heat 2 tbsp olive oil over low heat. Add chopped shallots, curcuma (or curry powder), 2 pinches of salt and cook for 5 minutes. Do not let shallots get golden.
Add rinsed red lentils and pour 2 cups water. Cover and let cook slowly for 15 minutes. Most of the water will be absorbed.
In a large pot, bring 2 quarts (8 cups) of salted water to a boil.Cook the pastas according to package instructions.
Drain them once cooked, and set aside in a large mixing bowl. In this bowl, add red lentils (with their cooking water), the grated zucchini and the minced sundried tomatoes. Season to taste.
Divide among 4 small gratin dishes. Top with fresh goat cheese shavings and olive oil. Bake for 15 minutes, until cheese is melted.
To serve, decorate each dish with 3 basil leaves, transfer to a plate and serve with salad greens and cherry tomatoes.
Lentilles Corail, pâtes et courgettes au chèvre frais
Recette de Laurence Salomon, sur le site Goosto, pour 4 personnes
200 g de pâtes au blé complet bio Type Originelles Alpina Savoie format rouleaux (pour moi, des orecchiette)
100 g de lentilles corail, lavées
4 échalotes, finement émincées
100 g de courgette crue, râpée
3 pétales de tomate séchée, finement émincées
12 feuilles de basilic
1 chèvre frais, en copeaux
2 cuil. à soupe d'huile d'olive
3 pincées de curcuma (curry pour moi)
Sel et poivre
Faites revenir les échalotes 5 mn à petit feu avec l'huile d'olive, le curcuma et quelques pincées de sel.
Ajoutez les lentilles corail et versez 40cl d'eau. Couvrez et laissez cuire doucement pendant 15 mn. L'eau sera en grande partie absorbée.
Portez à ébullition une grande quantité d'eau salée et faites cuire environ 200 gr de pâtes.Egouttez-les et réservez-les dans un grand saladier dans lequel vous ajouterez les lentilles corail avec leur jus de cuisson, la courgette râpée et les tomates séchées émincées au couteau.
Goûtez, assaisonnez (n'hésitez pas à bien saler) et répartissez ce mélange dans 4 cassolettes. Déposez des copeaux de chèvre frais sur le dessus et versez un filet d'huile d'olive.
Faites-les dorer 10-15 mn au four à 175°.
Au moment de servir, placez 3 feuilles de basilic au centre et accompagnez d'un panaché de feuilles vertes de saison et tomates cerise.