Gâteau à la Pistache et Pralin sans farine
Flourless Pistachio and Praline Cake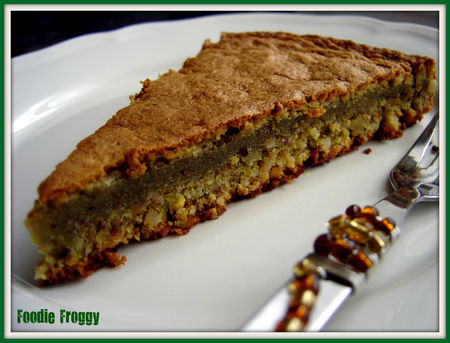 The answer is yes, of course. I can even say that the absence of flourgives a very moist and unctuous texture ... and lots of flavour : as pistachio and almond meals are substituted with flour, the taste is far, very far from being bland !! Actually, I have found that this cake was quite similar to a giant Financier. To make it short, it is a great dessert to be enjoyed before, during and after Passover, and you don't need to be jewish to enjoy it !! I also have added a drop of green food coloring, I really like when colors are a bit bright and...this way, everyone knows from first sight that it is a pistachio cake.
La réponse est oui, bien sûr. Je dirais même que l'absence de farine apporte du moelleux, de l'onctuosité et...du goût, beaucoup de goût. Les pistaches sont quand même l'un des fruits secs les moins neutres : c'est bien simple, soit on adore, soit on déteste. Il n'y a pas ce consensus qui existe autour des amandes et des noix par exemple. Bref, ce gâteau qui, finalement, est assez proche d' un financier géant est un pur délice à déguster avant, pendant et après Pessah, et que vous soyez juif ou non !
Pour une couleur un peu plus "funky", j'ai rajouté du colorant alimentaire vert, j'aime bien qu'on voie tout de suite à quoi on a à faire !
Flourless Pistachio Cake
5 eggs
2/3 cup granulated sugar
7 tbsp unsalted butter, melted (1 to 2 mns in the micro-wave, over medium power 500W)
1/2 cup shelled unsalted pistachios, powdered
1/2 cup almonds, shelled, powdered
4/5 cup or 2.6 oz ready-made praline powder (if you want to make your own, please read here)
1 tbsp orange blossom water (if your orange blossom is very strong, only 1 tsp)
1 drop green food coloring (optional)
Preheat oven to 350°F.
Separate eggs. Leave whites at room temperature, they will be easier to whip
In a large mixing bowl, beat egg yolks with sugar until pale yellow. Gradually add melted butter, still beating.
Stir in praline powder, pistachio and almond powder. If you use orange blossom water and food cloring, add them now and mix well.
In the bowl with the egg whites, add a little pinch of salt. Whip the whites until stiff. Stir the whites in the pistachio mixture, slowly, lifting rather than stirring.
Pour the batter in a buttered and floured springform pan. If you don't want to use flour, dust the pan with potato starch instead.
Bake for approximately 40 minutes, check with a knife.
Unmold the cake on a rack and let cool. This cake is at its best at room temperature.
I would suggest to cut into slices and serve with either white chocolate or nougat ice-cream. A simple whipped cream can be a good accompaniment too.
Gâteau à la pistache sans farine
5 oeufs
130g de sucre en poudre
100g de beurre fondu (1 à 2 mn au micro-ondes, puissance 500W)
65g de pistaches non salées, décortiquées et réduites en poudre au mixer
60g d'amandes décortiquées et réduites en poudre au mixer en même temps que les pistaches
75g de pralin
1 CS d'eau de fleurs d'oranger(facultatif)
1 goutte de colorant alimentaire vert (facultatif).
Préchauffez le four à 180°C.
Séparez les blancs des jaunes d'oeufs. Laissez les blancs à température ambiante, ils monteront mieux.
Dans un saladier, battez les jaunes et le sucre ensemble jusqu'à ce que le mélange soit jaune pâle. Ajoutez progressivement le beurre fondu, tout en continuant à battre.
Ajoutez les poudres de pistaches et d'amandes et le pralin et mélangez bien à la spatule. Si vous mettez de l'eau de fleur d'oranger et/ou du colorant alimentaire, ajoutez-les et mélangez bien.
Dans le saladier des blancs, ajoutez une pincée de sel et battez-les jusqu'à ce qu'ils soient fermes. Incorporez-les délicatement au mélange précédent.
Versez dans un moule à manqué beurré et "fariné" avec de la fécule de pomme de terre. Enfournez pour environ 40 minutes (testez la cuisson à l'aide d'un couteau pointu qui doit ressortir sec).
Démoulez sur une grille et laissez refroidir. Se déguste à température ambiante.
Je vous suggère de le couper en parts et de le servir à l'assiette avec une boule de crème glacée nougat ou chocolat blanc. Ou de la chantilly tout simplement.
These recipes might interest you/Ces recettes peuvent vous intéresser :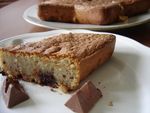 Flourless Hazelnut and Toblerone Cake/Gâteau Noisettes et Toblérone sans farine

Pistachio and Orange Blossom Madeleines/Madeleines Pistache et Fleurs d'oranger