Dos de cabillaud, nage d'herbes Thaï au lait de coco, asperges rôties aux agrumes
Cod fillets, Thaï herbs and coconut milk nage, roasted asparagus

Phew, just on time ! Today was the last day to take part to the recipe contest oganized by Patrick, the King of seafood. Each entry had to be based on fish and to be simple. Even though the list of ingredients for my entry might seem quite long, it is really easy to make : basically, you put all the herbs in a food processor until you obtain a paste, you heat this paste on a wok before adding coconut milk. Meanwhile you bake cod and asparagus simultaneously. This gives a very fresh, healthy and flavorful dish.
As a side note : cod being an endangered species, please eat it with moderation.
Ouf, c'était moins une ! Juste à temps pour participer au concours de Patrick : recettes simples de la mer parfois compliquée. Simple, cette recette l'est, de toute évidence : même si la liste des ingrédients peut sembler longue, il suffit juste de mettre toutes les herbes dans un mixer jusqu'à obtenir une pâte semblable en apparence à un pistou, puis de la réchauffer tout en y ajoutant du lait de coco. Les asperges sont rôties au four en même temps que le cabillaud. Bref, tout ceci prend très peu de temps, donne une sauce qui est une véritable explosion de saveurs tout en étant très "saine".Tout ce que j'aime.
A noter : le cabillaud étant une espèce menacée, consommez-en avec modération.
Cod fillets, Thaï herbs and coconut milk nage, roasted asparagus
Serves 6
Cod :
6 cod fillets
olive oil
Salt and pepper
Thaï nage (sauce) :
1 bunch of chives, cleaned, coarsely chopped
2 spring onions, cleaned, peeled, coarsely chopped
1 red chili peppers, halved lengthwise, seeds removed, coarsely chopped (optional)
2 cloves garlic, peeled, cleaned, coarsely chopped
2 tablespoons grated peeled fresh ginger
1 bunch fresh coriander (cilantro), leaves, cleaned, coarsely chopped
1 bunch basil (chinese or "regular"), leaves, cleaned, coarsely chopped
The juice and zest of 1 lime
6 tablespoons olive oil
Sea salt and freshly ground pepper
1 3/4 cup coconut milk
Asparagus :
24 small green asparagus
The grated zest of one organic orange
Olive oil
Sea salt and freshly ground pepper
Thaï sauce :
Place all ingredients in a food processor. Blend for a few minutes until well processed. Season to taste. If your food processor is small (like mine), process in two steps: the first step with half the olive oil and half the lime juice, 2nd step with the remaining oil and juice.
In a skillet or a wok over medium heat, heat the thaï paste for a few seconds. Stir in coconut milk, and heat until sauce has a beautiful and homogenous green color. Keep warm over very low heat, until ready to use
Cod and asparagus :
Season cod fillets, and place them as well as asparagus on two separate baking sheets lined with parchment paper. Spread a teaspoon of the thaï Paste on each fillet, brush asparagus with olive oil and sprinkle over the grated orange zest. Bake in the oven (400°F) for 10 to 15 minutes depending on the thickness of the fillets.
To serve : on each plate, arrange one cod fillet, cover with at least two or three tablespoons green sauce, and put 4 asparagus on the side.
Dos de cabillaud, nage d'herbes Thaï au lait de coco, asperges rôties aux agrumes
Pour 6 personnes
Cabillaud :
6 dos de cabillaud, sans peau
De l'huile d'olive extra vierge
Du sel de mar et du poivre du moulin
Sauce Thaï :
1 bouquet de ciboulettes, nettoyé, grossièrement hâché
2 petits oignons blancs, pelés, nettoyés, grossièrement hâchés
1 piment rouge, coupés dans la longueur, graines retirées, grossièrement hachés (facultatif si vous n'aimez pas les plats relevés)
2 gousses d'ail, pelées, nettoyées, grossièrement hâchées
2 Cs de gingembre frais râpé
1 bouquet de coriandre, feuilles et tiges fines, nettoyé, grossièrement hâché
1 bouquet de basilic chinois ou européen, feuilles, nettoyé, grossièrement hâché,
Le jus et le zeste de 1 citron vert
6 Cs d'huile d'olive vierge extra
Sel et poivre du moulin
40cl de lait de coco
Asperges :
24 petites asperges vertes
Le zeste râpé d'une orange bio
Huile d'olive
Sel et poivre du moulin
Sauce Thaï :
Placez tous les ingrédients dans un mixer électrique. Mixez quelques instants jusqu'à consistance de "pistou".Si votre mixer est petit, procédez en 2 étapes, en utilisant la moitié de l'huile et du jus de citron dans chaque étape.
Dans une poêle ou un wok sur feu moyen, faites chauffer la pate Thaï pendant quelques secondes. Lorsque les parfums sont bien développés, ajoutez le lait de coco. Mélangez jusqu'à ce que la sauce aie une jolie couleur vert clair homogène. Gardez cette sauce au chaud sur feu très très doux, jusqu'à son utilisation.
Cabillaud et asperges :
Assaisonnez les filets de cabillaud, et placez-les sur une plaque recouverte de papier cuisson. Assaisonnez et badigeonnez d'huile d'olive (en quantité raisonnable). Faites de même avec les asperges sur une seconde plaque. Badigonnez chaque dos de cabillaud d'une petite cuillère à café de la pâte Thaï. Enfournez les deux plaques dans un four chaud à 200°C pendant 10à 15 minutes (selon l'épaisseur des dos de cabillaud).
Pour servir : sur chaque assiette, disposez un cabillaud, recouvrez généreusement de sauce (au moins 2 à 3 cuillères à soupe) et positionnez les asperges sur le côté. Servez bien chaud.
You might also consider/Ces recettes peuvent vous intéresser :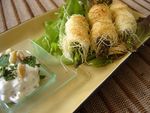 Asperges en Croûte de Kadaif et Dip Féta-Menthe/Green Asparagus in "Kadaifi Crust" and Feta-Mint Dip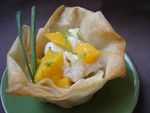 Petite Corolle de Tartare de Cabillaud à la Mangue/Cod Tartare and Mango in a flower-shaped Brick* Pastry