Petits Moelleux Pistache-griottes
Pistachio and Griottes (sour cherries) melt-in-your-mouth Mini Cakes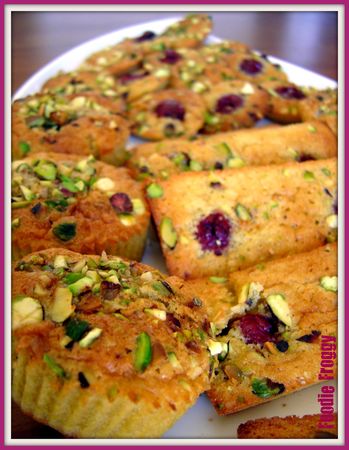 My regular readers know that I am fond of pistachio in sweet recipes. Whole, chopped, powdered or in paste, give me them all !! It is a fact that my little love handles don't say "thank you" to them, but hey, have I ever said I was a reasonnable person ? That being said, it was totally predictible that I would deeply fall in love with these decadent pistachio and sour cherry mini cakes, seen in Christophe Felders' lattest cookbook (already mentioned in my last post). By the way, do you remember that I had promised you a sweet recipe from the aforementioned book ? I gave my word, so here it is !
Les fidèles de ce blog savent que j'apprécie la pistache. Entières, concassées, en poudre, en pâte, j'en raffole. Certes, mes bourrelets ne lui disent pas merci, mais qui n'a pas son petit péché mignon ? Il était donc totalement prévisible que je craque sur ces petites bouchées dans le nouveau livre de Christophe Felder, déjà mentionné ici. Et en plus, je vous avais promis une recette sucrée la semaine dernière, n'est-ce pas ? La Froggy n'ayant qu'une parole, hop, la voici !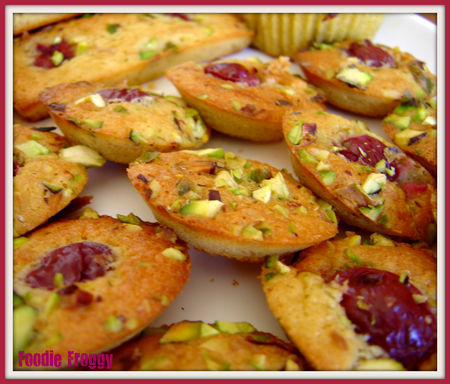 Pistachio and Griottes melt-in-your-mouth Mini Cakes
For 12 cakes muffin-size, ou 6 cakes muffin size + 9 rectangular financier size + 12 mini-tartlet size, or 20 mince-pie size
Recipe from "les mignardises de Christophe" by Christophe Felder
1 cup powder sugar
1 3/4 cup almond meal
1 stick unsalted butter, melted, (in a sauce pan over medium heat or in the micro-wave 500W for 1 minute)
0.7 oz pistachio paste (see David Leibovitz's note about where to find it in the US, at the end of his post)
4 eggs
1/2 cup can sour cherry, well drained
3.5 oz unsalted, shelled, pistachios, coarsely chopped
Preheat oven 350°F.
In a large mixing bowl, assemble powder sugar and almond meal. Stir in pistachio paste and beat. Add eggs, one by one, beating between each addition.The mixture must be smooth. Pour melted butter and beat again.
Fill in the silicon molds (if they are not in silicon, butter and flour them). Arrange one to three sour cherries in each mold, according to the mold size. Sprinkle generously with chopped pistachios. Bake for 12 to 20 minutes according to their size, or until golden brown and cooked through (check with a knife).
If you have chosen the muffin size, do not expect the cakes to rise like muffins. They will remain flat, which is totally normal.
Moelleux pistache-griottes
Pour 12 bouchées taille muffins, ou 6 bouchées taille muffin + 9 taille financier rectangulaire + 12 taille mini-tartelettes, ou 20 taille "mince-pie"
Recette extraite de "les mignardises de Christophe" de Christophe Felder
125g de sucre glace
165g de poudre d'amandes
125g de beurre doux, fondu (casserole dur feu doux ou micro-ondes 500W 1 minute)
20g de pâte de pistache (G.Detou à Paris ou par internet sur ce super site : cookshop)
4 oeufs
125g de griottes sans noyaux, égouttées
100g de pistaches non salées, grossièrement concassées au couteau ou au robot par à-coups
Préchauffez le four à 180°C.
Dans un saladier, mélangez le sucre glace et la poudre d'amandes.Ajoutez la pâte de pistache et battez avec un batteur électrique. Ajoutez les oeufs un à un, en battant à chaque fois entre chaque ajout. La pâte doit être lisse. Versez le beurre fondu et continuez à battre.
Remplissez les empreintes de vos moules. Si ils ne sont pas en silicone, pensez à les beurrer et fariner. Posez une à trois griottes par empreinte en fonction de leur taille (1 pour les mini-tartelettes, 2 pour les financiers et 3 pour les muffins). Saupoudrez très généreusement de pistache concassée. Enfournez pour 12 à 20 minutes, ou jusqu'à ce que ce soit doré et cuit (testez avec la lame d'un couteau qui doit ressortir sèche).
Si vous avez choisi le format "muffin", ne vous attendez pas à ce qu'ils gonflent, ce ne sont pas des muffins, mais des mini-gâteaux moelleux.
Ces recettes peuvent vous intéresser/ You may also consider :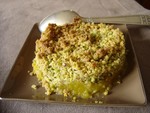 Cardamomed Mango and Pistachio Crumble/Crumble de Mangue à la Cardamome et aux Pistaches
Flourless Pistachio and Praline Cake/Gâteau Pistache et Pralin sans farine