Tarte Fine aux Pommes simplissime
Super easy Thin Apple Tart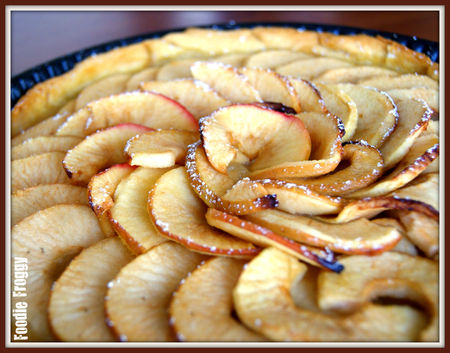 Those of you who follow me on Facebook know that I was recently offered an apple peeler and since then, I have had so much fun with it !! I'm crazy about it, and it is my daughters' new favorite toy, too !! I know this utensil is far from being a novelty and some of my readers even pointed out that their grandparents already owned one a long time ago, but still, I'm fascinated by the way it so easily peels, cores and slices apples. Now, the question is : what do do with these paper-thin apple slices ? Very simple : a thin apple tart : a compote spread on puff pastry, topped with the apples and baked. For a little Chef touch, glaze the tart with quince jelly.
Ceux qui me suivent sur Facebook savent que j'ai récemment reçu un éplucheur de pommes et que, depuis, je m'éclate comme une petite folle avec !! Je sais que c'est loin d'être une nouveauté, certains de mes lecteurs m'ont même fait remarquer que leurs grand-parents en avaient déjà "à l'époque", mais rien à faire, je suis fascinée par tant de facilité et de rapidité à non seulement peler mais aussi découper en fines rondelles et retirer le coeur et les pépins des pommes. C'est devenu un jeu à la maison, tout le monde veut faire mu-muse avec et c'est sans danger pour les enfants.Vous me direz, c'est bien joli, mais on fait quoi avec ? Très simple : une tarte fine aux pommes : une simple pâte feuilletée toute prête, de la compote maison et Ze fameuses rondelles extra-fines de pommes, au four et c'est comme chez le boulanger. Pour la petite touche pro", on peut aussi glacer les pommes après cuisson avec de la gelée de coings réchaufée à la casserole.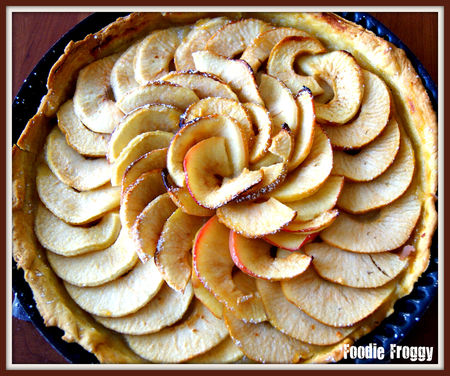 Thin Apple Tart
You need for a large Tart (serves 6 to 8) :
Home-made apple compote :
3 apples, peeled, cored, and quartered
1 tbsp liquid honey
2 tsp granulated sugar
Thin Tart :
1 frozen puff pastry sheet (from a 17 1/4-oz package), thawed
5 apples (Rome or Jonathan), peeled, cored, very thinly sliced using a knife or an apple peeler (see this video)
Granulated sugar
Quince jelly (optional)
Make the apple compote : Arrange the apple quarters in a microwave-proof dish, stir in sugar and honey. Cook on high power for 3 minutes (time might differ according to microwave type). Crush with a fork or if you want a smooth texture, blend. Taste and add sugar if necessary.
Pre-heat oven 350°F.
Roll out the puff pastry. Arrange the puff pastry in a tart mold and evenly pierce with a fork. Cover with parchement paper and bake for 10 minutes. Remove from the oven.
Spread the apple compote evenly on the puff pastry. Arrange the thin apple slices on top, overlapping them in a circular pattern,very nicely. Sprinkle with sugar.
Bake for 45 minutes (it can be longer according to type of apples) or until the pastry is golden brown.Check with a knife that apples are cooked through.
Serve with vanilla ice-cream.Or for a funkier version, with white chocolate ice-cream. Yum !
Tarte Fine aux Pommes
Pour 6 à 8 personnes :
Compote maison :
3 pommes golden, pelées, coeur et pépins retirés, coupées en quartiers
1 CS de miel liquid
2 cc de sucre en poudre
Tarte Fine :
1 pâte feuilletée toute prête, rayon frais des grandes surfaces
5 pommes reinettes ou boskop, pelées, coeur et pépins retirés, coupées en très fines lamelles avec un couteau fin ou un éplucheur de pommes (voir cette vidéo)
Du sucre en poudre
De la gelée de coings (facultatif)
Faites la compote : mettez les quartiers de pomme dans un saladier adapté au micro-ondes, ajoutez le miel et le sucre. Faites cuire sur puissance maximale pendant 3 minutes. Ce temps peut varier selon les fours. Retirez du four et vérifiez que les pommes soient fondantes. Ecrasez à la fourchette et mélangez. Si vous voulez une compote bien lisse, passez au mixer.Goûtez et rajoutez du sucre si nécessaire.
Préchauffez le four sur 180°C.
Déroulez la pâte feuilletée dans un moule à tarte ou sur une grande plaque à pâtisserie si vous préférez qu'elle reste bien plate. Piquez-la avec une fourchette et recouvrez-la de papier cuisson. Faire cuire à blanc 10 minutes à four chaud. Retirez du four.
Etalez la compote sur la pâte feuilletée et arrangez harmonieusement les lamelles fines de pommes en les faisant se chevaucher. Saupoudrez de sucre en poudre.
Enfournez pour 45 minutes (peut varier selon le type de pommes) ou jusqu'à ce que la pâte soit bien dorée.Vérifiez la cuisson des pommes avec la pointe d'un couteau.
Servez chaque part avec une boule de glace vanille ou, pour une version plus "funky", avec une glace au chocolat blanc. Miam !