Clafoutis Cerises/Amaretto à la Ricotta
Cherry, Amaretto and Ricotta Clafoutis
I am so confused ... I do not know what to say, what excuse to find my unforgivable absence ... As you know, I had already taken a few breaks from this blog, but that long, never ...And may I dare to tell you that I am going on vacation very soon ? I am afraid my real "come-back" will have to wait until...september (OMG !). Okay, you may say, but what was the reason ? Well, probably a bit of weariness, and the fact that I often find myself cooking the same unmissable basic recipes, hence no new gourmet posts to share with you, my dear readers...Add to this two trips : one to Israel and the other one to Istanbul (15th wedding anniversary, yeah !!) and a very new passion for litterature : how do you want me to find time to write for my baby blog, mmh ? ;-))
As for this clafoutis, (pronounce "kla-foo-tee"), I feel the need to warn you : it is delicious but really rich. So I would advise you to cut it into small slices or, if you want a lighter batter, add two whipped egg whites. Enjoy!
Alors là, je suis confuse...Je ne sais que dire, quelle excuse trouver pour justifier mon absence inqualifiable...J'avais déjà pris quelques pauses sur ce blog, mais de cette longueur, jamais...Malheureusement, avec mon départ en vacances jeudi prochain, je crains fort que mon retour ne soit que très temporaire...Mais la raison, oui, la raison, me direz-vous ? Et bien probablement un peu de lassitude, conjuguée au fait que finalement, je "tourne" toujours avec les mêmes recettes (tout de même plus de 200 sur ce blog !) et aie peu de nouveautés à vous proposer...A celà, s'ajoute un fabuleux voyage à Istanbul avec mon chéri pour nos 15 ans de mariage (Bravo à Carole qui a deviné la destination) qui nous a laissé des étoiles plein les yeux...Bref, pas d'inquiétude à avoir, tout va bien, très bien même. Ah oui, et j'oubliais...le temps que je consacrais autrefois à mon blog l'est maintenant à la lecture : je retrouve un des mes amours de jeunesse : la littérature, et j'en suis à presque deux livres par semaine, une vraie gloutonne !!
Ce clafoutis est délicieux, mais riche. La présence de ricotta le rend très moelleux, mais aussi vraiment "dense" : je vous conseille donc soit d'en découper de petites parts soit, si vous souhaitez l'alléger un peu, d'ajouter 2 blancs battus en neige dans la pâte. Bonne dégustation !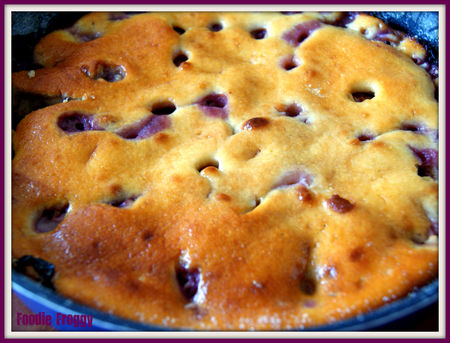 Cherry, Amaretto and Ricotta Clafoutis
For a round plain cake pan with high sides (10-in diameter x 2-in high)
1.3 lbs cherries, pitted. Reserve the juice.
1 cup all purpose flour
3/4 cup granulated sugar
4 eggs
2 cups ricotta cheese (or mascarpone)
1 tablespoon amaretto or almond extract
1/4 cup unsalted butter
3 tablespoons icing sugar
Preheat oven to 350°F.
Butter and flour the baking pan.
In a large mixing bowl, assemble flour, sugar, eggs and ricotta cheese (or mascarpone), beating well until mixture is smooth. Add cherry juice and amaretto and mix again.
Arrange the pitted cherries on the bottom of cake pan and pour the batter on top of them.
Bake for 15 minutes, remove the pan from the oven, sprinkle with icing sugar and continue baking for another 15 minutes. Check the clafoutis with the tip of a knife, which should come out clean.
Remove from the oven and enjoy warm, at room temperature or even chilled.
Clafoutis Cerises/Amaretto à la Ricotta
Pour un moule à manqué de 26cm de diamètre
600g de cerises, dénoyautées (burlat pour moi). Réservez le jus.
100g de farine ordinaire
150g de sucre en poudre
4 oeufs
250g de ricotta (peut être remplacé par du mascarpone)
1 CS d'amaretto ou d'extrait d'amandes amères
50g de beurre
3 CS de sucre glace
Préchauffez le four à 180°C.
Beurrez et farinez un moule à manqué.
Dans un saladier, mélangez la farine, le sucre en poudre, les oeufs et la ricotta (ou mascarpone) en battant bien jusqu'à obtention d'un mélange lisse. Ajoutez le jus des cerises et l'amaretto et re-mélangez.
Disposez les cerises dénoyautées dans le fond du moule à manqué et versez la pâte à clafoustis par-dessus.
Enfournez pour 15 minutes, ressortez le moule du four, saupoudrez de sucre glace et continuez la cuisson pour encore 15 minutes. Testez la pâte avec le pointe d'un couteau, qui doit ressortir sèche.
Sortez du four et dégustez tiède, à température ambiante ou même froid après un petit séjour au frais.