Soupe glacée concombre-pommes vertes
Cucumber and granny smith chilled soup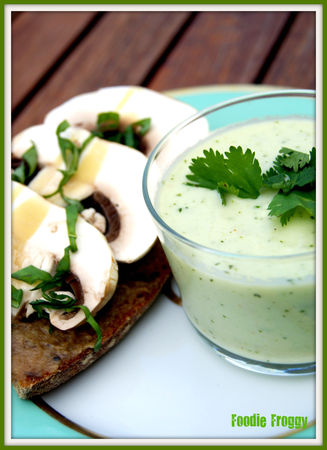 France has its local "Jamie Oliver" (young, good-looking and enthusiastic Chef) : his name is Cyril Lignac. He became famous with a reality show about a Chef (him) looking for a restaurant to buy and staff to help him. As he was quite charismatic and charming, M6 channel decided to hire him for many other cooking shows. Now, he has two restaurants in Paris (the trendy Le Quinzième and the bistrot-style Chardenoux, a few blocks from Aligre Market), has published many cookbooks, a magazine, and of course still makes TV appearences on a regular basis. Last week, I bought his food magazine for the very first time and found this super fresh recipe. I had tasted a chilled cucumber soup a few weeks before at a friend's dinner party and really enjoyed it, particularly since it was just during the heat wave we have had in early july. This version, with granny smith apple and spring onions, is really flavourful. I decided to serve it with a very simple "tartine" : a toasted slice of Poilane bread topped with eggplant caviar, raw mushrooms, olive oil and fresh basil. A great accompaniment. The rest of the menu was more "filling" : a Moussaka and an Apricot Tatin Tart. Next on Foodie Froggy's blog...
C'est une recette de Cyril Lignac, ou plutôt de son magazine culinaire. Je ne sais pas dans quelle mesure il est impliqué dans la conception et le contenu du magazine, mais bon, ce n'est pas moi qui engagerait un débat sur le fait qu'il soit omniprésent dans les média. Là, je m'en fiche complètement, je lui trouve une bonne tête, et j'aime bien ses recettes qui correspondent à ce que je recherche : la simplicité avant tout, avec une petite touche créative sans partir dans des délires ridicules.
C'est très récemment chez des amis que j'ai testé ma première soupe de concombre, en pleine canicule de début juillet, pour être plus précise. Inutile de vous dire que sa fraîcheur était plus que bienvenue. Bon, c'est vrai que le concombre et la pomme verte ne sont pas particulièrement réputés pour avoir un goût très marqué, c'est pourquoi il ne faut vraiment pas faire l'impasse sur les petits oignons et la coriandre, et avoir la main assez lourde sur le sel. Mais au final, quel régal : j'ai adoré ce velouté, je l'ai même trouvé assez addictif. Je l'ai servi avec une simple tartine de Poilane légèrement toastée, recouverte de caviar d'aubergine et de tranches de champignons de Paris crus, d'huile d'olive et de basilic ciselé (idée piquée ici).Sa légèreté a d'autant été appréciée qu'il a été suivi de deux plats plutôt roboratifs : une Moussaka puis une Tatin aux Abricots ! Un menu somme toute assez cohérent, aux accents du sud, et bien gourmand !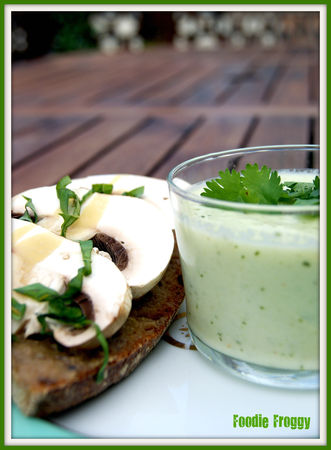 Chilled cucumber and granny smith soup
Recipe from the magazine "Cuisine by Lignac", juily-august 2010
For 4 servings
1 cucumber and a half
1 granny smith apple
4 spring onions
1 lime : zest and juice
8 sprigs fresh cilantro (I recommend half a bunch)
200g (1 cup) greek yogurt
2 tbsp olive oil
4 tsp green (or red) tabasco
Salt ( a lot !) and freshly ground pepper
For the tartines :
4 Poilane bread slices, toasted
4 tbsp good quality purchased eggplant caviar
4 large portobello mushrooms, sliced
4 tsp olive oil
coarse salt
chopped fresh basil
Halve cucumbers lenghtwise and remove the seeds.
Peel the apple, the cucumbers and the onions and coarsely chop them.
Put in a blender and add chopped cilantro, lime juice and zest, yogurt, olive oil and tabasco. Pour in a large bowl, season to taste and refrigerate at least 3 hours.
Make the bread slices : toast the bread at the last minute, spread eggplant caviar, top with mushroom slices, season with coarse salt and add olive oil and chopped basil.
Soupe glacée concombre-pommes vertes
Recette du magazine "Cuisine by Lignac", juillet-août 2010
Pour 4 personnes
1 concombre et demi
1 pomme granny smith
4 oignons nouveaux
1 citron vert : zeste et jus
8 brins de coriandre (je conseille un demi-bouquet)
200g de yaourt à la grecque
2 C à S d'huile d'olive
4 gouttes de tabasco vert
Sel (beaucoup) et poivre du moulin
Pour les tartines :
4 tranches de pain poilane, toastées
4 C à S de caviar d'aubergine de bonne qualité
4 gros champignons de Paris, crus, coupés en tranches
4 cà c d'huile d'olive
du gros sel
du basilic ciselé
Coupez le concombre en deux dans la longueur et retirez les pépins.
Pelez la pomme, les concombres et les oignons et coupez-les en morceaux.
Mettez-les dans un blender, avec la coriandre effeuillée, le jus et les zeste de citron vert, le yaourt, l'huile d'olive et le tabasco. Versez dans un grand saladier, goûtez et rectifiez l'assaisonnement.
Mettez au frais pour au moins trois heures.
Préparez les tartines au dernier moment en les toastant au grille-pain. Recouvrez de caviar d'aubergine, de tranches de champignons crus, d'huile d'olive, de gros sel et de basilic ciselé.