Tartelettes fines aux Cèpes, Confit d'Oignons et Magrets Fumés
Thin Tarlets with Ceps (porcini mushrooms), Onion Confit and Smoked Duck Breast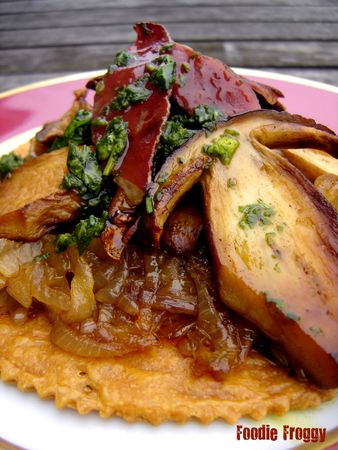 You know what one says : "turning leaves bring autumn melancholy"... It could not be more true ! People turn inward, both physically and mentally, and as for me, I am suddenly attracted by comforting dishes like today's recipe. Ceps are so "autumn" for me, and from as far as I can remember I have always loved, loved them, much more than any other mushroom. I am fascinated by their shape, their firmness and of course their nutty taste. But why oh why is their season so short ? Only two monthes per year...How is it possible to survive during the remaining ten monthes ? sigh. Well, the good thing is that our local porcini are really superb this year, perfect for this recipe learnt at a parisian cooking class, "l'atelier des chefs". I hadn't returned there for three years and I had forgotten how pleasant it is to share a cooking class with other foodies.
This tartlet is full of things I love : porcini, of course, onion confit and this nice crunchy note on top : smoked duck magret (parma ham in the original recipe, but no-pork-for-me-please). The final touch, persillade sauce, will please both your taste buds and your eyes.
...revient cette douce mélancolie". Ce n'est pas moi qui le dit, mais Tété dans sa très belle chanson (archi entendue à la Nouvelle Star), mais je ne pourrais être plus d'accord : dès les premiers frimas, je suis attirée par des recettes un peu plus traditionnelles et réconfortantes. Et puis, les cèpes et moi, c'est une grande, grande histoire d'amour, passionnée voire charnelle, lol ! Mais pourquoi leur saison est-elle donc si courte ? Deux mois sur douze c'est bien trop peu, aaaahhh, frustration...Enfin, en ce moment, les cèpes français sont superbes, bien fermes, exactement ce qu'il faut pour cette recette apprise à l'atelier des chefs. Cela faisait trois ans que je ne m'étais pas rendue aux cours de cuisine de la rue de Penthièvre, et j'avais oublié à quel point c'était sympa de se retrouver entre gourmands, même si -petit bémol-on se sent toujours un peu poussés vers la sortie pour laisser la place au cours suivant.
Cette tartelette regroupe beaucoup de choses que j'adore : les cèpes (bon, là, je crois que vous l'avez bien compris), le confit d'oignons et cette petite touche croustillante sur le dessus : le magret (du jambon cru dans la recette originale, mais pas de porc pour moi siouplait). La petite persillade en final touch est vraiment très agréable et finit bien le plat gustativement ET visuellement.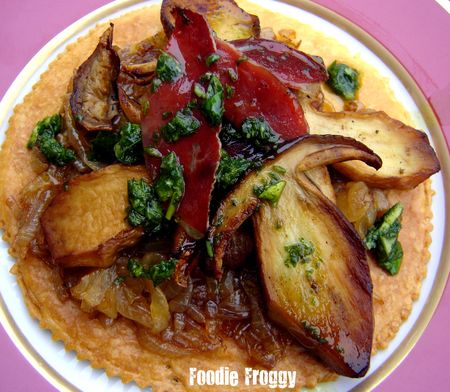 Thin Tarlets with Cep mushrooms, onion confit and smoked duck breast
Recipe from "l'atelier des chefs"
For 6 servings
2 already made frozen puff pastries, thawed (about 8 oz each)
18 young and small cep mushrooms (porcini)
6 slices smoked duck breast
Sea Salt and freshly ground pepper
Some rocket greens
Onion Confit :
5 yellow onions
4 to 5 tbsp balsamic vinegar
2 tbsp granulated sugar
Persillade sauce :
1 bunch fresh flat-leaf parsley
2 garlic cloves
1 1/3 cup extra virgin olive oil
Preheat oven 400°F.
Cut six small circles in the puff pastry sheets. Arrange them on a baking sheet lined with parchment paper, cover with another sheet of parchment paper and another pastry sheet, so the tartlets stay flat. Bake for 15-20 minutes, until golden. Remove from the oven, remove top pastry sheet and parchement and let cool.
Make onion confit : Peel onions, halve them and mince in very thin slices. In a skillet, heat olive oil (2 tbsp) and cook onions on medium heat with a pinch of salt. Lower the heat after 2 to 3 minutes, cook 20 additional minutes on low heat. Add balsamic vinegar and sugar and cook 10 more minutes. Season to taste. Set aside.
Meanwhile, cook ceps : First, Clean them : use a brush to clean sand, grit and other debris from the pits and ridges. If it is necessary to use water, use as little as possible or use a damp towel to clean the surface and dry quickly with a paper towel. Cut ceps into thick slices height-wise to keep their shape.
In a skillet, heat olive oil (3 tbsp), and cook cep slices on both sides until golden. Put on absorbing paper, season and set aside.
Make persillade : clean parsley and peel garlic cloves (remove green part inside, it is bitter). In a blender, assemble parsley, garlic and olive oil and blend. Pour in a bowl and season to taste.This persillade has to be made at the last moment in order to keep its bright green color.
Preheat oven gril (475°F). On each tarlet, arrange onion confit nicely, top with cep slices and duck smoked breast slices. Bake for no more than a minute.
Arrange each tartlet on plates, pour some persillade on top and serve with rocket salad greens.
Tarte fine de cèpes, confit d'oignons et magret séché
Recette de l'atelier des chefs
Pour 6 personnes
2 Pâtes feuilletées prêtes à dérouler
18 Cèpes Bouchons (de petite taille) français de préférence
6 tranches de magret de canard séché (ou jambon cru)
Sel de mer et poivre du moulin
De la roquette
Confit d'oignons :
5 Oignons jaunes
5 cl de Vinaigre balsamique
2 CS de sucre en poudre
Persillade :
1 botte de Persil plat
2 Gousses d'ail
30 centilitres d'huile d'olive
Préchauffer le four à 200 °C.
Découper des cercles de 12 cm de diamètre dans les pâtes feuilletées, les disposer entre 2 plaques à pâtisserie (afin quils restent bien plats) et les enfourner pendant au moins 20 min (ils doivent être bien dorés et croustillants). Les laisser ensuite refroidir.
Faire le confit d'oignons : Éplucher les oignons, les couper en deux et les émincer en très fines lamelles. Dans une poêle chaude, mettre un filet d'huile d'olive et faire suer les oignons avec 1 pincée de sel, puis baisser le feu et laisser cuire doucement pendant 20 min. Ajouter ensuite le vinaigre balsamique, une CS de sucre et laisser cuire à nouveau 10 min. Rectifier l'assaisonnement en sel et en poivre, puis réserver.
Pendant ce temps, préparer les cèpes : frotter délicatement la tête des cèpes avec un chiffon propre et humide, et gratter (voire couper en biais) les pieds. Couper les cèpes ensuite en tranches d'environ 0,3 cm dans la longueur pour conserver leur forme.
Dans une poêle chaude, mettre 3 cuillères à soupe d'huile d'olive et colorer doucement les cèpes de chaque côté. Ils doivent être bien dorés. Les égoutter ensuite sur du papier absorbant et les saler.
Faire la persillade : Laver le persil. Peler les gousses d'ail et les dégermer.Dans le bol du blender, mettre le persil, les gousses d'ail et 20 cl d'huile d'olive, saler et poivrer, puis mixer le tout. Ne pas fair ecette persillade trop longtemps à l'avance car elle perdrait de sa belle couleur verte et brunirait.
Préchauffer le gril du four.Répartir le confit d'oignons sur les ronds de pâte feuilletée, puis disposer harmonieusement les tranches de cèpes (les plus jolies sur le dessus). Poser les tranches de magret dessus et enfourner sous le gril pendant environ 1 min.
Dresser aussitôt sur assiette, arroser la tarte de jus de persil et la servir accompagnée d'une salade de roquette.