Gâteau fondant aux amandes et Citronnade Maison
Easy Almond Cake and Home-made Limonade
Hi, it is still time to prepare all the sweet treats traditionnally served to celebrate the end of Kippur. As for me, since last year, I have definitely abandoned the classic Boulous (too dry) and the Arissa* (too heavy) to the profit of this not-only-very-quick-to-make-but-also-to-die-for-almond cake.Its texture is so soft that it is almost velvety, due to the use of almond paste instead of almond powder. My home-made lemonade (also a tradition for the end of Kippur along with orgeat syrup) is not tart ! I know it is hard to believe especially since it calls for no less then 6 limes, but the addition of a little orange juice and, most importantly, some orange blossom water, makes it a hit among adults and kids ! No more funny faces after the first sip of this lemonade !
* : nothing to do with the very spicy pepper, harissa with an h. Arissa is a cake made of semolina and almonds and soaked into simple syrup.
Petite piqûre de rappel : il est encore temps de préparer les douceurs de la fin de Kippour. Pour ma part, depuis l'an dernier, j'ai définitivement abandonné les Boulous (trop secs) et la Arissa* (trop lourde) au profit de ce gâteau aux amandes qui non seulement est d'une simplicité enfantine, mais a aussi une douceur, une texture quasi-veloutée unique due à la pâte d'amandes qui remplace très très avantageusement la -plus classique- poudre d'amandes. Vous pouvez même utiliser les pâtes d'amandes colorées, vous savez, les paquets tricolores pastel. Mélangées au reste des ingrédients, les couleurs disparaîtront et vous obtiendrez le joli effet doré de la photo. Quant à ma citronnade, elle n'est pas acide, mais si, je vous le promets : grâce au jus d'orange et à l'eau de fleurs d'oranger, votre œil ne clignera plus en un petit réflexe nerveux, lol !
* : rien à voir avec le condiment très piquant, la Harissa avec un H. Il s'agit ici d'un gâteau de semoule aux amandes, imbibé de sirop.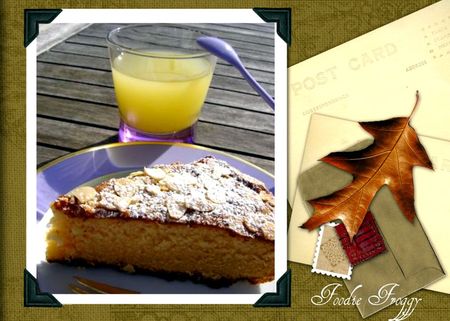 "Easy almond Cake" by Nigella Lawson
10-12 servings
250g (1 cup) softened marzipan
250g (1 cup) softened unsalted butter
110g (1/2 cup) granulated sugar (a little less than Nigella))
1 tsp almond extract (little more than her)
1 tsp vanilla extract (little more than her)
6 large eggs
150g (2/3 cup) self raising flour
Preheat oven 350°F (180°C).
To soften butter and marzipan, I have cut them into large cubes, put them in a mixing bowl and 2 minutes in the microwave oven over 350W power.
In the bowl of the food processor or a large mixing bowl, put the softened butter and marzipan, and add sugar. Beat until combined and quite smooth.
Add vanilla and almond extracts, process again, and add eggs one by one, processing again each time.
Finally, tip the flour through the funnel, process and pour the batter into the prepared tin (a ring mould or a springform tube pan).
Bake for 35-45 minutes. Check with a knife. Cover with foil if it gets too brown. Unmold on a plate.
My Home-made Lemonade
For about 4 cups :
3 3/4 cups mineral water
The juice of 6 limes
The juice of 1 lemon
The juice of half an orange
1 tbsp orange blossom water
3 tbsp granulated sugar
Pour the water in a sauce pan and add the sugar. Heat over low heat until sugar is dissolved. Let cool at room temperature for 5 minutes.
In an empty bottle of plastic, pour the juice of the lemons (limes and regular lemon) and of the orange, using a funnel. Add the "sirupy » water. Carefully close the bottle with its lid, and mix well. Add the orange blossom and mix again. Taste and add water or sugar according to your taste.
Refrigerate and serve in a nice carafe with some ice cubes (not too many as to not dissolve the taste).
My tip : in order to obtain as many juice as possible from the limes, "massage them", rolling them strongly on the working surface, before cutting and squeezing them.
Le "Easy almond Cake" de Nigella Lawson
Pour 10-12 personnes
250g de pâte d'amandes ramollie
250g de beurre doux, mou
110g de sucre en poudre (un peu moins que Nigella)
1 càc d'extrait d'amandes amères
1 càc d'extrait de vanille
6 gros œufs
150g de farine à gâteaux
Préchauffer le four à 180°C.
Recouvrir le fond et les bords d'un moule à manqué de papier sulfurisé. Si vous utilisez un moule à savarin, beurrez et sucrez les bords et le fond.
Pour ramollir le beurre et la pâte d'amandes, je les ai coupés en gros morceaux, mis ensemble dans un saladier et 2 minutes au micro-ondes puissance 350W.
Dans le bol de votre robot ou dans un saladier, battre le beurre, la pâte d'amandes et le sucre jusqu'à ce que ce soit relativement homogène. Ajouter les extraits d'amandes et de vanille et battre encore.
Mettre les œufs entiers, un par un, en mélangeant bien entre chaque puis enfin la farine en trois fois. Bien battre, la pâte doit être lisse.
La verser dans le moule.
Faire cuire pendant 35-45 minutes, cela dépend des fours.Vérifier la cuisson avec une pointe de couteau fine et couvrir de papier alu dès que c'est bien doré afin que ce ne soit pas trop brun sur le dessus.
Citronnade Maison
Pour un peu plus d'1 litre (4 personnes) :
90 cl d'eau minérale
Le jus de 6 citrons verts
Le jus de 1 citron jaune
Le jus d'une demie orange à jus
1 CS d'eau de fleurs d'orangers
3 CS de sucre en poudre
Verser l'eau et le sucre dans une casserole. Faire dissoudre le sucre dans l'eau à basse température. Laisser refroidir 5 minutes.
Dans une bouteille en plastique vide, verser le jus des citrons jaune et verts et de la demie orange, à l'aide d'un entonnoir. Verser l'eau sucrée, bien mélanger après avoir rebouché la bouteille. Ajouter la CS d'eau de fleurs d'orangers. Bien mélanger à nouveau. Goûter et rectifier la quantité d'eau et de sucre selon le degré d'acidité que vous souhaitez.
Conserver au frais et servir dans une jolie carafe avec quelques glaçons (pas trop pour ne pas diluer le goût).
Astuce : pour obtenir le maximum de jus de vos citrons verts, il faut bien les masser avant de les couper et les presser.