Petits paniers à la tomate et à l'olive/Olive and tomato mini-baskets
Mini-burgers de thon et citron confit/Canned tuna dn preserved lemon mini-burgers
Gougères au fromage et aux herbes/Herbs Cheese puffs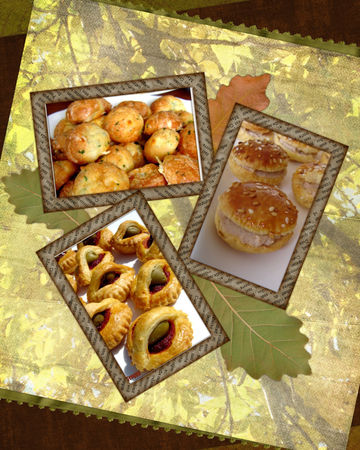 A ready-made puff pastry on hand ? Some condiments ? Come on, don't be lazy, and instead of opening a bag of salted pistacchios, let's make a very small (and little time-consuming) effort with these home-made and quite chic little snacks. Is there a better way to "welcome" your dearest friends ? As it is said in a famous advertisement : "because they are worth it" !
Une pâte feuilletée sous la main ? Une poignée de farine ? Quelques condiments ? Allez, ne vous laissez pas aller à la facilité d'ouvrir un paquet de pistaches et prenez quelques minuscules minutes pour confectionner des petites "grignotises" home-made. Y'a t'il meilleure façon de souhaiter la bienvenue à ses invités ? Comme dirait Liliane B : "parce qu'ils le valent bien"...
Click on the picture for the recipe !Cliquez sur la photo pour la recette !