Nouilles sautées au Boeuf à l'Asiatique
Stir-Fried Beef noodles with vegetables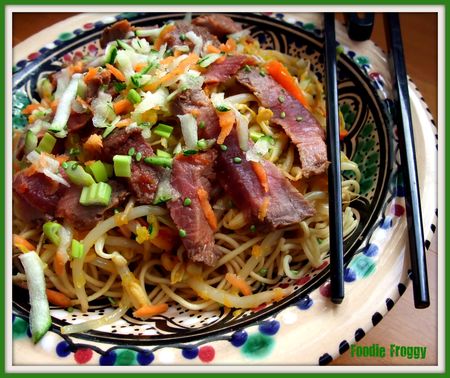 This is not a scoop, but I really feel I am getting older...Of course, every morning, my "mirror, mirror" tells me the awful truth when it reflects my face with new wrinkles...and I am not even mentioning the mornings after good wine + food excess evenings (of course, this happens only once in a while..ahem...). No, what really changes is that I can not stand anymore throwing food away. It makes me really, really mad! Isn't that an old lady thing ? I had already brainstormed a bit about leftovers recycling here and there, but today's "victim" is the good old roastbeef. Just a small quantity can be turned into a brand new gourmet dish for your family and, moreoever, it will take you to the Far Eastern countries ! It was such a hit that since then, I purposely save some roastbeef to make it again !! Aren't we living in an upside-down world ?
Je viellis, c'est certain... Certes, ce n'est pas un scoop, mon miroir me renvoie chaque matin un visage de plus en plus "ridulé" et je ne vous raconte pas les dégats si la veille j'ai fait quelques excès alcoolo-gastronomiques (heureusement, c'est très rare, hum hum !)...Non, ce qui change vraiment, c'est que je ne supporte plus, mais vraiment plus, de jeter de la nourriture. Cela me rend folle ! C'est pas un truc de vieille, ça ? J'avais déjà un peu cogité sur le recyclage de restes de poulet rôti ici et là, mais aujourd'hui, c'est au rosbiff que je m'attaque. Un petit reste suffit pour faire un vrai nouveau plat familial qui vous fera voyager loin, très loin ! Il a eu tellement de succès que depuis, j'en viens presque à faire exprès de laisser un peu de rab de rosbif ... Le monde à l'envers, je vous dis !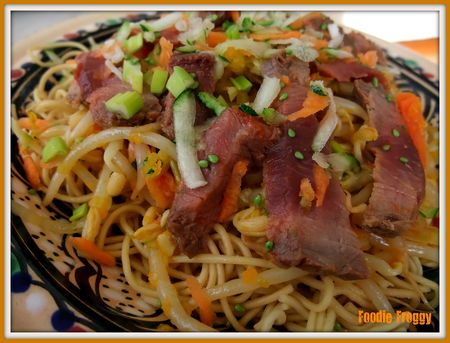 Stir-Fried Beef noodles with vegetables
Serves 4
9 oz leftover cooked roastbeef (rare if possible), cut into thin strips
9 oz chinese egg noodles
2 scallions or 3 spring onions, cleaned and chopped
2 shallots, peeled and chopped
2 cloves garlic, crushed
2 tablespoons fresh ginger, peeled and grated
1 tbsp Thai basil (or european basil, if you can't find thai basil)
2 carrots, cleaned, shredded
1 medium size zucchini, grated
3 cups bean sprouts
Soy sauce (at least 2 tbsp)
Of fish sauce (1 tbsp)
Fresh cilantro, chopped (half a bunch)
Sesame seeds for decoration
Extra Virgin Olive oil
Prepare the noodles: Soak them in a pot of boiling unsalted water, cover, remove from the heat and keep covered for 4 minutes. Using a fork, unravel the noodles, drain in a colander and transfer into a large bowl.
In a wok, heat 2 tablespoons of olive oil. When oil is hot, sauté the onions or scallions, the shallots and garlic for 1 minute. Do not let brown. Stir in grated ginger, basil and then the beef strips.
Then add the vegetables: carrots, zucchini and bean sprouts.Sprinkle with two tablespoons soy sauce and a tablespoon fish sauce. Stir in the noodles, taste and season. Cook, tossing until everything is evenly coated with the sauce and the vegetables are cooked through, about 3 minutes.
Arrange into a large dish, sprinkle with chopped cilantro and sesame seeds. On my picture, I used wasabi green sesame seeds, which can be found at Tang Freres in Paris or an asian grocery store in your country.
Serve immediately.
Nouilles sautées au Boeuf à l'Asiatique
Pour 4 personnes
250g de restes de rosbif cuit (saignant, c'est mieux), coupés en fines lamelles
250g de nouilles asiatiques aux oeufs
2 ciboules ou 3 petits oignons blancs, nettoyés et ciselés
2 échalotes, pelées et ciselées
2 gousses d'ail, écrasées
2 cuillères à soupe de gingembre frais pelé et râpé
1 CàS de basilic thaï (ou classique, si vous n'en trouvez pas)
2 carottes, nettoyes, râpées
1 courgette pelée une bande sur deux, rapée
1 boîte de 400g de pousses de soja (haricots mungo)
De la sauce soja (au moins 2 CàS)
De la sauce de poisson (1 CàS)
De la coriandre fraîche, ciselée (un demi-bouquet)
Des graines de sésame pour la déco
Huile d'olive
Préparez les nouilles : plongez-les dans une casserole remplie d'eau bouillante non salée, couvrez, retirez de la plaque et maintenez couvert pendant 4 minutes. Avec une fourchette, démêlez les nouilles, égouttez et transférez-les dans un grand saladier.
Dans un wok, faites chauffer 2 càs d'huile d'olive. Quand l'huile est chaude, faites revenir les ciboules ou oignons, les échalotes et les gousses d'ail pendant 1 minute. Ne laissez pas dorer. Ajoutez le gingembre râpé, le basilic puis la viande en lamelles. Faites revenir rapidement et mélangez bien.
Ajoutez ensuite les légumes : carottes, courgette et pousses de soja. Assaisonnez avec deux càs de sauce soja, une càs de sauce poisson. Versez les nouilles, remuez, goûtez et rectifiez l'assaisonnement.
Versez dans un grand plat, parsemez de coriandre fraîche ciselée et décorez avec des graines de sésame. Sur ma photo, j'ai décoré avec des graines de sésame vertes au wasabi, que l'on peut trouver chez Tang Frères.
Servez immédiatement.