Meringues géantes au Limoncello
Giant Limoncello Meringues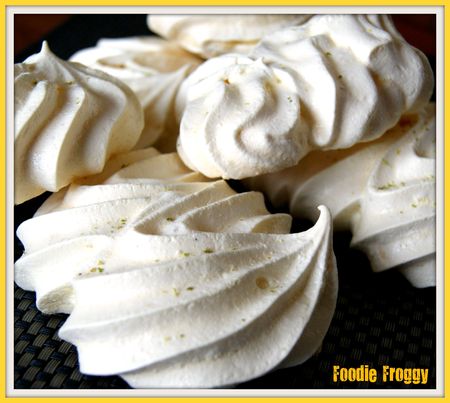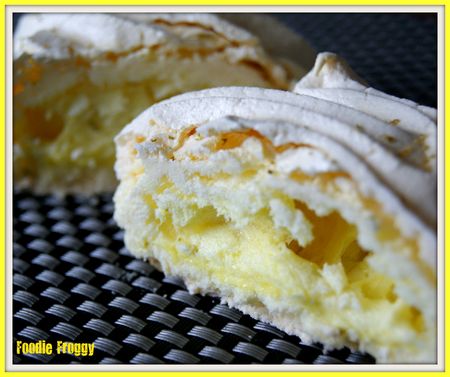 Ah, Italy ... I am back from a lovely stay in Rome, and of course after a visit to the famous grocery shop Volpetti (seen on our local version of "MasterChef" ), I had to buy plenty of Italian produce : I can tell you that my luggage was much heavier on the way back to Paris! And among the aged Parmesan, top quality Carnaroli Risotti and crazy shaped Pasta, one could find a bottle of limoncello ... I was not a big fan, but after having tasted a home-made version in a tiny family-owned trattoria, I was thrilled ! Well, mine (Piemme brand) is not homemade, butstill is artisanally produced using lemons from Sorrento, it is extremely flavorful, a real treat. I even enjoy sipping some in the evening after dinner...The beginning of an addiction?
I really wanted to find this subtle flavor in a new recipe and the idea to make limoncello meringues came to me quickly when I found myself with three egg whites leftovers. The result is amazing, you really feel the limoncello, and the meringue is very crunchy on the outside still soft in the inside, like pavlovas. Mmm...so good. But beware, before you decide to make these meringues, you have to know that your oven will be "busy" for 4 hours, so plan the rest of the meal accordingly.
Ah, l'Italie...Je reviens d'un charmant séjour à Rome, et bien évidemment après une visite chez le célèbre épicier Volpetti (immortalisé par MasterChef), ça n'a pas loupé : mes bagages en sont revenus bien plus lourds qu'à l'aller ! Et parmi le Parmesan vieilli, le risotto de compétition, la bresaola à mourir et les pâtes farfelues, une bouteille de limoncello...Je n'étais pas grande fan, mais après en avoir goûté une version "maison" dans une petite micro-trattoria familiale, j'ai été emballée ! Bon, la mienne (marque Piemme) n'est pas faite maison, mais, est tout de même produite artisanalement avec des citrons de Sorrente, elle est extrêmement parfumée, un vrai régal. Je me surprends même à la siroter avec plaisir le soir après le repas...Le début d'une addiction ?
J'avais vraiment très envie de retrouver ce parfum subtil dans une recette et l'idée m'est vite venue de l'utiliser dans des meringues lorsque je me suis retrouvée avec trois blancs d'oeufs sur les bras. Le résultat est surprenant, on sent vraiment le limoncello, et la meringue est tendre au coeur, un peu comme une pavlova, c'est très gourmand. Attention, avant de vous lancer dans ces meringues, sachez que votre four va être accaparé pendant 4 heures, donc prévoyez le reste du repas en fonction.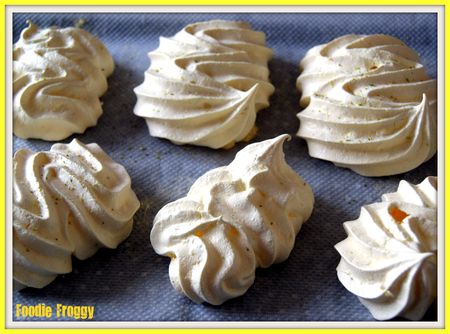 Giant Limoncello Meringues
For 6 large meringues (or 12 small)
1/3 cup egg whites (about 3 eggs)
1/2 cup granulated sugar
1/2 cup, unsifted powder sugar
1 tsp lime zest + some for the decoration
half a lime
2 tbsp Limoncello
1 tsp yellow food coloring (optional)
Preheat oven to 200 ° F.
Take the zests of one lime. With a Microplane grater (my lattest purchase), it is so easy...
Rub the sides and bottom of the food processor's bowl (or a mixing bowl, if you use a beater) with half a lime.
Whip egg whites using an electric beater or food processor. When frothy, add half the granulated sugar. When stiff, add remaining granulated sugar.Add confectioner's sugar and mix carefully, using a rubber spatula. Stir in limoncello, grated zests and yellow food colouring.
The meringue dough should be firm and velvety.
Fill a large pastry bag fitted with a 2/3 (2cm) star tip nozzle with the meringue dough. Pipe the dough onto a baking sheet lined with parchment paper in 6 large (or 12 small) nice shapes. Leave about 1 inch space in between each dough shape to allow them room to puff.
Sprinkle meringues with some lime zests and bake them for three hours (two hours for the small ones). Leave them an additional hour in the switched off oven. Touch them, they should be tough to the touch.
Remove from the oven and let cool.
Serve immediately as they absorb humidity very fast and can get chewy. To store them, use ziplock bags.
Meringues géantes au Limoncello
Pour 6 grosses meringues (ou 12 petites)
90g blancs d'oeufs (soit environ les blancs de 3 oeufs)
90g de sucre en poudre
90g de sucre glace
1 càc de zestes de citron vert + un peu pour la déco
la moitié d'un citron jaune ou vert (tant qu'à faire, autant utiliser celui des zestes)
2,5 cl de limoncello
1 càc de colorant jaune (facultatif)
Préchauffer le four à 100°C.
Prélever les zestes d'un citron vert. Avec une râpe microplane (mon dernier achat culinaire), c'est tout simplement un vrai bonheur...
Couper ce citron en deux, et frotter la paroi du saladier ou du bol du robot avec.
Dans le saladier ou le bol du robot, battez les blancs d'oeufs jusqu'à ce qu'ils soient mousseux. Puis ajoutez la moitié du sucre en poudre, soit 45g. Continuez à battre et rajoutez l'autre moitié du sucre en poudre. Quand les blancs sont bien fermes (quand ils forment un "bec"), ajoutez le sucre glace puis le limoncello, à la spatule.
Continuez à mélanger et mettez une càc de zestes de citron. Mélangez bien. La meringue doit être ferme et satinée.
Remplissez une poche à douille du mélange et formez six grosses meringues ou 12 petites sur une plaque à pâtisserie recouverte de papier cuisson. J'ai utilisé une poche à douille jetable et surtout une grosse douille cannelée, cela donne de jolies "vagues", comme les meringues de la boulangerie. Saupoudrez d'un peu de zestes de citrons verts et enfournez 3 heures (2 heures pour les petites) puis éteignez le four et laissez 1 heure dans le four éteint. Touchez-les, elles doivent être fermes sous le doigt.
Retirez du four, décollez les meringues et laissez refroidir. A consommer rapidement, car elles absorbent vite l'humidité et perdent un peu de leur croquant. Sinon, conservez-les dans un sac ziplock, c'est extra.