"Key Lime" Pie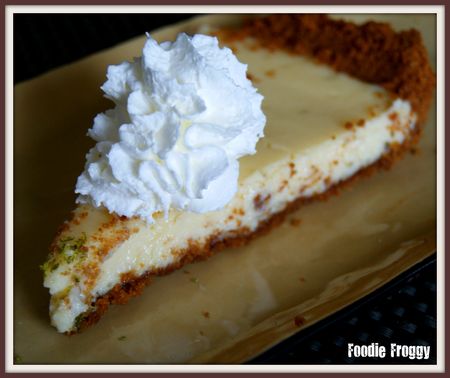 Bouh, honte sur moi ! Pour une personne qui s'est déjà rendue au moins quatre fois en Floride, comment pouvais-je tout ignorer (ou presque) de la fameuse "Key Lime Pie", hormis son goût inimitable ? Tsst tsst...Déjà, je ne savais pas que son nom venait d'une variété de citrons verts (les key lime) plus petits et plus acides, que l'on trouve dans les Keys, un archipel d'îles à l'extrémité Sud de la Floride. D'autre part, personne n'avait daigné me dire que la recette faisait appel à du lait concentré sucré. Une explication à ceci : les problèmes de conservation du lait frais dans cette région tropicale, de par l'absence de réfrigérateurs au XIXe siécle (et oui, cette recette est si ancienne que cela).
Maintenant que je l'ai testée, goûtée et approuvée, je peux rajouter qu'elle est extrêmement facile et rapide à faire : en un quart d'heure (allez, 20 minutes au max), elle est préparée et cuite !! C'est fou, non ? Ah, ces Américains, ils sont décidément trop forts !!
Boo, shame on me! For someone who has already made four trips to Florida, how could I ignore all about the famous "Key Lime Pie", apart from its unique taste? Pfff... First, I was unaware that its name came from a variety of limes (the key lime) smaller and more bitter, which is found in the Keys, an archipelago of islands at the southern end of Florida. Secondly, I did not know that the recipe was using sweetened condensed milk. One reason for this : the problems of fresh milk conservation in this tropical region, because of the lack of fridges in the nineteenth century (yes, this recipe is that old).
Now that I have made, tasted and enjoyed it, I can add that it is extremely easy to do: in a quarter of an hour (OK, 20 minutes max), it is all done and baked ! Crazy, isn't it ? Ah, no one can beat American effectiveness !
La fameuse « Key Lime Pie » de Floride
Pour une tarte de 28cm de diamètre (8 personnes)(à faire la veille si possible)
250g de speculoos
100g de beurre, fondu
3 oeufs (les jaunes uniquement)
le zeste d'un citron vert
15cl de jus de citron vert (soit environ 6 citrons verts, selon la taille)
1 boîte de lait concentré sucré (397g)
De la chantilly en accompagnement ("maison" ou pas)
Préchauffez le four à 180°C (Thermostat 6). Réduisez en poudre les spéculoos et mélangez au beurre fondu. Garnissez le moule à tarte de papier sulfurisé puis étalez ce « fond de tarte » en appuyant bien avec les mains et en faisant remonter sur les côtés.
Dans un saladier, battez pendant deux minutes 3 jaunes d'œufs avec les zestes d'un citron vert. Ajoutez le lait concentré sucré et battez encore 3 minutes. Enfin, ajoutez le jus des citrons verts puis versez sur le fond de tarte. Enfournez pour 10 minutes.
Laissez refroidir puis réfrigérez pour au moins 4 heures ou toute la nuit, c'est encore mieux. Pensez à mettre cette tarte au congélateur 15 minutes avant de la servir, c'est encore meilleur. Accompagnez de chantilly ou sinon, faites une meringue que vous disposerez sur la tarte avec les 3 blancs d'oeufs restants.
Autre possibilité pour les blancs restants : de délicieuses Meringues géantes au Limoncello .
The infamous Key Lime Pie
For a 10-inch pie (8 servings) (to be made a day ahead if possible)
8 oz graham crackers
4 oz unsalted butter, melted
3 eggs (yolks only)
zest of one key lime or lime
1/2 cup key lime juice or lime juice (about 6 or 7 limes, depending on size)
1 can sweetened condensed milk
Whipped cream for accompaniment ("home-made" or not)
Preheat oven to 350°F. Process graham crackers to obtain a thin powder and stir in the melted butter. Line the pie plate with parchment paper, then press the powder into the bottom and sides of the pan, forming a border around the edge. In a bowl, beat the egg yolks for two minutes with the zest of one lime. Add condensed milk and beat another 3 minutes. Finally, add the lime juice, little by little, and pour the batter over the crust.
Bake for 10 minutes. Let cool to room temperature then refrigerate. It is better to refrigerate the pie overnight, or at least 4 hours.
Remember to put the pie in the freezer 15 minutes before serving, it's even better. Serve with whipped cream. Or you can top with a meringue made with the egg whites leftovers.
Another suggestion for egg whites : make Giant Limoncello meringues, a delish !!