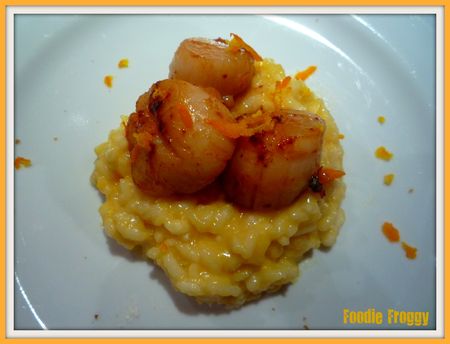 Laissez-moi vous présenter mon plat du réveillon 2010. Tentant, non ? Nous avions décidé de faire assez light cette fois-ci et y sommes presque parvenus -enfin, si l'on fait abstraction des toasts de foie gras à l'apéro-...Sinon, l'entrée était très simple mais jolie comme tout : des petits mille-feuilles de saumon fumé (en feuilles de brick) avec une crème fraîche au wasabi , recette trouvée dans un coffret que j'adore et que je vous recommande. J'aurais l'occasion de vous en reparler prochainement. Puis, ce risotto et enfin, en dessert, ma Key Lime pie servie avec une salade de suprêmes d'agrumes très très rafraichissante. Rien de bien sophistiqué, ma foi, mais il faut dire que je ne suis jamais très à l'aise en dehors de ma propre cuisine. Mes ustensiles, mes appareils electro-ménagers m'ont atrocement manquée; c'est fou comme on devient vite accro à ces petits gadgets...
Let me introduce you to one of the few dishes I made during the holidays. Looks pretty good, doesn't it ? And it definitely was ! It was "legen...wait for it...dary" (OK, I admit it, too many episodes of "How I met your mother" during my winter break. I didn't know this show before, and now, I'm hooked). As for our meals, we had decided we had some pounds to loose and therefore not eat too many heavy stuff. And we did quite well actually (only if you except a few slices of poilane bread with foie gras, some duck confit, "raclette" -a swiss dish with potatoes, melted cheese and dried meat). Lol !! Well, what else did I have the night of the risotto ? As a starter, it was a very pretty smoked salmon "mille-feuilles" (Phyllo pastry) with horseraddish whipped cream, and for dessert my Key Lime pie with citrus fruit salad. Refreshing. And some wine from California brought by my twin brother who has been a L.A resident for more than twenty years !!
Nothing very sophiticated, but as I was hundreds of miles from my Parisian kitchen, my favorite utensils and my ...habits, truth is that I was a bit lost and clumsy. I did my best, though, I promise...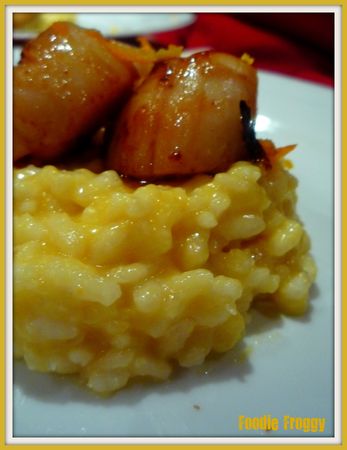 Orange-scented scallops and Pumkin Risotto
You need for 4 servings :
Scallops :
4 large scallops per person, so a total of 12, arranged on absorbing paper
The zests of one orange
The juice of one orange
2 tbsp unsalted butter
Vegetable Stock (can be replaced by two vegetables bouillon cubes dissolved in 4 cups simmering water) :
2 large onions
2 medium carrots
3 stalks celery (not the leaves, too bitter)
1 garlic
Bay Leaf
Risotto :
9 oz pumpkin, peeled and cut into large dices
3 tbsp extra virgin olive oil
2 chopped shallots
1 cup arborio rice
1/2 cup dry white wine
About 3 1/2 cups vegetable stock
2 tbsp mascarpone (can be replaced by butter)
1/2 cup freshly grated Parmesan cheese
Salt and pepper
Make vegetable stock : Let all vegetables (cut into large pieces) simmer for an hour in enough water to cover them. Drain.
Prepare the pumpkin : Arrange the dices in a large saucepan, cover with water and bring to a boil. When pumpkin is cooked through (check with a knife), remove with a slotted spoon. Purée in a food processor and season.
In a nonstick skillet, heat 3 tbsp olive oil on medium heat. Add the shallots and cook for a few minutes until translucent. Add the rice and cook for 2 more minutes, stirring until nicely coated.(While the shallots are cooking, bring the stock to a simmer in a saucepan).Add the wine in the rice. Slowly stir, allowing the rice to absorb the wine. Once the wine is almost completely absorbed, add 1/2 cup of stock to the rice as well as 4 tbsp pumpkin purée (more, if you like). Continue to stir until the liquid is almost completely absorbed, adding more stock in 1/2 cup increments. Stir often to prevent the rice from sticking to the bottom of the pan. Continue cooking and stirring rice, adding a little bit of broth at a time, cooking and stirring until it is absorbed, until the rice is tender, but still firm to the bite, about 15 to 20 minutes. Remove from heat.
Gently stir in the Parmesan cheese and the mascarpone. Add salt and pepper to taste.
5 minutes before the end of the risotto cooking, sear the scallops : slowly heat butter in a skillet and when golden brown ("nutty"), sear the scallops. Turn them several times so they are cooked through. Season and add half the zests. Stir one last time and remove the scallops. Pour orange juice in the skillet, higher the heat and let reduce until syrupy.
On each plate, arrange two to three tbsp risotto, top with 3 scallops, sprinkle with some orange sauce and decorate with the remaining orange zests aside.
Saint-Jacques à l'Orange et Risotto au Potiron
Pour 4 personnes :
Saint-Jacques :
3 noix de saint-Jacques sans le corail par personne, soit 12 en tout, disposées sur du papier absorbant
30g de beurre
Le zeste d'une orange
Le jus d'une orange
Bouillon de légumes (bien sûr, pour vous simplifier la tache,vous pouvez utiliser 2 cubes de bouillon de légumes dissous dans un litre d'eau frémissante) :
2 gros oignons
2 carottes moyennes
3 branches de céleri (pas les feuilles, trop amères)
1 tête d'ail
1 bouquet garni
Risotto au potiron :
250g de potiron
3 CS d'huile d'olive
3 échalotes finement hâchées
200g de riz rond spécial risotto (arborio ou carneroli)
15 cl de vin blanc
80cl de bouillon de légumes (voir plus haut)
2 CàS de mascarpone
50g de parmesan fraîchement râpé
Sel et poivre
Faites le bouillon de légumes (ou utilisez des bouillon cubes) : Coupez les légumes en larges tronçons et laissez les cuire à frémissement pendant une heure dans suffisement d'eau pour les recouvrir. Passez le bouillon à travers une passoire vers une autre casserole afin de retirer les morceaux et les herbes.
Préparez le potiron : pelez et coupez en gros dés et recouvrez d'eau salée dans une casserole. Faites cuire jusqu'à ce que les dés soient tendres (une lame de couteau doit les traverser facilement). Retirez-les à l'aide d'une écumoire. Mixez-les, assaisonnez et réservez.
Dans une poêle non adhésive, faire chauffer 3 Cs d'huile d'olive. Ajoutez les échalotes et cuire encore jusqu'à ce qu'elles soint "translucides". Ajoutez le riz et cuire encore 2 minutes, jusqu'à bien imprégner le nacrer.
Pendant ce temps, porter le bouillon à frémissement.
Ajoutez le vin au riz. Quand le vin est complètement absorbé, ajouter une louche de bouillon puis au moins 4 grosses cuillères de purée de potiron (ou plus, selon votre goût).Continuer à mélanger jusqu'à ce que le liquide soit complètement absorbé. Continuer à ajouter le bouillon par louche jusqu'à épuiser les 80cl. Le riz doit être cuit mais encore un peu ferme. Compter environ 15 à 20 minutes pour cela puis retirer du feu.
Hors du feu, ajouter le parmesan puis le mascarpone. Rectifier l'assaisonnement.
5 minutes avant la fin de la cuisson du risotto, faites cuire les Saint-Jacques : faites lentement chauffer le beurre dans une poêle sur feu moyen, puis lorsqu'il est noisette (cela évitera le crépitement et donnera un bon goût à vos coquilles), disposez les saint-jacques et retournez-les plusieurs fois pendant 3 à 5 minutes. Assaisonnez puis ajoutez la moitiè des zestes d'orange, retournez une dernière fois et retirez-les. Augmentez le feu, versez le jus d'orange et faites réduire.
Dressez rapidement chaque assiette, en mettant 2 à 3 cuillères de risotto puis trois coquilles par-dessus, un peu de jus et quelques zestes d'orange autour.