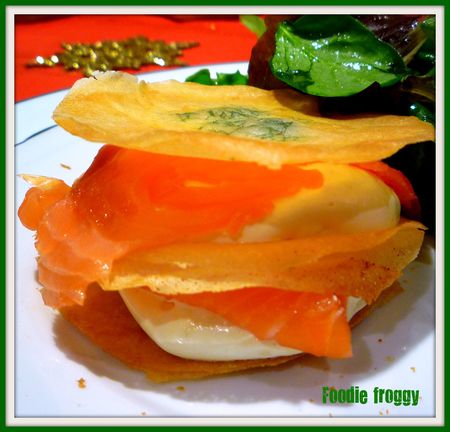 Petite entrée sans prétentions, mais qui fera probablement de l'effet autour de la table. Autres avantages : rapide à préparer et bien sûr, délicieuse...En fait, plus un prétexte pour vous parler d'un livre, que dis-je, d'un coffret qui m'a vraiment emballée. Vous connaissez probablement Fred Chesneau, son auteur, le très sympatique globe-cooker de Canal Plus. Il a réuni en une très jolie valisette 6 livres de recettes du monde : le Danemark, l' Italie, le Maroc, la Thaïlande, le Japon et l'Inde. Vous ne pouvez vous imaginer comme j'ai salivé sur ses recettes, elles sont plus tentantes les unes que les autres. Chaque livre contient des explications sur les ingrédients locaux et une quinzaine de recettes. Le prix, 24,95 est une aubaine, car je peux vous garantir que vous allez exécuter un nombre incalculable de ses recettes. Elles sont toutes faciles mais surtout pleines de saveurs car Fred est le roi des herbes fraîches et des épices. Courez l'acheter, vous me remercierez plus tard...Desolée pour la qualité photos, elles ont été prises vite fait pendant les fêtes sous une lumière artificielle, bref pas top...
Bon, je vous laisse, j'ai mes Papillotes de Cabillaud au Poivre Vert en feuilles de bananier (Inde) qui m'attendent, Miam !

A no-frill and unpretentious appetizer which, nonetheless, will probably have a "wow" effect on your guests.As I was not at home when I made it -and am so oddly clumsy when cooking in other people's kitchen-I enjoyed the fact that it was so super simple...and tasty, too ! Actually, this recipe is a good excuse for me to write about a new cookbook I really cherish. Fred Chesneau, its author, is quite a celebrity in France as he hosts a culinary TV show on the trendy channel Canal Plus. Basically, his job is to travel the world and share local recipes. I so want his job...The book looks like a suitcase with 6 mini-cookbooks inside, each for a country (Thailand, India, Japan, Morocco, Italy and Denmark).I used to attend his cooking classes when he was not yet a TV star and I immediately fell in love with...his dishes. No, seriously, each one of hisrecipes is more mouth-watering than the other. Amazing.
Well, I have to leave you now, I am currently roasting Cod fillets with Fresh Green Pepper in Banana Leaves (from the India mini-book). Yum !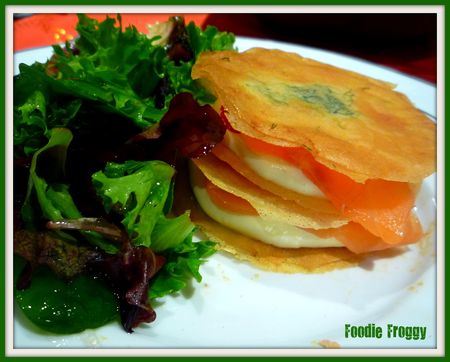 Mille-feuilles au Saumon
Recette de Fred Chesneau, la Valise du Globe Cooker
Pour 6 personnes
300g de saumon fumé coupé en 12 morceaux
6 feuilles de brick
100g d'oeufs de saumon (sur la photo j'ai mis des oeufs de lump, mais il vaut mieux utiliser des oeufs de saumon ou de truite)
6 brins d'aneth
1 càs de mascarpone
1 càc de wasabi (ou moutarde forte)
20cl de crème liquide entière
100g de beurre demi-sel
Préchauffez le four à 200°C.
Mettez un saladier, les batteurs de votre fouet et la crème liquide au congélateur pendant un quart d'heure.
Pendant ce temps, préparez les "palets" de feuilles de brick :
Dans chaque feuille de brick, découpez 6 cercles de 10cm de diamètre à l'aide d'un emporte-pièce (ou d'un verre retourné) et d'un couteau fin. Vous obtenez 36 cercles. Chaque millefeuille sera constitué de 6 cercles, collés deux par deux, donc trois "palets", le palet supérieur étant le seul orné d'un brin d'aneth.
Faites fondre le beurre dans un casserole ou au micro-onde (1 à 2 minutes sur puissance 500W).
Pour les palets supérieurs : badigeonnez 6 cercles de beurre fondu, positionnez un brin d'aneth au centre et recouvrez d'un second cercle que vous badigeonnerez également.
Badigeonnez 12 autres cercles de beurre fondu, recouvrez d'un autre cercle et re-badigeonnez. Cette fois, sans incorporer de brin d'aneth.
Vous avez donc 12 "palets" sans aneth et 6 "palets" avec aneth. Enfournez les palets à plat sur une (ou deux) plaque(s) à pâtisserie recouverte de papier cuisson pendant 5 minutes. Ils doivent être bien dorés.
Montez la crème liquide, le mascarpone et le wasabi en chantilly.
Procédez au montage juste avant de servir : un palet sans aneth, une cuillère de chantilly, un morceau de saumon fumé, une petite cuillère d'oeufs de saumon, un second palet sans aneth, chantilly, saumon, oeufs de saumon et enfin, le palet avec aneth. Servez avec une petite salade de mesclun ou de pousses d'épinards.
Salmon Millefeuilles
Recipe by Fred Chesneau, La valise du Globe-Cooker
Serves 6
300g (10 oz) smoked salmon, cut into 12 large strips
6 sheets of brick pastry (middle-easten grocery shops or replace by phyllo)
100g (3 1/2 oz) salmon roe (on the photo I used lumpfish roe, but it is better to use trout or salmon roe)
6 sprigs of fresh dill
1 tbsp mascarpone
1 tsp wasabi (horseraddish or mustard)
20cl (0.85 cup) of liquid whipping cream
100g (approx. 1 stick or 1/2 cup) salted butter
Preheat oven to 200°C (400°F).
Put a mixing bowl, beaters and liquid cream in the freezer for fifteen minutes.
Meanwhile, prepare the pastry layers :
In each pastry sheet, cut out 6 circles of 10cm (4-in) diameter with a cookie cutter (or an inverted glass) and a sharp knife. You get 36 circles. Each millefeuille will consist of 3 layers, each one being made by two circles assembled together, the upper layer being the only one with a sprig of dill in the middle.
Melt the butter in a saucepan or in the microwave (1-2 minutes on medium power 500W).
To make the top layers : brush 6 circles with melted butter, place a sprig of dill in the center and cover with a second circle that you will brush with melted butter as well.
Brush 12 circles with melted butter, cover with another circle and re-brush. This time, without incorporating sprig of dill.
So you now have 12 "layers" without dill and 6 "layers" with dill. Arrange all layers on a baking sheet lined with parchment paper and bake for 5 minutes or until golden brown.
Whip the cold cream, mascarpone and wasabi until you obtain a thick and firm whipping cream.
Assemble the mille-feuilles just before serving : on a layer without dill put a tablespoon of whipped cream, a piece of smoked salmon, a teaspoon of salmon roe, top with a second layer of pastry without dill, add cream, then salmon, then salmon roe and finally, top with the upper layer (with dill). Serve with mixed greens salad or baby spinach.