Date of lunch : january 2011
Résumé en français
Une excellente découverte. J'avais lu de bonnes critiques, d'autres un peu plus mesurées -mais qui concernaient surtout le service encore en rodage. Après quelques mois d'ouverture, je peux dire que tout est parfait. Enfin, ce qui compte, c'est quand même ce que l'on a dans l'assiette et là, sincèrement, c'est un pur bonheur ! Après avoir connu quelques déceptions récentes dans des restaus qui avaient créé le buzz (Saturne et Régalade Saint Honoré pour ne pas les nommer) et qui étaient dans les mêmes prix au déjeuner, je suis enfin ressortie avec le sourire aux lèvres. Bon sang, que c'est bon de se régaler comme ça !
Le menu à 38 euros (au déjeuner seulement) est une superbe opportunité pour découvrir les talents de ce chef au parcours déjà brillant, mais attention, à la carte, c'est beaucoup, beaucoup plus cher. Alors, les filles, c'est pas bientôt la saint-Valentin ? Faites-vous inviter par vos Jules ! A noter : nos cafés nous ont gentiment été offerts ainsi que deux menus dédicacés. Ca fait toujours plaisir...Quelques mots chez ma copine de fourchette Lilibox, qui est aussi l'auteur des magnifiques photos.
The Chef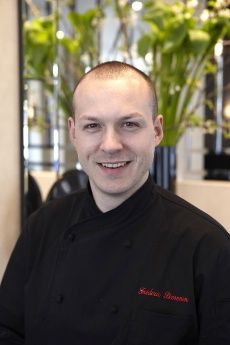 Frédéric Simonin started cooking at the age of 15 in Brittany. His career began as commis chef at Ledoyen with Ghislaine Arabian.
He worked in high-end restaurants such as Meurice, Taillevent and George V. Then he became Sous-chef in Ghislaine Arabian's restaurant. In 2002,when she left the restaurant, Frédéric became the Chef and got his 1st Michelin star at the age of 27.
In 2004, Joël Robuchon asked him to be the Chef of his new restaurant in Paris, "La Table de Joël Robuchon ". He got a 1st Michelin star followed by a 2nd one in 2006. In July 2006, he left Paris to London as Executive Chef, to make the opening of Joël Robuchon's restaurants, where he also got two michelin stars.
Back to Paris, he opened his own restaurant in april 2010.
The Food
The lunch menu is 38 euros, and it was our choice. Anyway, looking at the "à la carte" items would have discouraged us as the prices were quite high (expect 19 to 38 euros for a starter, 39 to 68 for a main and 12 to 14 for dessert). My table companion has already had dinner there and said it was worth the price. But she was invited, so, that makes things easier. So, girls, you know what you have to do...
In the menu, you can choose between two starters, two main dishes and two desserts. My friend and I decided to take different items so we could taste (and photograph) everything !
The style is modern cuisine. Freshness and quality of produce are the key words here. And...taste ! Everything we had was incredibly flavorful and tasty. I was particularly amazed by the squid ink risotto : I didn't have good memories of my two previous experiments with blackink fish, I thought the taste was too acrid and too overwhelming. But here, it was incredible, very subtle, and it was very well balanced with the parmesan.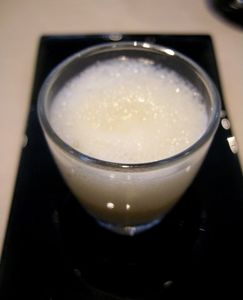 Amuse-Bouche : foie gras avec mousse de parmesan et réduction au porto. The review in details :
The amuse-bouche was served in a small glass and consisted of foie gras, parmesan foam and port reduction in the middle. Beautiful and excellent.
Escargots aux noisettes du Piémont, sur une crème de laitue à la muscade. Oeuf de Poule cuit cocotte, crème lègère aux champignons des sous-bois. As a starter, I chose snails served with hazelnuts from Piémont (Italy), on a creamy soup of lettuce and nutmeg. I hadn't had snails for years and it was so yummy, they were not in their shells and the texture was firm but not too chewy, just perfect. There was a nice contrast with the crunchiness of the hazelnuts and the nutmeggy lettuce cream was delightful. My friend chose the hen egg cooked in a cocotte with a mushroom creamy soup. Perfectly cooked, very flavorful.
Risotto à l'encre de seiche, chipirons et coquilles aux blettes légèrement aillées. Volaille fermière "pattes noires" en fricassé, racine d'hiver au jus et macaroni crémé truffé. For the mains, I had the squid ink risotto with baby squid and mussels, served with swiss chard and a small red bellpepper. I was a bit worried, but as I said above, the taste was not acrid at all, the texture was surprising : the risotto looked firm but was really melting in the mouth. How does he do that ? The contrast in colors was really a piece of art, as you can see on the picture. And the taste, my god, the taste : It simply was my best risotto ever. We could feel the parmesan but it was not overwhelming and the baby squid and mussels were very fresh.
My friend chose the Pattes Noires Fermière Poultry (from the farm) with root vegetables and their juice and a long macaroni in a truffle cream. She said it was just perfect ! Pattes Noires chicken are known as being of high quality. It looked very inviting in my opinion, i have a weakness for all kinds of root vegetables.
Panna Cotta au Bailey's, glace café et chantilly café. Dome praliné, biscuit dacquoise et mousse pralinée, farcie avec poire et coulis de poire.
Dessert : we could choose between a bailey's panna cotta with coffee ice-cream and coffee whipped cream (my choice) and a Praline dome in which was a layer of dacquoise biscuit and a praline mousse, along with a melty pear and pear coulis. Desserts were really well presented and one could guess this restaurant has a true pastry chef, a huge difference with some trendy restaurants which propose too simple desserts (Saturne, for instance).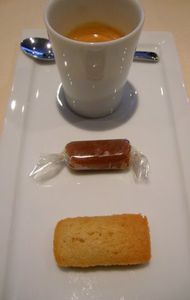 Café avec caramel mou et financier. Coffee was served with a soft caramel and a financier.
The wine
we chose wine by the glass. With my seafood dish, I had white wine : a chablis1er cru from Buteau's winery and my friend had a red with her poultry : a Santenay Lucien Muzard 2008. The sommelier was knowledgeable, wines were a perfect match with our menus.
The customers and the decoration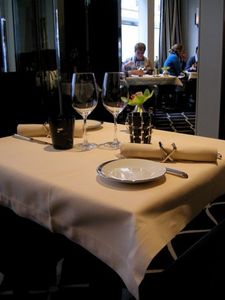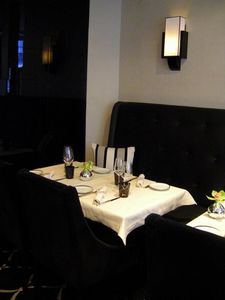 The decoration is chic with a touch of 30's , mostly black and white. I was quite surprised to learn that the designer was a woman, Maud Lesur, because it seemed quite masculine to me. The room is not very large (a dozen tables maybe) and the tables are not too close to each others.
The Service
Nice, pleasant, efficient, attentive. Our waiter was young and quite funny, coffee was on the house when he learnt we were foodbloggers and we also got two menus signed by Fréderic Simonin. Nice.
As a conclusion
It has been a long time since I was that happy about a restaurant. The 38 euros menu at lunch is really a bargain for the quality of food you get. Beware that the à la carte menu is much more expensive (both at lunch and in the evening).
Practical Information/Infos pratiques :
Fréderic Simonin
25 rue bayen, 75017 Paris
Phone: 01-45-74-74-74
website : http://fredericsimonin.com/accueil.php?lang=Ang
Pictures : MyFoodBox (all dishes and decoration) et l'Express Styles (first photo on top)