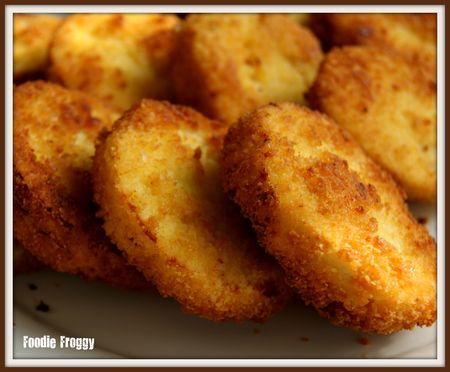 Nuggets? Yes, but not just any nuggets, these ones are from a recipe by Anne-Sophie Pic. Not only is she the only female Chef to have three michelin stars, but she is also a Mum and as so, she knows about our slight anxiety when we take our kids to a fast-food and wonder what the h*ll their chicken nuggets are made of...Sometimes, it is better not to know, but my daughters rave about them, so what am I supposed to do? The answer is : make them a home-made version ! This way, everyone is happy : the anxious Mum who has a total hand on the ingredients (me, a control freak ?) and her happy kids who can get extra-giant nuggets if they want ( I deliberately made some XXL samples) !! And it goes without saying that they are super crunchy and tasty ! After an unbearable suspense, the verdict was : my version is better than the fast-food's. Phew ! Now they want me to make a batch of nuggets every week ! What ?
Des nuggets ? Oui, mais pas n'importe lesquels : ceux d' Anne-Sophie Pic, seule femme Chef à avoir trois étoiles au guide du pneu, et mère de famille de surcroit. "La Anne-So", elle connait donc notre lègère anxiété lorsque l'on amène nos enfants chez le clown Ronald et que l'on se demande ce qu'il peut bien y avoir d'inavouable dans ces satanés nuggets de poulet...Mes filles en raffolent pourtant, alors qu'y puis-je ? Réponse : leur proposer une alternative maison ! Tout le monde y trouve son compte : Moi, la maman "control freak", je sais ce qu'il y a dedans, et elles, les gentilles filles à leur maman, ont droit à des nuggets maxi-size (je les ai volontairement fait assez gros) et délicieux. Après un suspens insoutenable, le verdict est tombé : elles ont préféré ma version. Yes !! La grenouille française a gagné !
Sincèrement, ne les privez pas de ce petit plaisir, ça prend peu de temps et question goût, "y'a pas photo" !!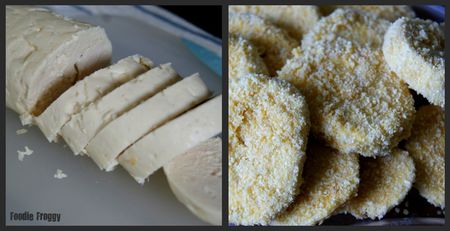 "Three star" Chicken Nuggets
From the cookbook "Recettes pour tous les jours", by Anne-Sophie Pic
For about twenty nuggets
400g (14 oz or 0.8 lbs) skinless and boneless breast of chicken, raw
20cl (1 cup) very cold heavy cream (put 15 minutes in the freezer)
1 egg white
Salt and pepper
For the breading :
A bowl of all-purpose flour
A bowl of beaten eggs (between 3 to 4 eggs)
A bowl of breadcrumbs
salt
oil for frying
Cut the chicken into very small dices. Put a quarter of these dices aside and the rest in a food processor. Add the egg white, the cream and salt and pepper to taste and process.When the "chicken paste" is smooth, pour into a large mixing bowl, add the remaining diced chicken and stir. Season again if necessary.
Put this mixture 15 minutes in the freezer. Roll out a large rectangle of plastic film on a working surface. Place chicken paste in a pastry bag and form a long 1 1/4 inches "sausage" on the center of the plastic wrap (leave room at the ends to tie the film). Wrap the paste tighly in the film, roll on the work surface, and knot the ends. If you have enough paste, you can make two "sausages".
Boil water in a large saucepan, reduce to a simmer and cook the nugget roll(s) for 25 minutes. Remove them, let cool and cut into 0.4 inch slices. Watch these photos for a step by step tutorial.
For the breading process, prepare three bowls filled respectively with: flour, beaten eggs and breadcrumbs. Dip each slice of chicken successively in these three plates (1-Flour, 2-beaten eggs, 3-breadcrumbs) and put in a frying pan with hot frying oil until golden brown on both sides. Remove from the pan and put on absorbing paper.Serve hot.
Nuggets de volaille "trois étoiles"
Extrait de "Recettes pour tous les jours", de Anne-Sophie Pic
Pour une vingtaine de nuggets
400g de volaille sans la peau
20cl de crème liquide très froide (15 mn au congélateur)
1 blanc d'oeuf
sel et poivre
Pour la panure
Une assiette creuse de farine
Une assiette creuse d'oeufs battus (entre 3 et 4)
Une assiette creuse de chapelure
du sel
de l'huile de friture
Coupez les blancs de poulet en tout petits dés. Mettez un quart de ces dés de côté et le reste dans un mixer. Dans ce mixer, ajoutez le blanc d'oeuf, la crème liquide et du sel et du poivre selon votre goût. Actionnez le mixer. Lorsque la pâte est homogène, versez-la dans un grand saladier, ajoutez le quart de dés de poulet réservé et mélangez. Assaisonnez si besoin.
Mettez ce mélange un quart d'heure au congélateur. Etalez un rectangle de film alimentaire d'environ 25cm d long. Mettez la pâte de poulet dans une poche à douille et formez un long boudin de 4 ou 5 cm de diamètre au centre du film alimentaire (laissez de la place sur les extrémités pour nouer le film). Roulez le boudin dans le film, serrez bien et nouez les extrémités. Personnellement, j'ai doublé le film.Ces photos peuvent vous aider.
Faites bouillir de l'eau dans une grande casserole, réduisez à frémissement et mettez le ou les boudins à cuire pendant 25 minutes. Retirez-les, laissez refroidir et découpez en rondelles de 1 cm d'épaisseur.
Pour la panure, préparez trois assiettes creuses remplies respectivement et dans l'ordre de : farine, oeufs battus et chapelure. Trempez chaque rondelle de poulet successivement dans ces trois assiettes et mettez à frire dans une friteuse ou une poêle avec une bonne hauteur d'huile chaude. Epongez les nuggets sur du papier absorbant.Servez bien chauds.