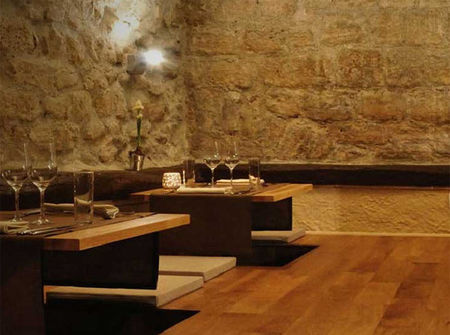 Date of lunch : march 2011
Résumé en français
Dans la foulée du déjeuner mémorable chez Fréderic Simonin, encore une belle découverte : on se promène cette fois-ci du côté des saveurs franco-japonaises, une nouveauté pour moi. Et des surprises, il y en a eu pendant ce déjeuner : tout d'abord l'endroit : en plein coeur du quartier étudiant de Saint-Michel (nostalgie, nostalgie...) et dans des murs rustiques, limite "auberge", en contraste total avec la cuisine zen-issime de Hiroki Yoshitake. Puis, les saveurs bien sûr : que de oh ! et de ah ! d'étonnement entre deux fous rires avec mes joyeux acolytes Lili et Laurent.
A propos de ces deux doux-dingues, courrez lire leur version personnelle, et en français surtout, ici et là. Les photos, admirables comme d'hab, sont à attribuer à la "multi-talented girl", Lili.
Et bien sûr, nous pensons très très fort aux Japonais qui sont en ce moment en plein drame.
The Chef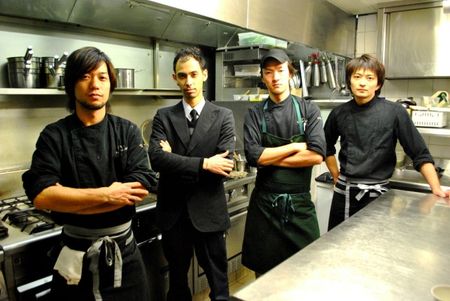 Youlin Ly (suit) and Hiroki Yoshitake (cap)
Hiroki Yoshitake is only 30, but his life has been quite full : he made a 3-year road trip around the globe when he was younger and then trained in a high-end restaurant in Paris, l'astrance (Pascal Barbot) and at Ze Kitchen Gallery (William Ledeuil).
It would be unfair not to mention his chinese-cambodgian-tunisian business partner, Youlin Ly, who opened the first sake bar in Paris in 2008, where fine dishes were already served. He is the co-owner of Sola, and from what I have seen, takes care of the relations with the press, the official website, a blog where the whole Sola adventure is fully described. And he was our waiter, too !
The Food
For lunch, one can chose between two menus : 35 euros (amuse-bouche, starter, main and dessert) or 50 euros (amuse-bouche, two starters, two mains and two desserts). For dinner, two menus : 45 and 60 euros.
As I had not been in the Saint-Michel area for decades (aaah, my student years...) i had decided to wander in the hood before lunch. The result is that when I arrived at Sola, I was starving and it was so the perfect excuse to choose the big tasting menu ;-). Like many new trendy restaurants, the menus change daily and it is not even written on a blackboard. So you have absolutely no idea what you are going to have except that you are asked if you have any allergy or food restrictions. Surprise, surprise... I love this concept, but it is surely not for non-adventurous eaters.
The style is franco-japanese gastronomy. By this, I mean small portions, freshness, artful presentation, freshness, perfect control on the cooking technique and... did I mention freshness ? Fusion food in its best : french ingredients with japanese touches like miso sauce, dashi jelly, shiso, tempura, yuzu and so on. But let's get into details :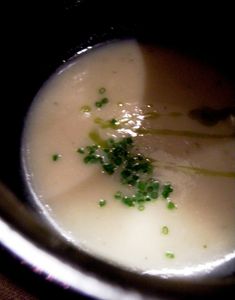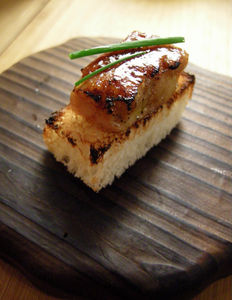 Les amuse-Bouche : Velouté de chou blanc au jus de romarin frais et mini-toast de terrine de foie gras comme une "crème brulée".
The two amuse-bouche were a wonderful white cabbage creamy soup with rosemary juice, and a mini-toast of foie graswith a caramelized top like in a crème brulée. Both amazing.
Menu à 50 euros : les deux entrées : Tartare de Saint-Jacques, champignon, purée de brocoli, lamelles de radis blanc, gelée de dashi, feuilles de shiso. Tempura de crevettes, purée de crustacés.
My first starter was a tartare of scallops (tartare means that is is finely diced and served raw), with small bites of a firm mushroom(which one, I could not guess), a brocoli purée, white raddish paper-thin slices, dashi jelly (dashi is a traditional japanese soup stock ) and shiso leaves. Wow ! What a great combination of flavors, the scallops were, of course, super fresh and made a nice contrast with the crunchiness of the "un-identified" firm mushroom, the overall taste was nicely spiced by the jelly dashi stock and the shiso leaves.
Second starter : shrimp tempura with crustacean purée : as I love sea-food, I was in heaven, the tempura batter was so light that it was barely noticeable, and the crustacean purée had a powerful flavor.The tiny green leaf you can see on the picture had a very strong and pleasant aniseed flavor.

Menu à 35 euros: l'entrée : Calamar en tempura avec champignons de paris, purée aux 2 champignons.
Our friend who chose the cheap menu had a beautiful squid tempura with portobello mushroom, and a two-mushroom puree.
As you can see on the pictures, the presentation of the dishes was awesome. It is something that really impresses me for I am myself so clumsy at home when it comes to "dresser l'assiette" (garnish a plate).
Menu à 50 euros : les deux plats : Merlu sauce moroni (soja fermenté), chou-fleur, purée de panais et radis. Joue de boeuf, radis blanc long, jeune pousse de maïs, ciboulette, sauce yuzu.
Melting-in-the mouth Hake with moroni sauce, some crunchy cauliflower florets, a silky parsnip and radish puree was our first main. Moromi is a sort of fermented sake. We then had beef cheek , a long white radish called "daikon" (never had that before), baby corn, chives and yuzu (an asian citrus fruit) sauce. Oh My God, we were all three amazed by all those flavors, textures, visual beauty. Who could guess that french-japanese food could be so unusual and wonderful ?

Menu à 35 euros : le plat : Suprêmes de pintade, sauce miso et fond de viande, champignons, oignon vert, pomme de terre.
Our friend had amazing guinea fowl breasts, with miso sauce and beef stock, mushrooms, green onion and roasted potatoes. I was a bit jealous as guinea fowl is my favourite poultry meat and even more when he told me that it was so melty that it tasted (and looked) a bit like foie gras. We were all wondering whether the meat had been steam-cooked.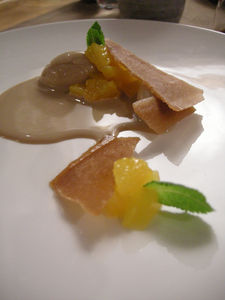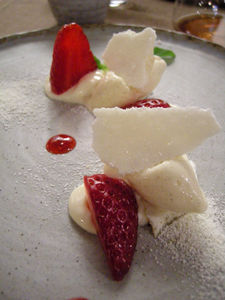 Nos desserts : assortiment à base de thé earl grey : tuile de sorbet, quenelle (lait de soja?), sauce au thé, petits cubes orange et mangue, menthe fraîche. Crème de fromage, glace vanille, fraises, tuiles de meringues, menthe
Sola has a talented pastry Chef, Fukano Hirobu.
We had an assortment of earl grey tea based mini-desserts : an earl grey sherbet tuile (incredible, we thought it was a regular tuile, but no, it was a sherbet), cream quenelle (probably made with soy milk), tea sauce, and some very refreshing orange and mango dices.
Second dessert (same for the 35 euros menu) : Cheese cream (quite strong actually) with vanilla ice-cream, fresh strawberries, meringue tuiles and fresh mint. A bit surprised as strawberries are off-season, but they were sweet and tasty.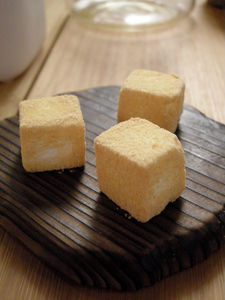 As a mignardise, we each had a very cute cube which looked tough but was definitely soft : it was a non-baked meringue sprinkled with kinako, a roasted soy powder !
The wine The tea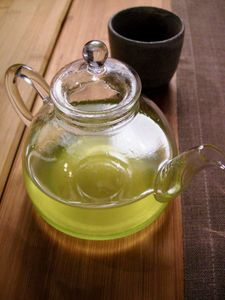 To be in a perfect japanese mood, we decided to skip wine and have tea. I chose a very surprising puffed rice green tea, of a beautiful light green-almost yellow- color and a taste of green tea combined with puffed rice like in a famous cereal brand. Myy friends chose a roasted black tea.
The customers and the decoration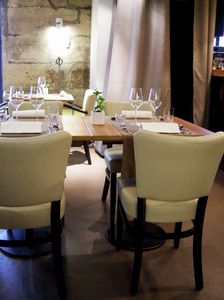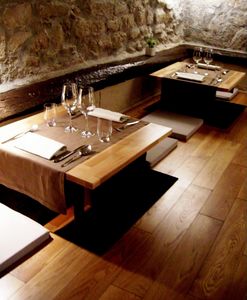 The restaurant itself is in an old building and looks like an old rustic "auberge", with a heavy dark oak wood door, and stone walls inside. No one could expect to find a fusion food restaurant here, moreover in the heart of the Latin Quarter, not specially known for its trendy restaurants. But the decoration is modern with light brown leather chairs, dark wood tables. We had lunch at the ground floor, but I would advise to book at the the basement where you are kindly asked to remove your shoes (and given slippers) and where you can eat real tatami style.
A famous restaurant critic (known as a TV jury for the French version of Masterchef) was there, and the rest of the customers were french and here for pleasure, notfor business.A side-note about the dishware : they were designed by a Belgian artist, Roos Van de Velde.
The Service
We had three different waiters : two charming and very discreet japanese ladies with a heavy authentic accent and Youlin, the co-owner.
Very attentive service with a strong will to share their knowledge about japanese ingredients.
As a conclusion
Sola is a sun rising in the 5th (I think I read that somewhere, lol). I will be back with my husband and very good friends for dinner and I will, of course, book a tatami style table.
Practical Information/Infos pratiques :
Sola
12, rue de l'hôtel Colbert, Paris (Ve),
telephone : 01-43-29-59-04,
website : Restaurant-sola.com.
Pictures : MyFoodBox (all dishes and decoration, la Revue de Kenza (the team) et l'Express Styles (first photo on top)