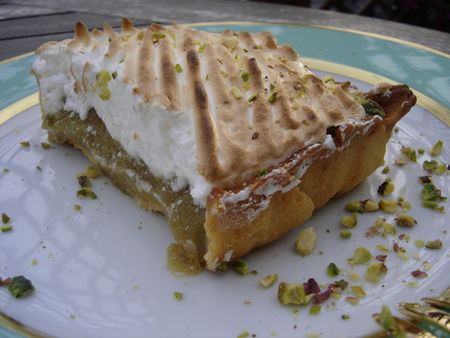 Hooray, another wish ! As you may know, it is a tradition in my family to make a wish each time we do something for the very first time ! And I had never cooked rhubarb before today. I have always been impressed and intimidated by their very long stalks: for me, that meant that they were probably hard to peel, cut and cook. My, how wrong was I ! It can't be easier ! And I also found out about their benefic effects : rich in fibers, they are good to your stomach and they are also a great source of vitamin K (prevention of osteoporosis) and Calcium.
My meringue pie has nothing to do with the famous Alsatian version, which adds cream (or milk) and eggs to the cooked rhubarbs. As I particularly enjoy their slightly acid taste, I just "compoted" them without any addition of dairy nor "eggy" ingredients. With a melting-in-the mouth meringue and a crunchy sweet crust, they made a nice trio. But beware, my friend Steve from Facebook told me to never eat the rhubarb leaves as they are toxic, and do not feed your pets with them.
Chouette, encore un voeu ! Et oui, c'est la première fois que je cuisine la rhubarbe. J'ai toujours été très intriguée et intimidée par ses tiges gigantesques au marché et cela me donnait (à tort) l'impression que c'était un fruit complexe à éplucher, découper et cuisiner.
Cette tarte n'a rien à voir avec la version alsacienne très connue comprenant de la crème fraîche et des œufs. Au contraire, j'ai vraiment souhaité mettre en avant le côté acidulé de la rhubarbe, qui me plait beaucoup, et je l'ai tout simplement préparée en compote. Celle-ci se marie très bien avec la douceur en goût et en texture de la meringue, et le croustillant de la pâte donne une gamme complète de sensations. Je craignais que la compote ne détrempe la pâte, mais si vous l'égouttez, ce risque sera totalement écarté. Ah, je vous l'ai bien « vendue » ma tarte à la rhubarbe meringuée, non ? Ce n'est pas encore assez ? Et si je vous dis que la rhubarbe est composée à 74% de fibres alimentaires et qu'elle est riche en vitamine K (excellente prévention de l'ostéoporose et des troubles cardio-vasculaires) et en Calcium ? Mais attention, les feuilles sont toxiques, ne les consommez pas et ne les donnez pas non plus à un animal, quel qu'il soit.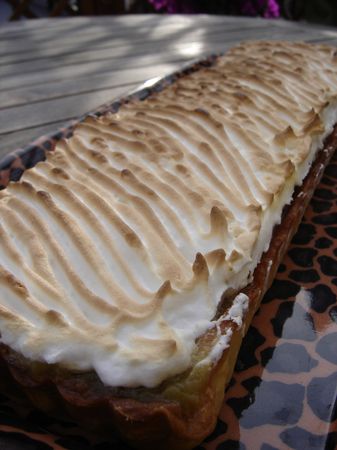 Rhubarb Meringue Pie
For a long pie 4.5 in- x 13 in- or a round pie 10 in- diameter.
6 servings
Sweet crust (or you can buy an already made sweet crust)
7 oz (3/4 cup + 2 tablespoons) all-purpose flour
4 oz (1/2 cup) cold butter, cut into 1/2 inch pieces
2 oz (1/4 cup) granulated sugar
1 egg
Some ice water
Powder sugar
Rhubarb compote
1 pound fresh rhubarb, trimmed and cut into 1/2-inch pieces (3 cups total)
2 tablespoons water
100g granulated sugar
3 tablespoons liquid honey
Meringue
3 egg whites
1 tablespoon vanilla extract
5 oz granulated sugar
1 pinch of salt
Sweet crust :
Using a food processor, combine flour, sugar and cold butter Process until the mixture resembles coarse meal. Add the egg, sprinkle with water and process until the dough begins to stick together and come away from the sides of the bowl. Wrap in plastic and chill for at least 20 minutes.
Line a pie plate with parchment paper. Allow the dough to warm slightly to room temperature and roll the dough to a thickness of 1/8 inch, on a floured board. Cut a circle about 2 inches larger than the plate and transfer into the lined plate by rolling it onto the rolling pin.
Refrigerate for 1 to 2 hours. Preheat oven 350°F. Cover the tart with parchment paper and dried beans. Bake for 12 to 15 minutes.
Remove dried beans and paper and let cool completely before filling.
Rhubarb Compote :
In a sauce pan over medium heat, stir in diced rhubarb, water, sugar and honey. Cook for 5 minutes, then cover and stop cooking when rhubarb is softened. Drain compote through a sieve. Keep rhubarb "sauce" for another use and pour rhubarb compote over cooked sweet crust. Let completely cool at room temperature.
Meringue :
Preheat oven on grill position.
In a large mixing bowl, beat the egg whites and a pinch of salt, using an electric mixer. When egg whites are stiff, pour sugar and vanilla extract and continue beating for 5 minutes (yes).You will feel that the mixture gets thicker.
Using a pastry bag, arrange the meringue onto the cooled pie.
Bake until meringue is golden. Be extremely careful, it can burn fast !A few seconds will be enough to get your meringue golden.
Refrigerate for 3 hours.
Tarte à la Rhubarbe meringuée
Pour une tarte longue de 11 x 34 cm ou une tarte ronde de 25 cm de diamètre.
6 personnes.
Pâte sucrée (ou pâte sablée toute prête)
200g de farine
125g de beurre
50g de sucre
1 œuf
Un peu d'eau froide
Compote de rhubarbe
500g de rhubarbe, épluchée et coupée en dés
2 Cs d'eau
100g de sucre
3 CS de miel liquide
Meringue
3 blancs d'œufs
1 CS d'extrait de vanille
150g de sucre en poudre
1 pincée de sel
La pâte sucrée :
Dans un robot, mettez la farine, le sucre et le beurre froid coupé en morceaux. Actionnez jusqu'à ce que le mélange ressemble à une poudre grossière. Ajoutez l'œuf, mélangez puis un petit peu d'eau froide et actionnez jusqu'à ce que la pâte forme une boule.
Disposez un grand morceau de papier sulfurisé dans le moule à tarte. Je vous conseille d'étaler la pâte de suite sur un plan fariné puis de l'abaisser dans le moule à tarte. Et de la mettre au frais pendant une ou deux heures. Ainsi, elle ne se rétractera pas à la cuisson.
Après le moment de repos, préchauffez le four à 180°C. Disposez du papier sulfurisé recouvert de haricots secs par-dessus la tarte et faites cuire à blanc pendant 12 à 15 minutes.
Au terme de la cuisson, retirez les haricots secs et le papier sulfurisé du dessus. Laissez refroidir.
Compote de rhubarbe :
Dans une casserole sur feu moyen, mettez la rhubarbe en dés, l'eau, le sucre et le miel. Faire cuire 5 minutes puis couvrir. Arrêtez lorsque la compote se défait. Egouttez la compote à travers une passoire et récupérez le jus pour un autre usage.
Versez la compote égouttée sur la pâte précuite. Laissez refroidir complètement à température ambiante.
La meringue :
Dans un grand saladier, montez les blancs en neige ferme avec une pincée de sel. Puis ajoutez le sucre et l'extrait de vanille et continuez à battre vite pendant 5 bonnes minutes, vous sentirez que le batteur rencontre de plus en plus de résistance.
A l'aide d'une poche à douille, dressez la meringue sur la tarte. Si vous n'avez pas de poche à douille, étalez la meringue à la fourchette, comme je l'ai fait sur la photo.
Faites dorer sous le grill en surveillant très attentivement, la meringue dore très vite et peut rapidement brûler. Quelques secondes suffisent.
Mettez au frais pendant environ 3 heures.