Date of lunch : april 2011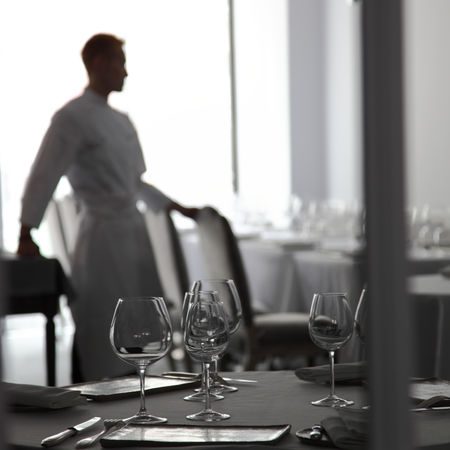 Résumé en français
Encore un restaurant franco-japonais, me direz-vous ! Mmmh, à vrai dire, le Chef est en effet japonais mais la cuisine est moins métissée que chez Sola, elle est clairement plus française, avec de minuscules touches japonaises. Kei a ouvert ses portes en février dernier mais il faut l'avouer, il nous était impossible de ne pas comparer avec le stupéfiant Sola. La barre était tellement haute que, forcément, nous n'avons pas été aussi éblouis : on a cependant commencé très très fort avec les entrées (foie gras incroyable et mention spéciale pour les gnocchis, à tomber), mais j'ai été plus circonspecte sur le plat et le dessert, puis ravie à nouveau par les mignardises. De plus, j'ai été assez surprise que, dans le cadre d'un menu imposé, on ne s'enquière pas d'éventuelles allergies ou restrictions alimentaires.
Bon, tout de même, une vraie bonne adresse malgré quelques petites maladresses. On sent que ce Chef se cherche encore un peu, et n'a peut-être pas encore les moyens de proposer tous les plats dont il rêverait. Dans quelques semaines, je pense que tout sera vraiment parfait...
Vous pouvez lire la critique en français de mes deux compagnons de fourchette archi-sympathiques ici et là. Les photos sont une fois de plus de Lili.

The Chef : Kei Kobayashi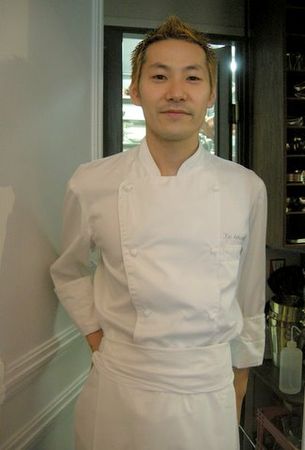 Kei Kobayashi is a young Japanese Chef . He was raised in Nagano, in a family of Chefs. He chose to improve his cooking skills in french restaurants in Japan then, quite logically, left his country for France. He arrived here when he was only 21, not scared at all by the perspective of living in a foreign country with such a different culture.He worked in many michelin-starred restaurants : l'Auberge du Vieux Puits in the Languedoc region (3 stars but had only one star when he was there) followed by Le Prieuré in Villeneuve-lès-Avignon (1 star), Le Cerf in Marlenheim, Alsace (2 stars) and last but certainly not least 7 years at Alain Ducasse restaurant in the Plaza Athénée hotel in Paris (3 stars). A Chef who certainly knows his French geography, given he has worked in so many different regions : in the South, the East, Paris,...He left the Plaza to create his own restaurant, which he simply named... Kei.

The Food
For lunch, one can chose between two menus : 38 euros for a four-course menu (two starters, one main and one dessert) or 48 euros for five courses ( two mains instead of one). For dinner, two menus : 75 and 95 euros.
What kind of food can one find at Kei's ? The Chef wants his food to be seen as French, not fusion. One thing for sure : all the dishes were absolutely superb, like mini pieces of art and architecture. Have a look at the pictures and you will understand what I mean.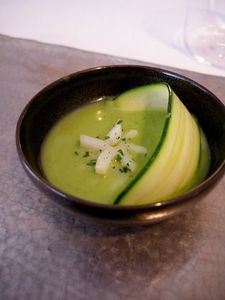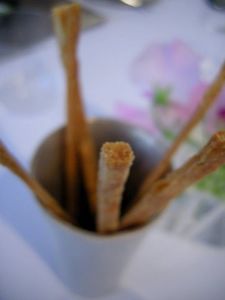 L' amuse-Bouche : Velouté de courgettes, menthe et petites rondelles de calamar. Petits batonnets de parmesan.
The amuse-bouche was a zucchini creamy soup with mint and tiny slices of squid. Very pleasant, and I liked the way the squid was cut, it looked very pretty.The parmesan sticks were awesome.
Les deux entrées : Foie gras confit aux agrumes et Gnocchis de Pommes de terre Pompadour
Our first starter was foie gras confit à l'émulsion de citron meyer, condiment orange et poivre mignonette, confit de cédrat, kumquat snacké, fleur de cerfeuil, copeaux de radis, et mizuna. The foie gras was absolutely amazing, perfectly cooked and seasoned, with many different citrus fruits : a meyer lemon foam, a condiment of orange with "mignonette" pepper (coarsely ground pepper), preserved citron, chervil flowers, and mizuna, a japanese fresh herb.
It was high level gastronomy : all the citrus fruits were incredible, not too bitter but enough to make a great contrast with the sweetness of foie gras. At this stage, we were all three very impressed.
Second starter : gnocchis de pommes de terre Pompadour, émulsion au parmesan, petite chiffonade de Jambon de pays, roquette, morilles et jus de viande. This was going to be my favourite dish of the entire meal, the one that haunts your mind for days ! gnocchi seem like a simple dish (after all it is only potato + flour + egg), but I can tell you that these ones were heavenly made : the gnocchi were melting in the mouth, the parmesan foam along with the Country Ham added a pleasant salty touch (too much for my friend Lili, but for me, it was perfect). The slightly chewy texture of the morels was just perfect with the softness of the gnocchi. This dish, like the foie gras, was perfectly executed. Kei is definitely a talented Chef.
Plat de viande : Canette sauce Miso, pomme de terre de Noirmoutiers, et Romaine. Pour le choix Poisson : Bar de Ligne, émulsion à le fleur d'ail et fricassée d'asperges vertes
Then, after all this explosion of flavours, came the first disappointment : I chose the canette (female duckling) and we were strongly recommended by the waiter that all patrons at the same table had to choose the same "level" of cooking. Lili and I chose it "rare" (Laurent chose the fish), but it could be a problem for people who don't like their meat cooked the same way (not a good idea for my husband and I for instance, he likes his meat well done). The female duckling was tasty, perfectly cooked, I liked the miso sauce on top but I was disappointed by the side-dish : only one tiny Noirmoutiers potato, and a large section of Romaine lettuce with a very common vinaigrette. I simply did not get it. I am sorry to say that but it was ridiculous : only one minuscule potato ? A raw common lettuce with bland taste ? Surprising, but certainly not in a good way.
Laurent, who chose the sea bass with garlic flower foam and roasted green asparagus, found that the garlicky taste was too discreet. I tasted the foam and had to disagree but he was impressed by the very, very crunchy skin of the seabass.
Notre dessert : "Tiramisu" à la F raise, Sorbet Menthe, Tuile ( à la confiture de lait ?), émulsion Fraise.
Our dessert was described as a tiramisu, but apart from a tiny drop of mascarpone, I thought it had nothing to do with the italian dessert, which does not mean it was bad. It was a very thin tuile topped with mint sorbet and strawberry foam. As soon as one tries to spoon into the sorbet, the tuile breaks and one can eat what is below : the strawberries and the mascarpone. I liked the playful way of eating the dessert, but in terms of taste there was nothing to write home abut. The mint sorbet was a bit bland, the tuile was good, very carameley and the rest was just OK.
Mignardises : Petits sablés au gros sel, Sauce Caramel, Guimauves à la groseille et Truffes au Chocolat.
The mignardises were simple but awesome : the little sablés with coarse salt were buttery and very crunchy, and dipped into the caramel sauc,e they were "OMG" ! The gooseberry guimauves were very soft, nicely knot-shaped, very flavorful, and the best part was the incredible chocolate truffles.
The wine
Patrimonio Domaine Catarelli 2006 for Lili (she had the female duckling)
Muscat Cap Corse for laurent (he had the seabass)
I can't say anything about the wine, since I skipped it. I had too much alcohol the day before.
The sommelier seemed very professional, though.

The customers and the decoration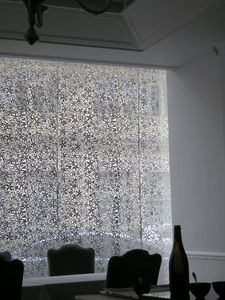 The customers were mostly french businessmen, but they seem to be des "habitués" (regular customers). From the outside, I thought the restaurant was a bit hard to find, as there was no name on the facade.
The restaurant inside is a large rectangle room, nicely decorated in shades of blue, grey and white. There was a lot of space between the tables, which gets rare these days. The dishware, cutlery, silverware were superb.

The Service
The service was nice but a bit "pushy" at the moment of ordering, we had to decide fast on which menu to choose, the waiter was litterally behind our shoulders as my friends and i were chatting a bit.
We had many different persons serving the dishes, including Kei's wife, a charming japanese lady with a sweet accent.
What I really enjoyed is that, on two occasions, two cooks from the kitchen came at our table to describe our plates. A fantastic idea !

As a conclusion
Very promising restaurant, recently opened. A few little mistakes. If I were you, I would wait a few weeks and it will be perfect.
Practical Information/Infos pratiques
Restaurant Kei
5 rue Coq Héron 75001 Paris
tel. 01 42 33 14 74
website : http://www.restaurant-kei.fr/welcome.html
Pictures : MyFoodBox et site web du restaurant Kei (première photo en haut)