Salade de Mesclun, Tomates cerises, Artichaut, Asperges vertes et Parmesan
Cherry Tomato, Artichoke, Green Asparagus, Parmesan cheese and Mixed Greens salad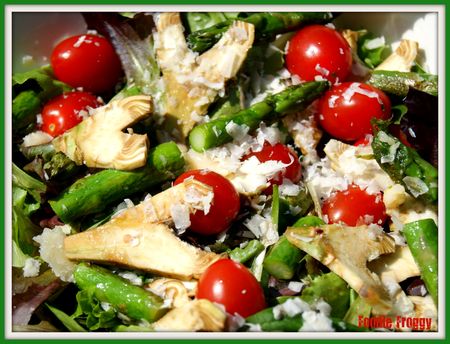 "Farniente" : littéralement, en italien, "ne rien faire". En voilà une salade qui porte bien son nom ! Jusqu'à présent, j'avais toujours eu beaucoup de mal à publier des recettes "évidentes". Je me disais toujours : "les personnes qui me suivent n'ont pas besoin de moi pour un simple assemblage d'ingrédients. Quelle peut être ma valeur ajoutée dans la confection d'une salade, si délicieuse soit-elle ?". Mais aussi surprenant que cela soit, si l'on se réfère aux moteurs de recherche ou même aux blogs des copains et copines, les recettes les plus demandées/plebiscitées sont désarmantes de simplicité : le cultissime gâteau au yaourt culmine aux sommets en compagnie de la purée de pommes de terre ! Et ce n'est pas mon amie Lili qui me contredira avec ses chips au micro-ondes, qui ont affolé son compteur de visites !!
Bref, tout ça pour dire que c'est désormais sans complexe et sans culpabilité que je partage avec vous cette salade aux accents transalpins, qui avait régalé mes pupilles saturées (par un déjeuner délicieux mais néanmoins richissime chez Sardegna a Tavola) un soir de "diète" chez Swann&Vincent, autre italien que j'affectionne particulièrement dans mon douzième arrondissement chéri. Son goût se verra transcendé par une dégustation en extérieur (terrasse, balcon, jardin, pique-nique,...) et accompagnée de brochettes de poulet au BBQ. Allez, une petite recette de marinade, comme ça, en passant : pour 4 gros blancs de poulet coupés en gros dés : mélangez 8 cuillères à soupe d'huile d'olive + une cuillère à soupe de gingembre frais râpé + une cuillère à café de piment d'espelette et une de curry en poudre.
"Farniente" : "to do nothing", in italian.This salad actually does deserve its name ! In fact, I've always felt uncomfortable about posting very easy recipes, I tend to think that my foodblog followers do not expect me to tell them how to "just" assemble ingredients : what kind of added value can one have in explaining how to make a salad ? But as surprising as it may be, when one looks at search engines or foodblog statistics, the most frequently asked recipes are the most basic ones like yogurt cakes or potato mash ! And it is not my foodblogger friend Lili who will contradict me : her visits counter almost exploded when she posted her microwave potato chips recipe !
Thanks to these figures, I no longer feel guilty to share this dish with you : I tasted it first at Swann&Vincent, an Italian restaurant I really enjoy in the 12th arrondissement (my hood). I wasn't feeling hungry that night for I had lunch the same day in another cherished Italian restaurant, Sardegna a Tavola. I recommend that you enjoy this salad "outdoor" (patio, balcony, garden, picnic spot,...), accompanied by BBQ chicken skewers. And because it's you, let me give you a marinade recipe : for 4 large chicken breasts cut into big dices : Assemble 8 tablespoons olive oil, one tablespoon freshly grated ginger, one teaspoon ground Espelette pepper and one teaspoon curry powder. When Asia meets Italy !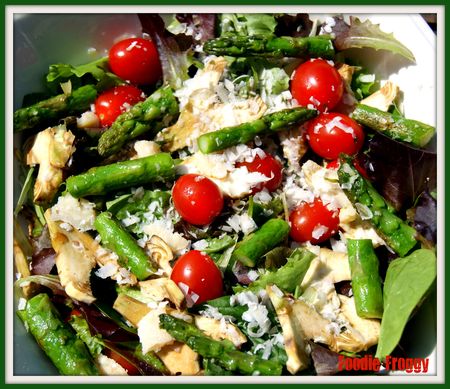 Salade Mesclun, Tomates cerises, Parmesan, Artichaut et Asperges verte
Pour 4 personnes :
4 grosses poignées de mesclun, de roquette ou de pousses d'épinard frais
Deux poignées de tomates cerises
Deux artichauts crus, "tournés", fonds coupé en très fines lamelles et mis dans de l'eau citronné afin d'empêcher l'oxydation
Une douzaine d'asperges vertes, rapidement revenues à la poêle, encore "croquantes"
Du parmesan fraîchement râpé, à volonté
Vinaigrette balsamique
3 CàS de vinaigre Balsamique de Modene
1 càc de jus de citron
1 càc de moutarde de Dijon
8 CS d'huile d'olive de qualité
Sel et Poivre du moulin

Préparez la vinaigrette en assemblant les ingrédients.
Dans un grand saladier, disposez la salade de roquette, puis par-dessus et dans cet ordre (dans un souci esthétique) : les lamelles d'artichauts, les asperges vertes et les tomates cerises. parsemez de parmesan à la dernière minute (soit en copeaux soit à la râpe spécial fromage).
Assaisonnez à la toute dernière seconde, car cette vinaigrette balsamique "cuit" la salade assez rapidement.
Cherry Tomato, Artichoke, Green Asparagus, Parmesan cheese and Mixed Greens salad
For 4 servings :
4 large handfuls mixed salad greens or arugula or baby spinach
Two handfuls cherry tomatoes
Two artichokes, raw, "turned", bottoms cut into very thin slices and put in lemony water to prevent from oxydizing
A dozen green asparagus, quicly sautéed, still crunchy (al dente)
Freshly gated parmesan cheese, as much as you like
Balsamic Dressing :
3 tablespoons Balsamic Vinegar
1 teaspoon Lemon Juice
1 teaspoon Mustard
8 tablespoons Extra Virgin Olive Oil
Sea Salt and Freshly Ground Pepper

Prepare the vinaigrette by combining the ingredients.
In a large bowl, arrange the arugula, then top with (in this order and for aesthetic reasons) : sliced ??artichokes, asparagus and cherry tomatoes. Sprinkle with Parmesan cheese at the last minute (in shavings or grated, according to your taste).
Season at the very last second, this balsamic vinaigrette tends to "cook" salad greens fairly quickly.
Swann&Vincent : 7, rue Saint Nicolas, 75012 Paris, Tel : 01 43 43 49 40. Le must : pâtes aux palourdes. I highly recommend the clams pasta
Sardegna a Tavola : 1, rue de Cotte , 75012 Paris, Tel : 01 44 75 03 28. Pâtes à la poutargue ou Raviolis farcies à la figue et au veau, sauce crémeuse : une tuerie ! Favorite dishes : pasta with boutargue (fish roe) or ravioli filled with figs and veal, creamy sauce (to die for).