Date of lunch : june 2011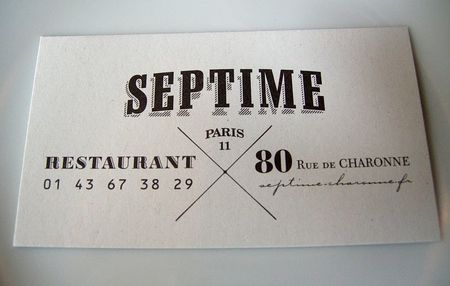 Résumé en français
Quel grand moment, ce déjeuner. Tout d'abord la compagnie de ma Lili et de mon poulet préféré. Toujours un plaisir de les voir ces deux-là ! Alors, quand en plus, la table est bonne, c'est magique !! Ensuite, chez Septime, j'ai tout aimé, oui tout : le quartier ( Ledru-Rollin, j'y passerais ma vie si je pouvais), la déco scandinavo-campagnarde, le service réellement chaleureux, l'assiette sublime, et enfin l'addition légère comme une plume. Tenez-vous bien, au déjeuner la formule entrée-plat-dessert-verre de vin est à 26 euros ! Avec un tel niveau de cuisine, moi, je dis : c'est cadeau !

The Chef : Bertrand Grébaut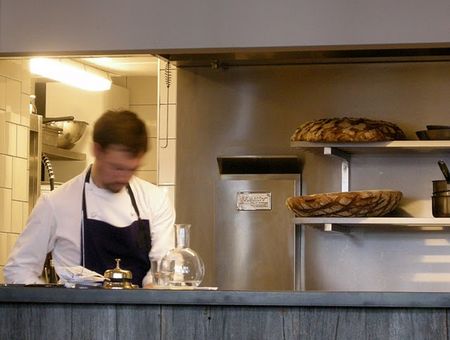 Bertrand Grébaut has worked for Passard and Robuchon, two very good "schools". Then at the age of 27, he became the Chef at Agapé restaurant and got his first michelin-star there. He left Agapé in 2009 to create his own restaurant, Septime. The name comes from a famous french movie called "le grand restaurant" where comic actor Louis de Funes was playing a despotic restaurant owner. The name of the restaurant was "chez Septime".
The Food
For lunch, the menu is only 26 euros and includes a starter, a main dish and cheese or dessert, plus a complimentary glass of wine (white or red, the choice is yours). My friends and I were getting tired of all these new restaurants with blind menus. Here, at least, you can actually choose what you eat : three choices of starters,two for the main dish and then cheese or dessert. No amuse-bouche, no mignardise, but the quantity and quality of food is so perfect that you don't really need those. For dinner, you can choose a la carte or a 55 euros tasting menu (with wines).
What kind of food can one find at Septime's ? Don't expect here traditional French Cuisine with stews and soufflés, and so on. Here the dishes are minimalist and very, very fresh. They actually look simple, but a person used to cooking can see that there is some work behind, particularly in the sauces and condiments. All the food we had was perfectly cooked. I leave you in the company of the pictures which say much more than simple words. My choices wre : starter : a terrine of duck, foie gras and smoked eel, the smoked taste was great with foie gras, this starter was totally decadent. My main : pollack with red berries, baby leeks (I LOVED them), zucchini. I had cheese and I tasted some bites of my friends dessert : chocolate ganache, caramelized tuile and passionfruit sherbet. The ganache was incredible, rich but not too heavy. My fav was the terrine, so yummy, even though it was my very first time with smoked eel.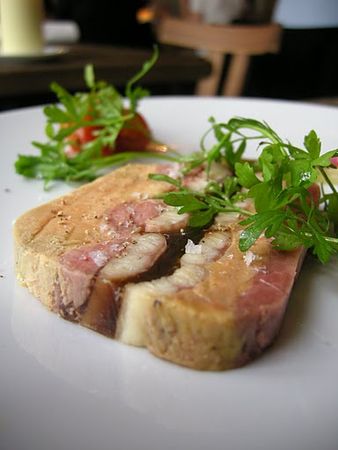 Terrine de canard, anguilles fumées et foie gras, mini oignons en pickles, cerises napoléon/Duck, foie gras and smoked eel terrine, Baby onions, Napoleon cherries.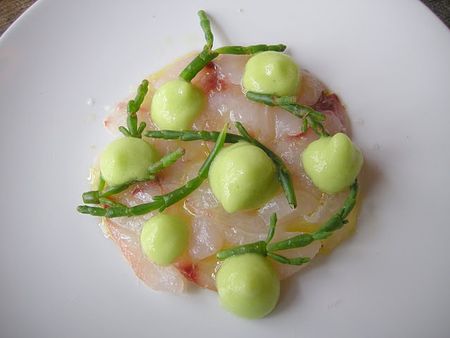 Maigre, siphon de concombre, salicorne/raw meagre fish, cucumber foam and glasswort (also called sea asparagus)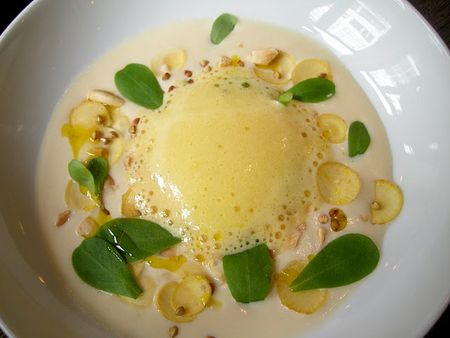 Velouté rafraichi de navet, espuma orange, graines de sarrasin, pétales de navet boule d'or, pourpier d'ile de france (Joel Thibaut), noisettes/ turnip chilled soup, orange foam, buckwheat seeds,turnip paper-thin slices, purslane leavesand hazelnuts.

Lieu jaune, sauce vierge de groseille et cassis, basilic citron, fines rondelles de courgettes, jeunes poireaux et chénopode du Mont Saint Michel/Pollack, virgin salsa with red currant and black currant, thin slices of zucchini, basil, baby leeks and chenopode leaves ( a herb that smells like lemongrass).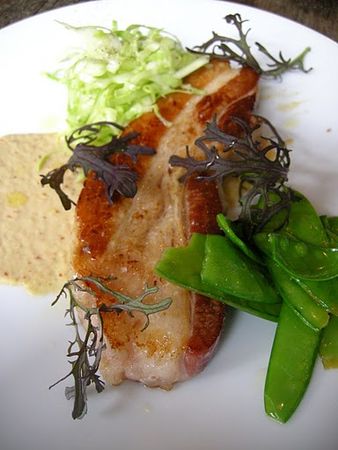 Poitrine de cochon français fermier, chou pointu, mange-tout, purée cacahuète et moutarde/Farm French Pig Bacon, pointed cabbage, mange-tout beans, peanut and mustard purée.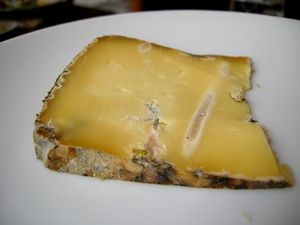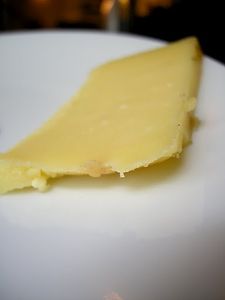 Fromage affiné :Gruyère suisse de chez Quatrehomme, Bleu de Savoie de la maison BOS/ Aged Cheese : Swiss gruyère from Quatrehomme, Blue chesse from Savoie by BOS cheesemonger.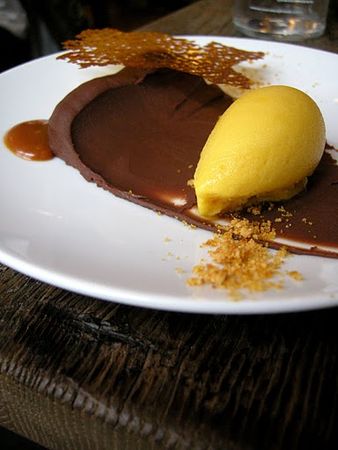 Ganache Chocolat, caramel, sorbet passion, tuile caramel/orange/ Chocolate ganache, caramel, passionfruit sherbet/Caramel and orange Tuile

The wine
Red : "il fait soif", Maxime François Laurent in Montbrison sur lez, Côtes du Rhone
White : "Chardon blanc val de Saone", Chardonnay. I had the white and I can say, even though I am not really a wino, that the smell was incredible and the taste extremely pleasant.

The customers and the decoration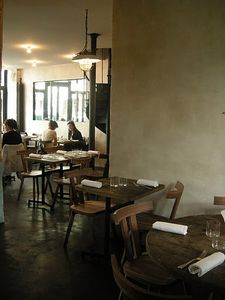 I really enjoyed the decoration. I found it warm and welcoming : butcher wooden tables, spiral iron staircase, unfinished walls, metal lamps, and, to be noticed : a amazing bunch of flowers on the "table d'hôtes".I loved the idea of the table d'hôtes at the entrance for people with no reservation : a long wooden table, to be shared with other "no resa people".
I immediately felt good, at ease, relaxed,...And if you ever visit this restaurant during daylight, have a look at the beautiful garden behind, close to the restroom.
The customers were mostly french, laid-back people, bobo style.


The Service
The service was very friendly and laid-back. Théo, our waiter, who is also the Chef's business partner, was really warm, and took time to explain the dishes in details. He was the only one to take care of us, apart for the wine part. It is a nice change from these restaurants where you can get 4 to 5 different waiters for your sole table !

As a conclusion
I will be back for dinner soon !!
Practical Information/Infos pratiques
Restaurant Septime 80 rue de Charonne 75011 Paris
tel : 01 43 67 38 29
The website is under construction.
Pictures : MyFoodBox