Soupe froide Petits Pois et Basilic, par Gwyneth Paltrow
Cold Pea and Basil Soup, by Gwyneth Paltrow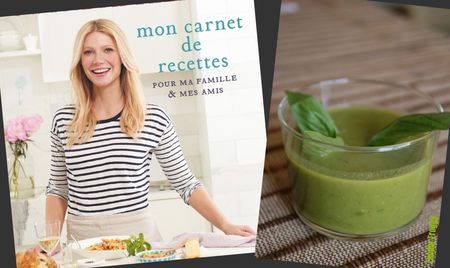 There are some things I really do not understand. Take Gwyneth Paltrow, for example : I know a lot of people who don't really like her. Why? Because she was born with a silver spoon in her mouth? Because she looks too much like "Mrs Perfect" ? Or on the contrary, because of her odd friendship with Madonna? As for me, I have liked Gwyneth Paltrow since the movie "Se7en". Hey, a girl who managed to seduce both Brad Pitt and Chris Martin can not be totally boring, right ? And in "Glee", she was...wow !! Read her cookbook and you will see that Gwyneth is far from being cold and superficial. The original title says it all : "my father's daughter" (in French , her cookbook is simply called "my recipe book, for my friends and family", which is a pity). For the actress's fans, her love for her father -who passed away in 2002- was no secret as she was constantly mentioning their special relationship in almost all her interviews. In this beautiful cookbook, she again evokes many fond memories about him, and of course some of his greatest recipes (his pancakes...oh my gosh !). Her recipes are more for everyday cooking or a laidback get-together with friends than for special occasions, but that's what I liked. Today's post is a perfect illustration : simple but tasty and it was very much appreciated in these lattest days of insane heatwave !! My husband, who likes to entertain us, called this dish "what's in the soup ? what's in the soup ?" referring to the famous scene of Se7en (what's in the box). To make it short, you have understood that I already loved Gwyneth before the release of her cookbook, but to know that she enjoys cooking and has a strong sense of family and tradition (she often evokes her judaism in her blog) makes me like her even more. Feel free to read her blog, a great source of information on cooking, fashion and travel : Goop.
Il y a des choses que je ne comprends pas, parfois. Prenez Gwyneth paltrow, par exemple : c'est fou le nombre de personnes qui ne l'aiment pas. Pourquoi ? Parce qu'elle est née avec une cuillère en argent dans la bouche ? Parce qu'elle véhicule une image trop lisse ? Ou au contraire, à cause de ses amitiés Madonnesques ? J'avoue que tout ceci me rend perplexe : moi, la Gwyneth, depuis que je l'ai vue dans le film "Se7en", je l'adore. Et dans la série "Glee", elle était tout bonnement époustouflante ! Eh puis, avouez, une fille qui a réussi à séduire Brad Pitt et Chris Martin ne peut pas être complètement inintéressante, non ? Bref, Respect. Alors, à tous les esprits chagrins, je dis : lisez son livre de recettes et vous verrez que Gwyneth est loin d'être froide et superficielle. En anglais, le titre est éloquent : "my father's daughter" (d'ailleurs, pourquoi ne pas l'avoir traduit pour la version française ?). Pour qui suit cette actrice, son amour pour son père, qu'elle a hélas perdu en 2002, n'était pas un secret; elle trouvait toujours l'occasion de parler de lui dans ses interviews. Dans ce très joli livre de recettes, elle l'évoque à nouveau à de nombreuses reprises autour d'anecdotes fort savoureuses. Il est certain que cette fille a été adorée par son papa et qu'elle le lui a bien rendu. En ce qui concerne les recettes, elles sont plutôt faciles, pour une cuisine de tous les jours, mais c'est justement ce qui m'a plu. La recette que j'ai réalisée en est l'illustration parfaite : simple mais savoureuse et elle tombait à pic en ces quelques jours de canicule. Mon mari, qui aime bien plaisanter, a baptisé cette recette "what's in the soup ? what's in the soup ?" en référence à la scène culte et effrayante de Se7en où Brad Pitt questionne Morgan Freeman (what's in the box ? what's in the box?) sur la boîte qui contient la tête de sa femme, ...Bref, vous l'aurez compris, j'aimais déjà Gwyneth, mais de savoir qu'en plus elle aime cuisiner et qu'elle a un sens profond de la famille et des traditions (son judaïsme est assez présent) me la rend encore plus sympathique. Pour la suivre régulièrement, nhésitez pas à lire son blog, une mine d'idées en terme de recettes, astuces mode, voyages, etc : Goop.

Cold Pea and Basil Soup, by Gwyneth Paltrow
Serves 4
4 cups frozen peas (or fresh)
1 large onion ( I used three shallots instead)
1 quart vegetable stock
1 bunch basil (about ten sprigs, leaving two for decoration)
Sea Salt and freshly ground pepper
Sour cream (or crème fraîche)
Olive oil
Heat the olive oil in a small pot over medium heat, add the onion (or shallots), and cook until soft, about 10 min.
Add the peas and stock, bring to a boil, lower the heat, and simmer for 10 minutes.
Remove from the heat and add the whole basil leaves and salt and pepper to taste. Let the soup cool and then whiz in a blender until smooth.
Cool in the refrigerator for at least 2 hours.
Serve garnished with a spoonful of sour cream or creme fraiche or olive oil and the finely sliced basil.
Soupe froide Petits Pois et Basilic, par Gwyneth Paltrow
Pour 4 personnes
550g de petits pois surgelés (ou frais)
1 gros oignon (perso, j'ai utilisé trois échalotes)
1litre de bouillon de légumes
1 bouquet de basilic (une dizaine de branches, en laisser 2 pour la déco)
Sel et poivre
Crème liquide
Huile d'olive
Faites chauffer un peu d'huile d'olive dans une grande casserole à fond épais. Faire revenir les oignons (ou échalotes) pelés et émincés, sans les dorer. Ajoutez les petits pois et le bouillon de légumes, portez à ébulltion et laissez jusqu'à ce que les petits pois soient cuits. Retirez du feu, ajoutez les feuilles de basilic (sauf les 2 branches de côté), mixez dans un blender. Reversez la soupe dans la casserole (hors du feu), goûtez et assaisonnez. Laisssez refroidir à température ambiante puis au frais pendant au moins 2 heures.
Pour servir, répartir la soupe dans des verres à tapas ou des assiettes creuses, garnir d'un peu de crème liquide ou d'huile d'olive et de quelques feuilles de basilic entières.
"Mon carnet de recettes pour ma famille et mes amis" par Gwyneth Paltrow, éditions Marabout.
19,90 euros.