Croustillants Kadaif à la Marmelade de Potiron et Glace à l'Orgeat
Kataifi Tartlets with Pumpkin Marmalade and Orgeat Ice-cream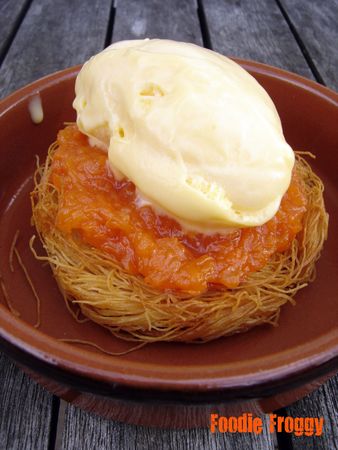 Sometimes, cooking resembles a mathematical problem : Anne has a kataifi dough pack, but does not know what to do with it. Anne has a brand new ice-cream maker and wants to use it. Anne loves pumpkin and orgeat together. The problem to solve is to find a recipe where Anne can use all 3 ingredients and tools mentionned above. You have one minute for that. Not the sligthest idea ? Oh no, I'll have to make my small brain work... Okay, let's start with orgeat : what about an orgeat syrup ice-cream (ice-cream maker problem also solved by the way) ? Now, something with pumpkin : a marmalade could be a nice accompaniment. And what about kataifi ? Let's be creative : small "nests" for both the marmalade and the ice-cream. Phew, I hope I get a B+ for that one !
Parfois, la cuisine ressemble à un problème mathématique : Sachant que Anne a un paquet de vermicelles kadaif mais ne sait pas quoi faire avec, qu'elle veut utiliser sa nouvelle sorbetière et qu'elle se souvient avec émotion de l'alliance du potiron et de l'orgeat dans un amuse-bouche sucré servi au Nomiya, vous avez 2 minutes pour trouver une recette qui l'aidera à résoudre ses trois contraintes en une seule fois. Pas d'idée ? Ahlala, je vais devoir faire fonctionner mes méninges, alors... Euh...attendez, là, ça se complique, 'perdu l'habitude de réfléchir, moi...Ah, ça y est : une glace à l'orgeat ! Bon, maintenant, un truc au potiron qui va avec : mmmh, une marmelade ? Pas mal ! Et le kadaif ? En support croustillant pour la marmelade, pit'être ? Ouf, je vais échapper au zéro pointé. En même temps, les maths, ça n'a jamais vraiment été mon truc......
Also not too bad in a shot glass, pas mal non plus en mini-verrine
Kataifi Tartlets with Pumpkin Marmalade and Orgeat Ice-cream
For 6 servings
Orgeat Ice-cream (to be made one day ahead) :
1 cup milk
5 egg yolks
1/2 cup granulated sugar
4 tsp orgeat syrup
Pumpkin and Orange Marmalade :
2 1/2 cups raw pumpkin, peeled, flesh coarsely grated
3/4 cup granulated sugar
2/3 cup orange juice
Kataifi Tartlets:
1/4 lb kataifi dough (middle-eastern groceries)
2/3 stick unsalted butter
Some powdered sugar
A day ahead, make the ice-cream : Make the crème anglaise (custard) : Combine egg yolks and sugar in a bowl. Using an electric mixer, beat until pale yellow. Bring milk to simmer. Pour about a fifth of the hot milk into egg yolks, mix very quickly, and return mixture to saucepan. Cook over very low heat, stirring constantly. Continue until mixture thickens enough to coat back of wooden spoon. Do not boil. It will take between 25 to 30 minutes.Transfer mixture to bowl through a sieve (in order to have a smooth cream), and let cool. When at room temperature, add orgeat syrup and refrigerate.When mixture is cold, make ice-cream according to ice-cream maker instructions. If you don't own an ice-cream maker, make this mascarpone ice-cream and add orgeat syrup.
Make the pumpkin marmalade : Arrange the grated flesh of pumpkin in a saucepan, with sugar and orange juice.Bring to a boil and let cook for more than an hour over low-medium heat, stirring regularly. It has to look like a marmalade and the liquid has to be syrupy.
Before serving, make the Kataifi tartlets : preheat oven 450°F. Melt butter. Arrange 6 pastry rings on a baking sheet lined with parchment paper. At the bottom of each ring, arrange a layer of kataifi pastry. Using a pastry brush, brush each kataifi bottom with melted butter. Bake for 5 to 10 minutes, or until golden brown. Remove from the oven, remove rings and sprinkle with powder sugar.To serve, arrange one kataifi circle on each plate, top with pumkin marmalade and orgeat ice-cream.
Croustillants Kadaif à la Marmelade de Potiron et Glace à l'Orgeat
Pour 6 personnes
Glace à l'Orgeat (à faire la veille) :
25cl de lait
5 jaunes d'œufs
100g de sucre
20g de sirop d'orgeat
Marmelade de Potiron à l'Orange (recette de Ô délices) :
300g de potiron, pelé et râpé
150g de sucre
15cl de jus d'orange
Croustillants Kadaif :
1 paquet de vermicelles Kadaif (épiceries orientales)
75g de beurre doux
Du sucre glace
La veille, faites la glace : Préparez une crème anglaise : Amenez le lait à frémissement dans une casserole.Battez les jaunes dans un grand saladier avec le sucre jusqu'à ce que le mélange soit lisse et jaune pâle. Prenez une grosse louche de lait frémissant, versez-la dans le saladier des jaunes et remuez immédiatement afin que les jaunes ne cuisent pas.
Reversez l'intégralité du mélange jaunes-lait dans la casserole avec le reste de lait. Faites cuire à feu très doux, en remuant constamment. Continuez jusqu'à ce que la "mousse" disparaisse totalement et que la crème nappe une cuillère en bois. Surtout ne laissez pas bouillir. Pour moi, cela a nécessité environ 25 minutes pour que la crème soit cuite.
Transférez la crème dans un saladier, en la passant à travers un chinois afin qu'elle soit bien lisse. Attendez que la crème soit à température ambiante et ajoutez le sirop d'orgeat. Mettez au frais. Lorsque la préparation est bien froide, mettre en sorbetière, laisser turbiner jusqu'à ce qu'elle aie la consistance d'une glace italienne et réservez au congélateur dans un contenant adapté. Si vous n'avez pas de sorbetière, je vous conseille ma glace au mascarpone sans sorbetière, à laquelle vous rajouterez le sirop d'orgeat.
Le jour même, préparez la marmelade : placer la chair râpée du potiron dans une casserole, avec le sucre et le jus d'orange. Portez à ébullition et laisser mijoter sur feu doux-moyen pendant une bonne heure, voire plus, en remuant régulièrement. Cela doit avoir une consistance sirupeuse.
Au dernier moment, préparez les croustillants kadaif : préchauffez le four à 220°C. Faites fondre 75g de beurre. Disposez 6 cercles à pâtisserie sur une plaque recouverte de papier cuisson, disposez les kadaif au fond de ces cercles et chemisez le fond de vermicelles kadaif. Badigeonnez de beurre fondu et faites dorer au four pendant 5 à 10 minutes (ils doivent être bien dorés). Retirez du four et saupoudrez de sucre glace.
Pour servir, disposez un cercle de kadaif dans chaque assiette, recouvrez de marmelade de potiron puis d'une quenelle de glace à l'orgeat.
Billet remarqué par :