Mini-terrines de Foies de Volaille au Cognac
Mini Chicken Livers Terrines with Cognac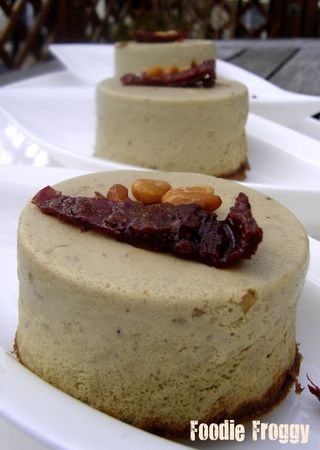 These chicken livers, I have to confess that I had totally forgotten them at the bottom of my freezer ! But I am sure I am not the only one to leave hidden treasures there, right ? Thanks to Garance's wonderful Terrine recipe, I realized I had all the ingredients on hand, and most importantly it seemed so easy that I had to jump on the opportunity to offer a good "end" to these little livers. And what a nice end they had, really : soaked in Cognac, then the company of cute exotic spices and crunchy nuts, followed by a hammam (water bath cooking). How lucky they were ! Serve them with salad greens and slices of toasted french bread. A touch of tomato coulis can be pleasant, too. Even if you are not fond of organ meat, I promise you and your guests will love these appetizers !
Ces foies de volaille, cela faisait quelques semaines qu'ils s'ennuyaient au fin fond de mon congélateur, se demandant avec angoisse à quelle sauce ils seraient cuisinés. A vrai dire, je les avais même un peu (beaucoup) oubliés, les pauvres ! C'est en voyant la superbe terrine de Garance et la facilité déconcertante de sa recette que j'ai su que je la tenais enfin, la destinée de mes petits foies...Ah, je leur ai offert une jolie fin, ça, croyez moi : un bain voluptueux de cognac, la compagnie de jolies épices exotiques, quelques fruits secs pour le fun puis une cuisson dans de très confortables moules en silicone, dans un véritable hammam (bain-marie). Gâtés, va ! Servis avec une petite salade verte et des tranches de Poilane toastées, top classe ! Un p'tit coulis de tomates fraîches, c'est pas mal non plus. Même les personnes réticentes aux abats vont adorer, je vous le garantis !
Mini Chicken livers Terrines with Cognac
Recipe (slightly modified) courtesy of Garance, from "Talons Hauts et Cacao"
For 6 servings :
Marinade :
6 tbsp good quality Cognac (or Port)
10 oz chicken livers, nerves and greenish parts removed
1 tsp ginger powder
1 tsp cumin powder
5 pinches nutmeg
Terrine :
1/3 cup almonds
1/4 cup pine nuts
3 heaping tbsp heavy double cream
3 eggs
1 tsp ginger powder
1 tsp cumin powder
6-8 pinches nutmeg
Sea Salt
Freshly ground pepper
A day ahead :
Clean chicken livers and put on absorbing paper.
Arrange them in a Tupperware, cover with cognac and marinade spices. Close with a lid and let rest in the fridge a whole night.
The day after :
Preheat oven 350°F. Arrange almonds and pine nuts on a pastry sheet lined with parchement paper. Roast in oven until slightly golden.Coarsely chop when at room temperature.
Prepare a water bath : fill an ovenproof large container with water, put in the oven and let boil.
Blend chicken livers with spices and eggs . Pour the batter in a large mixing bowl, and add cream. Mix carefully, using a spoon. Add roasted almonds and pine nuts. Season to taste.
Pour batter in the 6 holes of a silicon muffin pan. Cover with foil paper and place carefully in the water bath. (It is easier to fill the muffin pan directly in the waterbath, oven door open. Then close oven door). Cook for about 25 minutes, covered, then 5 additional minutes, uncovered. Check if cooked through with a sharp knife.
Remove carefully from the oven and let cool to room temperature. Let sit in the fridge a whole night.
Serve with salad greens and toasted slices of good bread.
Mini-terrines de Foies de Volaille au Cognac
Recette un peu modifiée de Garance, de "Talons Hauts et Cacao"
Pour 6 personnes :
Marinade :
6 cs de Cognac de qualité (ou Porto)
300 g de foies de volaille dénervés
1 cc de gingembre en poudre
1 cc cumin en poudre
5 pincées de muscade
Terrine :
50 g d'amandes
30 g de pignons
3 CS bombées de crème fraîche
3 œufs
1 cc de gingembre en poudre
1 cc cumin en poudre
6-8 pincées de noix de muscade
Sel
Poivre vert
La veille :
Nettoyer les foies de volaille sous l'eau et sécher sur du papier absorbant.
Les mettre dans un Tupperware, couvrir de cognac, ajouter les épices de la marinade et mélanger. Fermer le tupperware et laisser reposer une nuit au frais.
Le lendemain :
Préchauffer le four à 180°c. Torréfier les amandes et les pignons au four sur une plaque jusqu'à ce qu'ils soient légèrement dorés.Les hacher quand ils sont à température ambiante.
Placer un plat rempli d'eau dans le four pour la cuisson au bain-marie.
Mixer les foies avec les épices et les œufs. Verser la préparation dans un saladier puis ajouter la crème. Mélanger à la cuillère. Incorporer les fruits secs. Goûter et assaisonner.
Verser le mélange dans les 6 alvéoles d'un moule à muffins. (Si votre moule est en silicone, il vaut mieux le placer vide dans le bain-marie et le remplir directement à la cuillère, porte du four ouverte, en faisant bien attention de ne pas se brûler. Si vous le remplissez normalement, il sera très difficile de ne pas renverser l'appareil en le plaçant dans le bain marie, à cause de la "mollesse" du silicone). Couvrir de papier alu et placer dans le bain-marie. Faire cuire 25 mn à couvert, retirer le papier alu et continuer la cuisson 5mn. Vérifier la cuisson de la terrine, la lame d'un couteau doit ressortir sèche.
Laisser refroidir et réserver au frais 1 nuit. Servir avec une petite salade et des tartines de Pain Poilane toastées.