NOLA's Burnt Sugar Cake
This post was first published in february 2009. Funny how inspiration in a kitchen can come from a...movie*. I would love to tell you that Brad Pitt himself murmured this recipe in my ear, or even his character "Benjamin Button" at the perfect age of 40 (when his mind was just as old as his body). But no, the reality is much less romantic, and don't forget that I am a happily married woman ! When I saw the movie, I thought "Wow, New Orleans ! Seems like a terrific city ! Why I never felt the need to visit the Big Easy, me, the Frenchie who has been to more than twenty major cities in the USA ? Strange..." Then I remembered that I had a wonderful cookbook at home with plenty of Cajun French and Creole recipes. Hurray ! Let's celebrate Carnival Season ! However, I hope you will forgive me for a little anachronism : New Orleans is, indeed, in the middle of its festive season (starts with the Epiphany and ends with Mardi Gras) but this cake is not a traditional Carnival Cake.It is usually made in autumn, at the end of the Sugar Harvest, Louisiana being the greatest Sugar producer of the country. But trust me on that one, despite its old-fashioned aspect, this cake is really delicious : I particularly enjoyed the contrast between the quite rustic cake layers and the creamy gooey meringued frosting. And just like Benjamin Button, this cake seems to get "younger" everyday day : after 3-4 days, it was still deliciously moist !

Billet publié la première fois en février 2009. C'est drôle d'où peut parfois venir l'inspiration culinaire. Ce gâteau, c'est Brad Pitt qui m'en a soufflé l'idée. Oui, Messieurs Dames. Bon enfin, plutôt Benjamin Button. Rhôôô, bon d'accord, c'est la Nouvelle Orléans, omniprésente dans le film, qui m'a donné furieuse envie de feuilleter à nouveau mon merveilleux livre de recettes sur la "Big Easy".D'autant que moi, la plus américanophile des frenchies (nulle n'est parfaite) qui ait eu le privilège de visiter une bonne vingtaine de grandes villes américaines, je ne connais toujours pas celle-ci ! Etrange, n'est-ce-pas ? Comment, en tant qu' épicurienne assumée, n'ai-je pas eu plus tôt l'envie de découvrir "in situ" cette cuisine riche, complexe et issue d'influences à la fois américaines, françaises, espagnoles, africaines et caribéennes ? En plus, c'est période de Carnaval en ce moment en Louisiane, puisque sauf erreur de ma part, elle débute avec l'Epiphanie et se termine avec Mardi Gras.Cependant, vous me pardonnerez, j'espère, un léger anachronisme, puisque cette recette est traditionnellement plutôt cuisinée à l'automne, à la fin des grandes récoltes de Sucre, principale ressource de l'Etat de Louisiane. Ne vous fiez pas au look résolument rustique de ce dessert, il est succulent et le contraste entre le gâteau lui-même, assez brut de décoffrage et le glaçage meringué (qui, soit dit en passant, est à tom-ber!) est super agréable. Et en plus, tel Benjamin Button, il vieillit bien, mon "burnt sugar cake", même après trois ou quatre jours, il est toujours aussi moelleux.
*The curious Case of Benjamin Button, l'Incroyable Histoire de Benjamin Button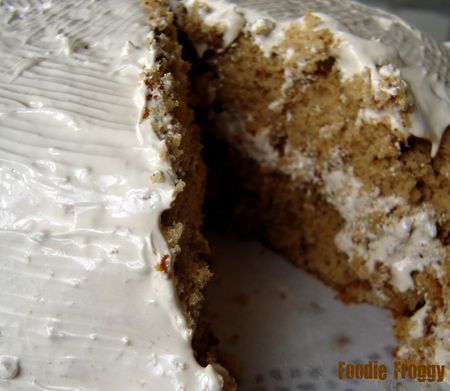 NOLA's Burnt Sugar Cake
Source : Willams-Sonoma, New Orleans, Authentic recipes celebrating the foods of the world
Makes 12-16 servings
Burnt Sugar Syrup
2/3 cup (5 oz) sugar
2/3 cup (5 fl oz) boiling water
For the Cake
2 cups (10 oz) all purpose plain flour
1 tbsp baking powder
1/2 tsp fine sea salt
1/2 cup (2 oz) ground pecans
1/4 cup (2 fl oz) sugarcane rum1/4 cup (4 oz) unsalted butter, at room temperature
1 1/2 cup (12oz) sugar
2 large egg yolks and 3 large egg whites, at room temperature
For the frosting
2 large egg whites
1/4 tsp fine sea salt
3 tbsp sugar
1/2 cup (5 fl oz) light corn syrup (I used sugar syrup instead)

Make burnt sugar syrup :
Cook the sugar in a heavy saucepan over medium heat.When it begins to liquefy, whisk until dissolved and dark brown. Then add the boiling water (be careful of spatters), whisk until blended then boil without stirring until reduced to 1/2 cup. Pour in a heat-proof glass measuring pitcher and set aside to cool.
Make the Cake layers :
Preheat oven 350°F. Butter and flour two 8-inch round pans.
In a bowl, sift together the flour, baking powder and salt. Whisk in the ground pecans until well blended and set aside. In a small bowl, whisk together 3/4 cup water, 1/4 cup of the burnt sugar and the rum. Set aside.
In a bowl, cream the butter with 1 1/4 cup of the sugar until fluffy, about 2 minutes. Use an electric beater for that.Add egg yolks one by one, beat in the flour mixture in 3 batches alternatively with the burnt sugar mixture, beginning and ending with the flour mixture.
In a large clean bowl, using an electric mixer in high speed, beat the egg whites until frothy. Gradually sprinkle in the remaining 1/4 cup (2 oz) sugar and continue beating until stiff, glossy peaks form. Using a rubber spatula, gently fold the egg whites into the cake batter. Pour the batter in the prepared pans.
Bake the cakes about 20 minutes. Let cool and invert the layers onto racks.Let cool again.
Make the Frosting :
in a large bowl, combine egg whites and salt. Beat until soft peaks, adding the sugar gradually.
In a small sauce pan, combine corn syrup with the remaining burnt sugar syrup (1/4 cup, 2 fl oz) and bring to a boil. Carefully pour this hot mixture on the egg whites , beating them constantly.Beat until stiff peaks form and egg whites completely cooled.
Assemble the Cake :
Place one cake layer top side down on a serving plate and cover with a third of the frosting.
Place the second layer on the frosting, top side up and cover with te remaining frosting, aswell as the sides of the cake.
Cut into wedges to serve.

Gâteau traditionnel "Burnt Sugar" de la Nouvelle Orléans
Source : Willams-Sonoma, New Orleans, Authentic recipes celebrating the foods of the world
12 à 16 parts
Pour le Sirop "Burnt Sugar"
150g sugar
16cl d'eau bouillante
Pour le Gâteau
315g de farine ordinaire
1 CS de levure sèche
1/2 cc de sel marin
60g noix de pécan hâchées (ou noix classiques)
60 ml Rhum
125g de beurre à température ambiante
375g sucre en poudre
2 gros jaunes d'œufs 3 gros blancs d'œufs, à température ambiante
Pour le glaçage
2 gros blancs d'œufs
1/4 cc de sel marin
3 CS de sucre
16cl de sirop de maïs clair (j'ai remplacé par du sirop de glucose)

Faites le sirop de caramel :
Faites cuire le sucre dans une casserole à fond épais, sur feu moyen. Quand le sucre commence à fondre, remuez jusqu'à coloration brune. Ajoutez alors l'eau bouillante en faisant attention aux éventuelles éclaboussures. Mélangez et faites bouillir jusqu'à réduction d'environ un tiers. Versez dans un verre gradué resistant à la chaleur, vous devriez avoir environ 12cl de sirop.
Faites le gâteau :
Préchauffez le four à 180°C. Beurrez et farinez deux moules ronds d'environ 20cm.
Dans un premier saladier, tamisez ensemble la farine, la levure et le sel.Ajoutez la poudre de noix de pécan et mélangez.
Dans un petit bol, mélangez 18cl d'eau, la moitié du sirop de caramel et le rhum.
Dans un second grand saladier, battez le beurre mou jusqu'à ce qu'il soit lisse, ajoutez 315g de sucre et continuez à battre 2 minutes. Ajoutez les jaunes d'oeufs un par un. Puis le mélange farine-levure par tiers en alternance avec la moitié du sirop soit 6 cl ( un tiers de farine/levure, 3cl de sirop, un tiers de farine/levure, 3cl de sirop et un tiers de farine/levure).
Dans un troisième grand saladier, battez les blancs d'oeufs jusqu'à ce qu'ils soient mousseux.Versez le reste de sucre (60g) petit à petit et battez encore jusqu'à ce que les blancs soient fermes.Incorporez ces blancs délicatement à la pâte à gateaux du second saladier.
Versez la préparation en la divisant en deux, dans les moules préparés.Enfournez pour 20 minutes ou jusqu'à ce que la pointe d'un couteau ressorte sèche.Laissez refroidir quelques minutes.
Retournez les moules et laissez les 2 gâteaux refroidir sur une grille.
Faites le glaçage :
Dans un grand saladier, mélangez les blancs d'oeufs et le sel. Montez les blancs en neige ferme en ajoutant les 3 CS de sucre petit à petit.
Dans une petite casserole, faites bouillir le reste de sirop de caramel (6 cl environ) avec le sirop de glucose. Versez en filet ce mélange dans les blancs d'oeufs tout en continuant à les battre.Continuez à battre jusqu'à ce que les blancs soient complètement refroidis.
Assemblage du gâteau :
Placez une couche de gâteau, côté plat dessous, sur une assiette de service. Recouvrez généreusement du tiers du glaçage. Recouvrez du second gâteau, côté plat dessus. Recouvrez à la fois le dessus et les côtés du gâteau.Lissez avec une spatule pour plus d'esthétique.
Découpez en tranches pour servir. Ce gâteau se conserve plusieurs jours au frais mais pensez à le sortir une heure avant dégustation, il est bien meilleur à température ambiante.