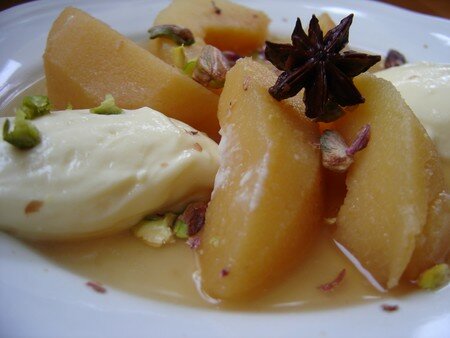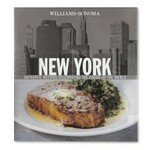 I love Williams-Sonoma boutiques! Unfortunately, we don't have them in France, but as I am lucky enough to be a frequent traveller to the USA, I can enjoy shopping in their outlets on a regular basis. I like their thoughtful selection of cooking utensils, dinnerware, sweet and savory "treats", and many other things. OK, it is a bit pricey, but even if one does not buy anything, just roaming through the boutique's departments is a treat for the eyes. A year ago, I stumbled upon a book edited by WS: « New York, authentic recipes celebrating the foods of the world ». Oh my god, what an amazing cookbook: gorgeous full-page pictures, inventive and classy recipes, and many inside stories about local specialties, gourmet shops and markets. To sum up, I loved it so much that I treated myself with the "WS Foods of the World" books about San Francisco, Paris and Florence : all wonderful !! Oui, Madame !!
I found this tasty recipe in the New York edition: quinces poached in a flavorful syrup get a beautiful and elegant rosy color. I just replaced fresh ricotta (which was sold out at my local Italian grocery shop) by mascarpone and amaretto. I was quite anxious about the pairing between the aniseed poaching liquid and the amaretto, but it turned out to be a good match.
Si vous allez régulièrement aux USA, vous connaissez probablement les boutiques Williams-Sonoma, qui proposent une sélection pertinente d'ustensiles de cuisine et d'articles d'arts de la table ainsi que des gourmandises sucrées et salées à tomber .Certes, les prix sont élevés, mais même si on n'y achète rien, c'est un véritable plaisir de simplement y flâner. J'ai découvert il y a un an et demi, que Williams-Sonoma éditait également des livres de recettes (en anglais seulement). « New York, authentic recipes celebrating the foods of the world » est LE livre idéal pour qui est fan de New York ET gourmande : des photos pleine-page sublimissimes, des recettes créatives et une foultitudes d'infos sur l'histoire de la gastronomie dans la Grosse Pomme, les habitudes culinaires des New-yorkais, les marchés, les meilleures adresses gourmandes, etc. C'est bien simple, je l'ai tellement aimé que j'en ai acheté (ou me suis fait offrir) les éditions sur San Francisco, Florence et Paris. De pures merveilles, je vous dis.
C' est dans la version « New York », que j'ai trouvé cette merveilleuse recette de coings pochés au miel. Les coings cuits dans un sirop parfumé y gagnent une nuance rosée très élégante. La recette initiale proposait de les servir avec de la ricotta fraîche, mais comme mon traiteur italien était en rupture de stock, je l'ai remplacée par des quenelles mascarpone-amaretto. J'avais une petite crainte, mais à mon grand soulagement, le goût anisé du liquide de pochage des coings se mariait très bien à la saveur d'amandes de l'amaretto.
Honey-poached Quinces with mascarpone-amaretto cream
For 4 servings
3 quinces
1 cup flavorful honey
4 star anises
Peel of 1 lemon, cut into wide strips
2 egg yolks
2 ½ oz granulated sugar
1 cup unsalted mascarpone cheese, chilled
1 tbsp sour cream
1 tsp vanilla extract
1 tsp amaretto (almond liqueur)
¼ cup shelled, unsalted, raw pistachios
Pre-heat oven 350°F. Spread the pistachios on a baking sheet and toast until fragrant and lightly brown (10 minutes).

Make the mascarpone cream: Using an electric mixer, beat egg yolks and sugar until pale yellow. In another bowl, beat mascarpone and sour cream. Add vanilla extract and amaretto. Using a rubber spatula, fold the egg yolks into the mascarpone mixture. Sit the cream in the freezer for 30 minutes.

Peel the quinces, reserving the peels. Make sure to remove all of the core. Cut each quince into quarters or in 8 according to your taste.

Place the quinces in a large sauce pan and add the honey, star anises and 4 cups water. Place the peels in the sauce pan, too.

Bring to a simmer over medium-high heat, reduce the heat to low, cover and poach the quinces until tender (about 20 minutes, but check with a knife).

Remove and discard the peels. Using a slotted spoon, transfer the quinces to a bowl. Raise the heat to high and cook the poaching liquid until syrupy.

Remove the mascarpone cream from the freezer and divide among 4 plates. Place 4 quince quarters around each mound of mascarpone. Drizzle the syrup over quinces and cream. Garnish with pistachios.
Coings pochés au Miel, Quenelles Mascarpone-Amaretto
Pour 4 personnes
3 coings
20 ml de miel (très parfumé de préférence)
4 étoiles anisées (badiane)
La peau d'un citron, en lamelle large Peel
2 jaunes d'oeufs
75g de sucre en poudre
250g de mascarpone
1 CS de crème fraîche
1 cc d'extrait de vanille
1 cc d'amaretto
50g de pistaches non salées et décortiquées
Préchauffer le four à 180°C.

Etaler les pistaches sur une plaque à pâtisserie et torréfier jusqu'à ce que les pistaches soient un peu brunies (10 minutes).

Faites la crème de mascarpone : dans un bol, fouetter les jaunes d'oeufs et le sucre jusqu'à ce que le mélange blanchisse. Dans un autre bol, mélanger le mascarpone et la crème fraîche. Y ajouter l'extrait de vanille et l'amaretto. Mélanger le contenu des 2 bols. Mettre au congélateur une demi-heure.

Pelez les coings et réservez les pelures. Assurez-vous de bien retirer le cœur des coings. Coupez chaque coing en quatre ou en 8, selon votre préférence (pour moi, c'était en 8).

Placez les coings dans une grande casserole, ajoutez le miel, les étoiles anisées, les pelures et 80cl d'eau.

Amener le liquide à frémissement sur feu moyen à fort. Puis, baissez le feu, couvrez et pochez les coings jusqu'à ce qu'ils soient tendres.

Bring to a simmer over medium-high heat, reduce the heat to low, cover and poach the quinces until tender (about 20 minutes, mais verifiez avec un couteau pointu).

Retirez les pelures du liquide. Retirez également les coings et réservez-les dans une assiette. Augmentez le feu et faites réduire le liquide de pochage jusqu'à ce qu'il soit sirupeux.

Otez la crème de mascarpone du freezer, façonnez des quenelles à l'aide de 2 cuillers. Dans chaque assiette, présentez joliment les coings, les quenelles et saupoudrez de pistaches torréfiées concassées. Versez du sirop sur le tout, dans chaque assiette.