Le pain juif de Shabbat (sans produit laitier)
Shabbat Challot (dairy-free)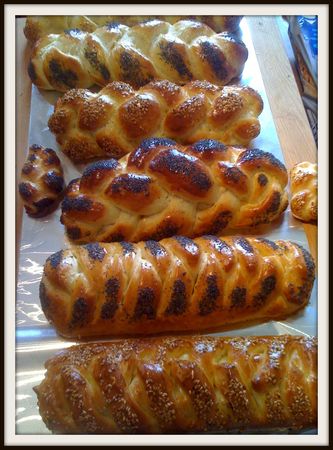 Voici ma toute dernière fournée de Halot. Plutôt réussie, non ? C'est une recette que j'ai déjà publiée, mais comme je ne cesse de la faire évoluer, je vous remets ici la toute dernière version. Je n'en bougerai plus, elle me convient très bien ainsi...La halah est le pain juif traditionnel du repas de shabbat (le vendredi soir). Il est d'usage d'en disposer deux à table (pour symboliser les 2 Tables de la Loi reçues par Moïse) et elles sont souvent représentées en forme de tresses à trois branches (pour les trois éléments du monde : eau, air et terre). Avec les quantités ci-dessous, vous pouvez réaliser 4 petites halots, ou 3 moyennes ou 2 très grandes ! Le tressage à 6 branches est loin d'être évident, mais j'ai fort heureusement trouvé l' explication i-dé-ale !! Lors de ma dernière fournée, j'ai confectionné 6 halots (nous étions nombreux) et du coup, j'ai réalisé les trois tressages : deux à 3 branches, deux à 6 branches et deux "à la danoise" ! Quel est votre tressage préféré ?
This picture is from my lattest batch of challot fom last friday. Not too bad, aren't they ? Challah is the traditional jewish bread made for Shabbath. It is customary to bake at least two of them (which symbolize the two Stone Tablets of Laws received by Moses) and braid them (the three strands being the three elements of life: earth, water and air). With the ingredients below, you can make 4 small challot, or 3 medium-sized or 2 very big ones !! Last week, I made 6 challot for a shabbt party with friends. I took this opportunity to bake 6 breads, with 3 different braiding techniques. What a great fun I had ! The six strands version is not really easy, but I found a great foodblog with detailed explanations . You can also have a look at that video (in English).Which one is your favorite braiding ?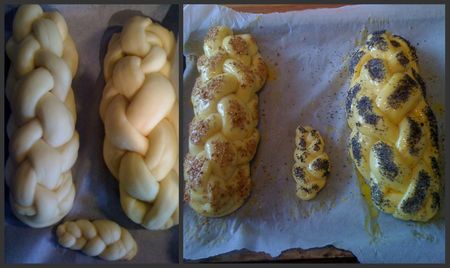 Halot (pains briochés du shabbat)
Recette modifiée de Renée Zana-Murat dans « la cuisine juive tunisienne »
Pour 2 très grands, ou 3 moyens ou 4 petits pains
500g de farine
3 gros œufs + 2 jaunes d'œuf pour la dorure
2 CS de sucre en poudre
25g de levure fraîche du boulanger
1 verre d'eau tiède (10cl)
10cl d'huile d'arachide
10g de sel (ou 2 cuillers à café si vous n'avez pas de balance)
1 poignée de graines de sésame ou de graines de pavot
Faites le levain : délayez la levure dans un verre d'eau tiède.
Dans un grand saladier, mélangez farine, sucre et sel. Faites un puits au centre et versez, en mélangeant entre chaque étape, le levain, l'huile et les œufs.Vous pouvez mélanger avec un robot, en utilisant la fonction "crochet".
Formez une boule. Rajoutez de la farine si la pâte est trop collante.
Sortez la pâte du bol ou du saladier, pétrissez rapidement.
Faites lever la pâte dans un saladier propre et sec, pendant 3 heures. Elle doit tripler de volume. Pour ce faire, ma méthode : dans la salle de bains, radiateurs acova allumés, porte fermée, saladier recouvert d'un film plastique puis d'une couverture pliée.
Lorsque la pâte est prête, séparez-la en autant de morceaux que vous souhaitez faire de pains.
Pour une tresse à trois branches, séparez chaque nouvelle boule en 3, pour une tresse à 6 branches, en 6. Roulez chaque morceau en longs boudins (environ 20cm).Pour la tresse à la danoise, instructions ici.
Confectionnez des tresses pas trop serrées (pour les 6 branches, je vous conseille vivement d'imprimer les photos de ce site et de les avoir sous les yeux, une aide inestimable, bravo à Loupiti pour son super blog !).
Posez les halots tressées, en les espaçant bien, sur une plaque à pâtisserie recouverte de papier sulfurisé. Laissez reposer les pains encore 1 heure, recouverts d'un torchon propre, avant de les faire cuire.
Préchauffez le four à 210°C.
Lorsqu'ils ont à nouveau gonflé, badigeonnez les pains de jaunes d'œuf battu avec un peu d'eau puis décorer avec les graines de sésame ou de pavot. Pour décorer, trempez votre majeur dans le jaune d'oeuf puis dans les graines et appuyez ensuite aux endroits voulus sur les tresses.
Faites cuire environ 15 minutes pour des pains bien moelleux (vérifiez la cuisson avec la pointe d'un couteau).
Shabbat Shalom !!
Traditional Challah breads
My very own version of René Zana-Murat's in « la cuisine juive tunisienne »
For 2 large, or 3 medium or 4 small breads
1 lb all-purpose flour
3 large eggs + 2 yolks to brush the breads
2 tablespoons granulated sugar
2 tablespoons fresh yeast
½ cup lukewarm water
½ cup canola oil
1 handful sesame seeds and poppy seeds
1/3 oz or 2 tsp salt
Assemble yeast and lukewarm water in a small cup.

In a large mixing bowl, assemble flour, sugar and salt. Make a well in the center and add the yeast mixture, mix, the oil, mix and finally the eggs.

Knead by hand or with a food processor (hook function) or a bread machine. If the dough is too sticky add some flour.

Transfer the dough to a floured working surface, flatten with both hands a few seconds and make a ball .

Cover the dough with a clean dishtowel and let rise for 3 hours (it must triple in size). Best place to let the dough rise : in my bathroom, door closed, with the towel rack "on" and the bowl covered with a plastic film and a blanket !

When dough is ready, knead some seconds by hand on

a floured surface and then separate in 2, 3 or 4 portions according to the number of breads you want to make.

For a three strands braid, separate again in three lumps, for the 6 strands version, separate in six. Roll the lumps into a foot-long ropes. For the danish version, read here.
Braid the ropes tighly. To see how to braid 6 brands bread, look at this video here or at the pictures here.

Let the braided breads rise an extra hour (covered with a clean dishtowel) before baking them. Then arrange them on a pastry sheet lined with parchment paper.

Meanwhile, preheat oven 420°F.

When the breads are ready to be baked, brush them with egg yolks beaten in a tsp water. Decorate with sesame or poppy seeds.

Bake for 15 minutes or until golden brown. Check with a knife.

Shabbat Shalom !!
Nouveau ! Tressage à la danoise ! New ! Danish braiding Style
Click on the picture to read the method/Cliquez sur la photo pour lire les instructions