Osteria Alle Testiere
Étrangement, Venise n'a pas la réputation d'être la ville italienne ou l'on mange le mieux...Je dis "étrangement" car, pour avoir été à Rome, puis Florence et enfin Venise dans un court laps de temps, je peux affirmer que j'ai vécu l'expérience gustative inverse !
Certes, à Venise, j'avais pour guide un ami fin gourmet qui s'y rend régulièrement pour affaires. L'Osteria alle Testiere m'a complètement emballée les deux fois où je m'y suis rendue...à 9 années d'écart ! Si vous êtes exclusivement carnivore, passez votre chemin : on y propose une authentique cuisine vénitienne, qui célèbre les fruits de mer et les poissons de la Lagune. Les légumes proviennent de l'île de San Erasmo, le "jardin de Venise" ce qui leur confère un goût légèrement salé 100% naturel. Les amateurs de vins trouveront ici leur bonheur, car l'hôte des lieux, Luca, sommelier de profession, saura leur proposer les justes associations pour sublimer leur repas. Oddly enough, Venise is not known for being the best gourmet city in Italy. All I can say is that, for my part, it is the Italian City where I had my most amazing restaurant experiences (without mentioning my country-style lunch at Torcello !).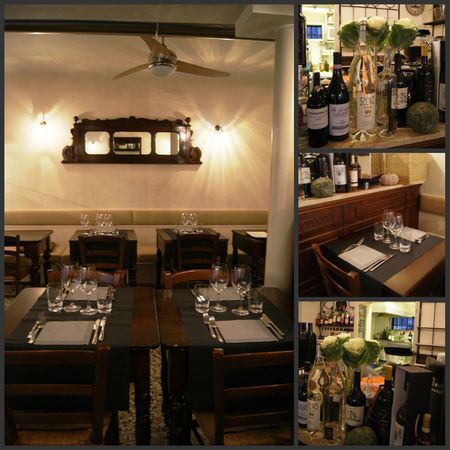 Après quelques détours par des ruelles étroites, mais non loin de la Piazza San Marco, on se retrouve devant un établissement très simple, sans chichi. Dès l'entrée, l'oeil fait rapidement le tour de la -petite- salle. Les tables sont couvertes de nappes en papier sombre, le bar est encombré de belles bouteilles de vin et d'huile d'olive et l'on aperçoit la "cuisinette" du Chef qui, ce jour-là, officie seul. Les murs sont simplement décorés de quelques cadres anciens et de têtes de lit sculptées ("testiere" en italien).After rambling through narrow streets but not too far from Piazza San Marco though, the restaurants is here, just in front of you, very simple from the outside. The inside is not really posh, but decorated with good taste. You'd better reserve well in advance since it has only 10 tables.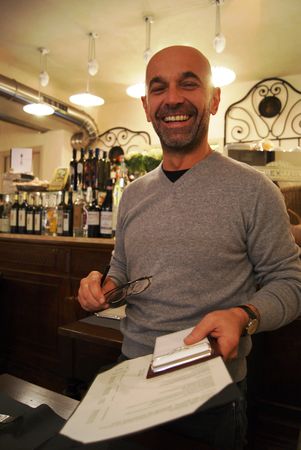 En cuisine, officie Bruno Gavagnin et en salle, c'est Luca Di Vita, sommelier et hôte multilingue, qui nous accueille chaleureusement. J'ai d'ailleurs assisté il y a neuf ans à une conversation surréaliste entre Luca et deux clientes japonaises dans...leur langue maternelle !! Il parle évidemment un français et un anglais impeccables. Luca est incontestablement l'atout charme de l'établissement, mais il n'est pas que bel homme : associé de Bruno depuis une décennie, il est plus qu'impliqué dans le fonctionnement de l'Osteria et répond à toutes les questions sur les produits servis et leur préparation. Je n'ai malheureusement pas de photo de Bruno, qui est une personne plutôt discrète. The Chef Bruno Gavagnin is a discreet man, while Luca the sommelier and co-owner is a great conversationalist and passionate about food and wine. His french and english are amazing, but what almost made me faint is when I heard him speak japanese with two of his customers !!
On déguste ici une cuisine vénitienne simple, très goûteuse et axée sur les produits de la Lagune. La fraîcheur et la qualité sont indéniables, et l'on peut se laisser tenter par les nombreuses propositions crues (Tartare, Carpaccio), sans aucun risque. Les épices ne sont pas en reste, le Chef en est fan. The food here is simple, but as I read somewhere : "simplicity is the ultimate sophistication". It could not be more true of Osteria Alle Testiere : the focus is on the quality of the produce. Sea-food, fish, and vegetables are fantastic, but not bland at all : the Chef loves Spices, sauces and condiments !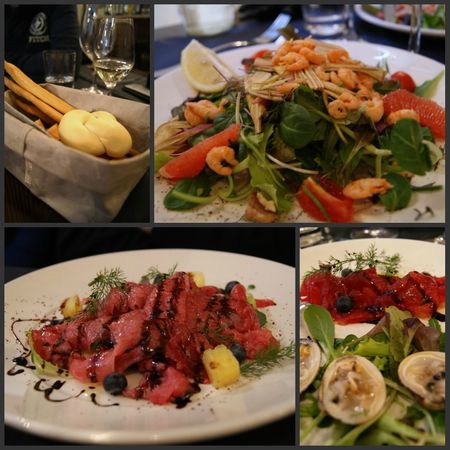 Les entrées : Dans le sens des aiguilles d'une montre : les grissins maison, une salade "misticanza" avec des crevettes grises de la Lagune, des fruits et légumes de San Erasmo : artichauts crus émincés, pamplemousse, tomates, mesclun. Explosion en bouche, beaucoup de goût, une pointe d'acidité. Carpaccio de thon rouge, aneth, sauce balsamique, ananas et baies. Fraicheur absolue, notes fruitées. Carpaccio et pétoncles crues : la simplicté même, saveurs iodées mises en avant. For starters, we had "misticanza salad" with baby shrimps from the Laguna, raw artichokes, grapefruit, tomatoes and mixed salad greens. Also a red tuna Carpaccio with balsamic dressing, pineapple and blackcurrant. I chose the clams and tuna carpaccio. Very fresh and tasty.
Les plats : Les Pici alla Vongole : très généreuses, avec plus de coquillages que de pâtes ! Les Ravioli di Zucca (au potiron et au fenouil) : deux ingrédients secrets dans la farce la rendent absolument unique : des amaretti brisés et de la "mostarda di cremona", un condiment à base d'abricot, de poire et de graines de moutarde !!! Leur plat signature : les gnocchetti alla calamaretti (aux petits calamars), sauce cannelle et basilic, servis bien chaud (on voit que l'assiette "fume" encore sur la photo). Moi qui ne suis pas fan de cannelle, j'ai adoré, c'était d'une gourmandise absolue, avec une texture parfaite pour les gnocchetti et une sauce à se damner ! For primi piatti, I highly recommand the Pici with clams (more clams than pasta, wow) and the ravioli stuffed with pumpkin : two secret ingredients are added in the stuffing : crushed amaratti (you read well), and mostarda di cremona, a condiment made of apricot, pear and mostard grounds. My pasta dish was incredible : gnocchetti with baby squid in a to-die-for tomato sauce with cinnamon and basil.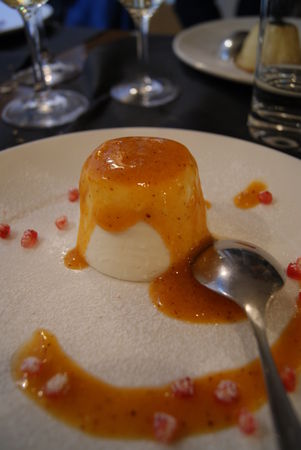 Le dessert : une panna cotta à la vanille avec coulis de Kaki et grenades. Moi qui venait juste de découvrir le kaki lors d'une dégustation chez Fogon à Paris, j'ai été ra-vie ! Le kaki est vraiment délicieux en coulis, car pas trop sucré mais cependant intense en goût. I was the only one to have dessert : hey, who could resist such a delightful vanilla panna cotta with persimmon sauce and pomegranates ?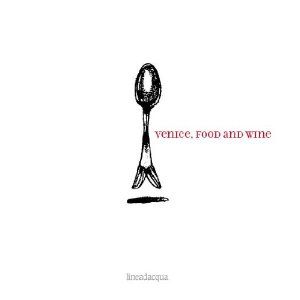 L'Osteria alle Testiere a publié un merveilleux livre de recettes disponible sur place ou dans certaines boutiques de musées à Venise. Traduit en français (sous le titre : "A table, à Venise") et en anglais ("Venice, Food and Wine"), c'est une mine d'information sur la cuisine vénitienne en général, les produits de la Lagune en particulier, les vins vénitiens et chaque recette est introduite par une anecdote pertinente. Les illustrations sont également remarquables. Un petit bijou ! Mais je reviendrai dessus dans mon prochain billet avec une recette très surprenante...The restaurant has published a cookbook in english called "Venice, Food and Wine" with plenty of Bruno's recipes and many tips about Venitian Cuisine, sea-food and wine. A very witty book.
Informations pratiques : Osteria Alle Testiere. Calle del Mondo Novo 5801, Castello. Tél. 041 52 27 220. Carte : 50-70 €. Site internet/Website : ici.
Copyright : toutes les photos sont de Foodie Froggy, sauf la toute première : copyright luxos.com