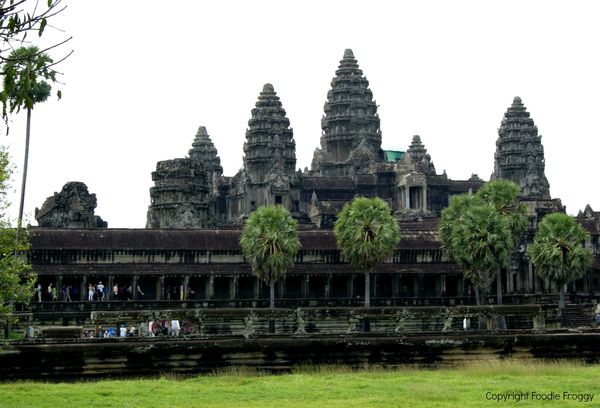 Pour la version en français, cliquez ici.
Like many of you, I guess, I had never heard nor had the opportunity to taste Khmer cuisine. Fortunately, our trip to Asia last summer and, to be more precise, our short stay in Siem Reap, Cambodia (home of the temples of Angkor) put an end to our scandalous ignorance! We literally fell in love with this cuisine rich in flavors and spices and found ourselves frequently wondering why it was so misunderstood, not to say underestimated !
The beauty of Cambodian children...
Guess how food arrives in the floating villages ?
Let's have a deeper look into the delicious Khmer dishes: like almost everywhere in Asia, they are mainly based on rice, from breakfast to dinner and appetizers to desserts. By the way, it is quite funny to notice that in Cambodian, «Have you eaten? » literally translates as "Have you had rice?". Fresh fish also plays a key role which is no surprise, given that 75% of the territory is located near the Mekong River or he huge Tonle Sap Lake.
My "friend" in PJ's (loved them) at her fish stall. Rice varieties.
The not-to-be-missed Old Market of Siem Reap. You can even grab a piece of food if you wish.
Some dishes have a slight resemblance with Thaï food (but in a less spicy version), while others are "openly flirting" (if I may say so) with Vietnam because of the common French colonial heritage : one can see bread rolls in some restaurants, for instance, or even locals enjoying baguette-based sandwiches ! One of the most commonly used ingredient is a fermented fish paste called "prahok" which plays somewhat the same role as soy sauce or fish sauce in other Asian cultures. In terms of spices, pepper is the king : the "Kampot" variety is nothing less than one of the best in the world! Black Kampot is used in red meat, white in fish and seafood and red for strong meats like game. Of course, I had to bring back bags of this great pepper for me and my fellow foodblogger friends.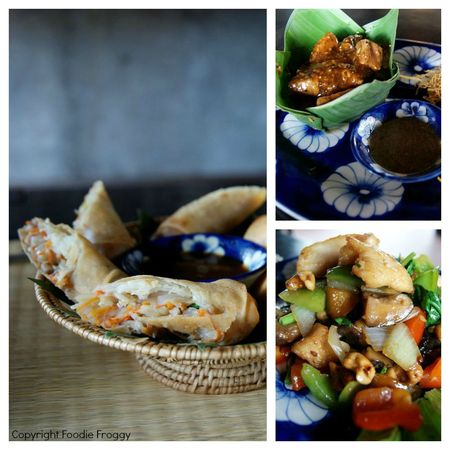 Vegetarian Spring Rolls, Salmon Lok Lak and peppercorn sauce, cashew nut chicken. Karavansara restaurant.
Salmon coated with jasmine rice and lemon-coconut sauce, assortment of appetizers, australian beef with 4 different Khmer sauces.
The national dish, Amok, a delightful fish curry with coconut milk served in banana leaves, calls for all the other main spices of Cambodian cuisine : lemongrass, galangal, turmeric, ginger and kaffir lime leaves.Vegetables are fairly standard (eggplant, zucchini, carrots, cabbage) and one fruit, the Durian, stands out from the others : considered as a refined delicacy by Cambodians, I have to admit that my westerner nose had some difficulty to cope with its awful odd smell (I love cheese, but a not a fruit that smells like it) ! Actually, it is so strong that in most hotels, it is strictly forbidden to eat or keep durians in your room ! It is time time for me to let you enjoy these few pictures and to say "stay tuned" for my upcoming recipes : "Amok fish" and "Beef Lok Lak" will be on the menu !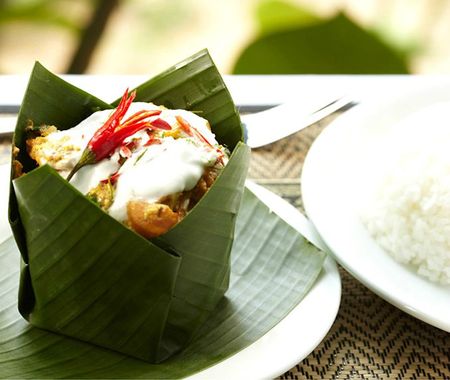 Amok fish, just the way it has to be served : in banana leaves.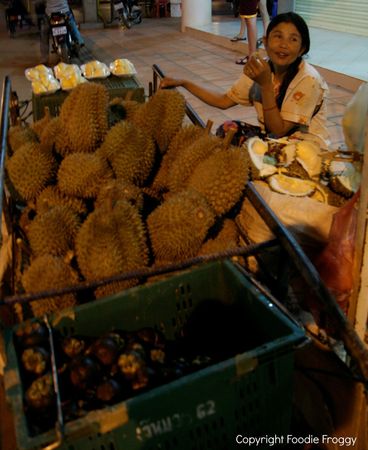 Durian, anyone ?
My personal recommandations in Siem Reap (restaurants I have personnally tested)
FCC Kitchen Traditional Khmer Cuisine in a beautiful colonial setting. Great patio. Pokambor Ave.,à côté de la Residence Royale, Siem Reap, Cambodia Tel : +855 (63) 760 283. website
Karavansara (it is also the hotel where we have stayed). Had lunch there on several occasions, never disappointed by the very tasteful food. Great service. 25 Road, Archa Sva Road, Wat Bo Village, Salakamroeuk Commune, Siem Reap, Cambodia Tel : +855 (63) 760 678. website.
Aha (Hotel de la paix restaurant). Trendy restaurant with an open kitchen. Delicious fusion food, many assortments, a great way to taste several dishes in small portions. Hôtel de la Paix Sivutha Boulevard Siem Reap, Cambodia Tel : +855 (63) 966 000. website.
Tested but not recommanded : Le Tigre de Papier on Pub Street. Unless you are craving for pizza, this is not a place I recommend : the local food is bland, it is noisy, and the service is not friendly.
For more frequently updated news, express restaurant reviews, exclusive recipes, do not hesitate to follow me on my Facebook page ! Click on the logo ! Thanks !