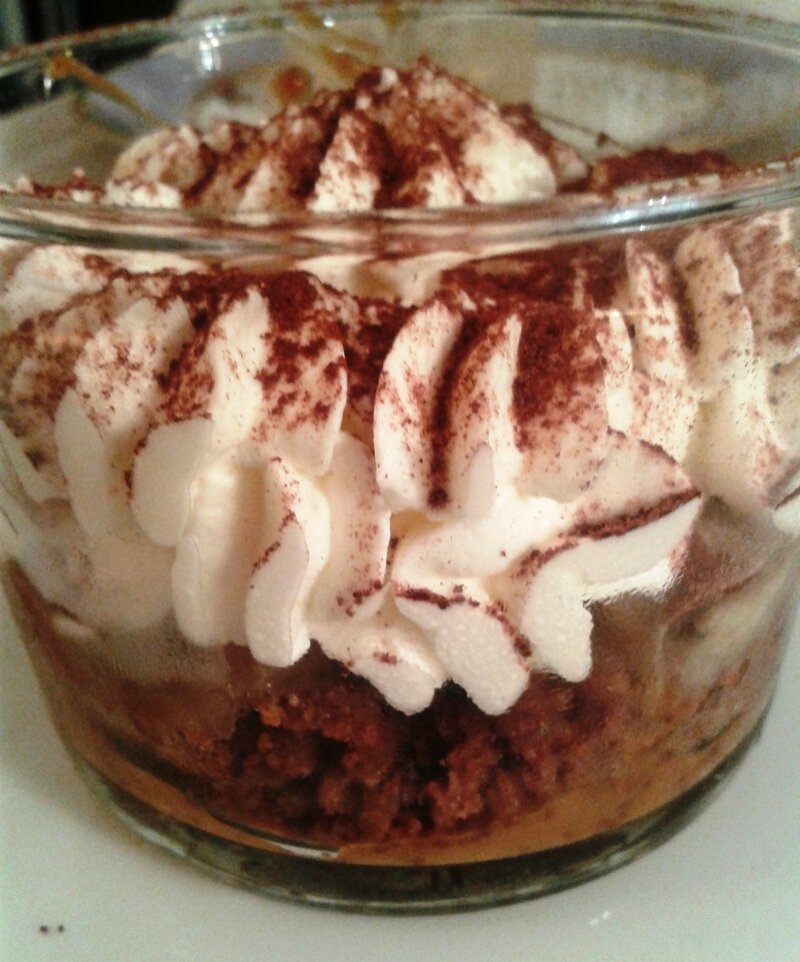 Vous vous demandez probablement ce qu'est un "banoffe" ? J'avoue n'avoir pas trop su non plus ce que c'était jusqu'à ce que je goûte une "banoffee pie" dans un nouveau restau de burger "tendance", il y a une dizaine de jours : ce dessert se présentait sous forme de tarte avec un fond de biscuit proche de celui d'un cheesecake, des bananes cuites, du caramel et une couche de chantilly parsemée de chocolat en poudre. C'était dé-li-cieux ! Lorsque, dernièrement, j'ai eu à régaler 13 personnes dans une période très chargée professionnellement, je savais que je n'aurais pas le temps de me lancer dans de la pâtisserie sophistiquée et j'ai donc décidé de la jouer en mode "cool". En reprenant les éléments de la banoffee qui hantait mes nuits (!), je me suis dit que cela serait un peu plus original et plus festif de la destructurer et de la présenter dans des verrines. Voici le résultat ! En terme de goût, cela a dépassé mes attentes. J'ai mis du caramel de lait pour la gourmandise et ai choisi une crème à monter à base de mascarpone de la marque elle&vire. Elle est très facile à monter, sans devoir la mettre au congélo au préalable pour bien la refroidir, et elle présente une texture plus dense et un goût plus intéressant que la crème liquide classique. Vous la trouverez facilement en rayon frais. Je précise que ce billet n'est absolument pas sponsorisé par cette marque : lorsque je "rencontre" des produits intéressants, j'en parle de façon totalement désintéressée et là, il y a un vrai "plus" produit. Pour en revenir à ce dessert de manière plus globale, en préparer 13 m'a pris une demi-heure tout compris, de la cuisson des bananes au montage des verrines ! Parfait pour les fêtes, je vous dis ! Et pour alimenter les conversations à table, sachez que le mot "banoffee" vient de la contraction de "banana" et de "toffee" (caramel) ! Joyeux Noël !
You probably know what a "banoffe" is (in case you don't, it is an english dessert made with banana, toffee and whipped cream). It is something we are not accustomed to eat, here in France. I tasted it for the very first time a couple of weeks ago in a new trendy burger restaurant in Paris. Their banoffee pie was to die-for ! When I had to treat 13 people in the middle of a very busy week, I knew I could not get into a sophisticated or time-consuming menu. I made a buffet of several savory snacks, followed by 2 roasted chicken with clementines and fennel (a recipe by Ottolenghi, soon on my blog) and for dessert, the banoffee pie came to my mind. But as I wanted something festive, I chose to put the ingredients in a jar/glass. In terms of taste, it exceeded my expectations. I made a mascarpone-based whipped cream : the taste is scrumptious and the texture is thicker than a regular whipped cream. We are lucky enough to find a mascarpone based heavy cream in France but if you don't have it in your country, feel free to whip together half heavy liquid cream and half sweet mascarpone cheese. It took me less than half an hour to make this dessert for 13 people : 10 minutes for cooking the bananas in a pan and the crust in the oven, 10 for whipping the cream and another 10 for assembling the glasses (of course I do not count the rest period in the fridge). Happy Holiday Season !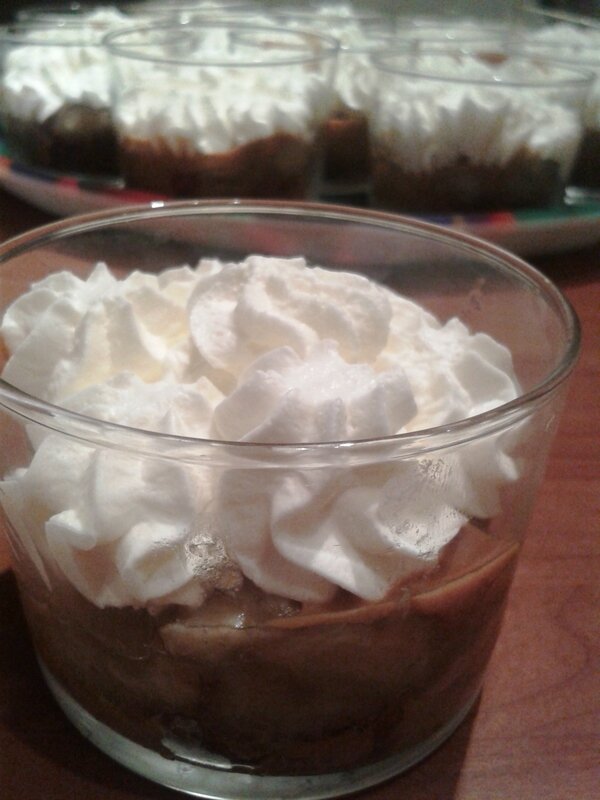 Banoffee destructuré, à ma façon
Pour une douzaine de personnes (format verres à tapas comme sur la photo)
Pour la base en speculoos :
250g de speculoos (Bastogne pour moi)

100g de beurre fondu (doux ou demi-sel selon vos goûts)
Pour la banane :
10 bananes mûres de taille moyenne

2 CàS de cassonade
Pour la confiture de lait :
120g de confiture de lait de qualité ou maison
Pour la crème montée :
45 cl (450g) de crème liquide entière ou crème fluide au mascarpone à fouetter de Elle&Vire (bien meilleure)

90g de sucre en poudre
Décoration :
Chocolat amer en poudre (type Van Houten)
Préparez les biscuits : Mixez-les grossièrement. Versez dans un bol, puis ajoutez le beurre fondu. Mélangez. Prenez un moule à tarte et étalez la pâte au fond du moule. Faites cuire 10 minutes au four (180°C), laissez refroidir puis mettez au frais.
Pelez les bananes et coupez-les en rondelles. Faites cuire à feu doux dans une casserole avec la cassonade. Dès que les bananes sont compotées, retirez du feu et laissez refroidir.
Préparez la confiture de lait si vous la faites vous-même.
Montez la crème en chantilly en ajoutant le sucre au fur et à mesure. Goûtez régulièrement pour arrêter de sucrer lorsque cela vous convient. Dès que la crème est bien ferme, mettez-la au frais.
Une heure avant de servir, montez les verrines : commencez par remélanger grossièrement les biscuits qui étaient au frais. Répartissez-les entre les 12 verrines. Recouvrez avec les bananes cuites. Mettez ensuite 2 cuillères à café de confiture de lait par verrine, par-dessus les bananes. Ne choisissez pas des verres de trop grande contenance, ce dessert est très riche.
Disposez la crème montée dans une poche avec douille cannelée et recouvrez joliment chaque verrine en formant des petits pics. Mettez au frais les verrines jusqu'au service.
Juste avant de servir, saupoudrez de chocolat amer en poudre à l'aide d'une passoire fine (comme pour un tiramisu).
Banoffee in a jar/glass, my way
For a dozen people
For the crust :
250g (9 oz) speculaas or digestive biscuits

100g melted butter ( regular or salted, depending on your personal taste)
For the bananas:
10 medium-sized ripe bananas
For the dulce de leche or caramel spread :
120g (4 1/2 cups) store-bought or home-made dulce de leche or caramel spread
For the whipped cream :
45 cl (2 cups) heavy cream or mascarpone heavy cream (or half heavy whipping cream and half sweet mascarpone cheese)
For the decoration :
Prepare biscuits: Crush them roughly and put in a large bowl. Add melted butter and mix. Spread the mixture in the bottom of a pie pan, bake for 10 minutes (180°C/350°F), let cool and refrigerate.
Peel the bananas and cut them into slices. Cook over low heat in a saucepan together with the brown sugar . When bananas are cooked , remove from the heat and let cool.
Prepare the dulce de leche if you make it yourself .
Whip the cream , adding the sugar little by little. Taste regularly. Once the cream forms peaks and the taste is OK for you (enough sugar), refrigerate.
An hour before serving , assemble the glasses : Cover the bottom of each glass with the crushed biscuits. Arrange cooked bananas on top (about 1 tbsp), then 2 teaspoons dulce de leche. Place the whipped cream in a pastry bag assembled with a fluted tip. Squeeze to form cute little peaks of whipped cream (see picture). Repeat with all glasses/jars. Refrigerate.
Just before serving , sprinkle each glass with some chocolate powder, using a sieve (like in a tiramisu ).