Il faut que je vous raconte qu'entre la cuisine et moi, cela n'a pas toujours été évident... En fait, pour être parfaitement honnête, j'ai toujours été, pour le plus grand bonheur de ma mère et de mes grand-mères, une très bonne mangeuse ! Toujours curieuse, aimant tout ou presque, n'ayant pas peur d'ingurgiter des quantités impressionnantes de nourriture (sans prendre un gramme, mais ça...c'était avant !), bref la fille rêvée pour toute cuisinière qui se respecte. Mais curieusement, passer derrière les fourneaux ne me tentait pas plus que cela...Puis 2 événements ont déclenché mon envie de m'y mettre, enfin : le premier, à l'âge de 19 ans, lorsque je suis partie vivre à l'étranger dans le cadre de mes études ( 6 mois à Londres puis 6 mois à Madrid) : c'est bien simple, j'étais étudiante, pas les moyens d'aller au restau tous les jours, il fallait que je cuisine, c'était une question de survie ! Et bien, d'une nécessité, j'ai fait un plaisir : même si mes ballades dans les rayons des supermarchés britanniques et espagnols me laissaient sceptique pour ne pas dire complètement paumée, j'ai quand même réussi à bricoler quelques quiches maison à tous les légumes qui passaient par là, des chili con carne (?!), des poulets rôtis et quelques gâteaux au chocolat ou au yaourt...Le second déclencheur : mon mari ! Et oui, je crois avoir épousé il y a presque 20 ans l'homme le plus gourmand du monde ! Voulant lui faire plaisir et être à la hauteur (tsss...), j'ai commencé à potasser quelques bouquins et pris quelques cours. Et même si mon premier plat a été un désastre (un poulet basquaise que j'ai réussi à cramer), les expériences suivantes se sont révélées bien plus gratifiantes ! Bon, c'est bien beau tout ça, mais quel rapport avec le coulibiac, me direz-vous ? Euh...aucun en fait...J'étais juste d'humeur nostalgique en griffonnant ce billet et je me disais que j'en avais parcouru du chemin, depuis cette époque ! Qui aurait cru que je tiendrais un jour un blog culinaire et que, plus étonnant encore, je vivrais désormais de ma passion pour la cuisine ? Certainement pas moi ! Je vous laisse maintenant (enfin !) en compagnie de ce délicieux coulibiac revisité à ma façon.
I must confess that I have not always been passionate about cooking. Actually, to be perfectly honest, I have always been a very good eater (to the delight of my mother and my grandmothers), but strangely enough I was not interested by what was happening "behind the scenes" of these wonderful meals ! Until...two things : First when, as a student, I had to go live in London and Madrid for a year, far from my mother's kitchen ! I was 19, I did not have the money to go to the restaurant everyday but I had to eat, it was a matter of survival ! In a word, I had no other solution than shop and cook (on a budget). Guess what ? What was a necessity became a pleasure ! Wandering through the aisles of british and spanish supermarkets was a strange, funny and rewarding experience ! I managed to make some basics like savory pies ( I think I have tried all the vegetarian versions available on earth! ), roast chicken, chili con carne (don't ask me why ?!) and chocolate and yogurt cakes. The second event that took my interest for cooking to a higher lever was when I married a very gourmand man ! Oh my, what I was ready to do to make this man happy ! ;-) Even though the first recipe I made for him was a disaster ( I managed to burn a basquaise chicken), the following experiments were much more rewarding thanks to a few culinary books and classes ! Well, you must think : "what does this have to do with salmon coulibiac ? " Ahem...nothing actually ! I was just feeling a bit nostalgic when I wrote this recipe. Who would have thought, twenty-five years ago, that I would become a foodblogger and, even more amazing , that my passion for food would become my new job after a career in marketing ? Certainly not me ! Enough talking now, let's enjoy this delicious and easy-to-make salmon coulibiac !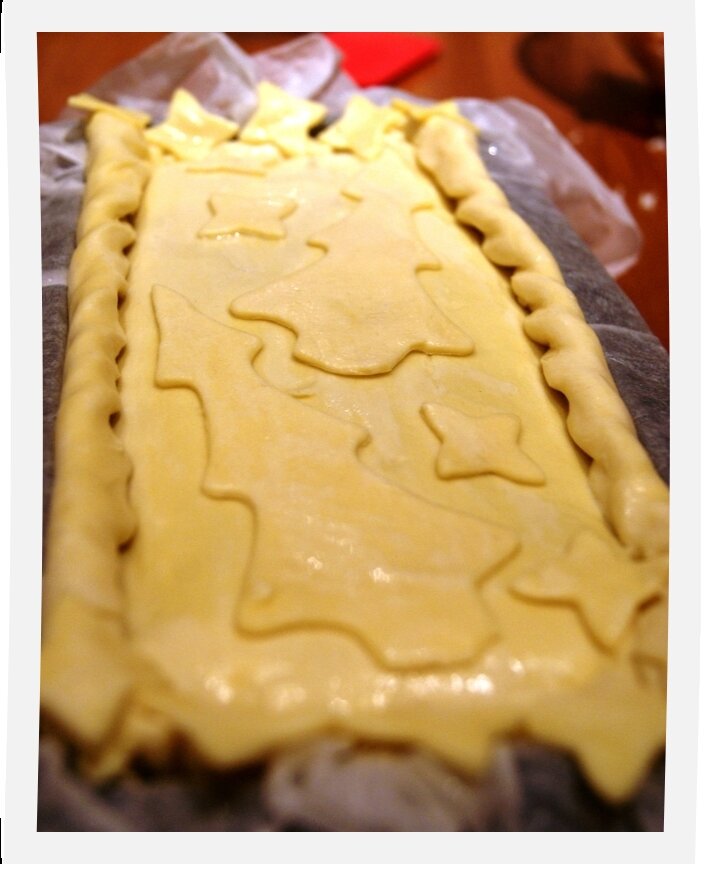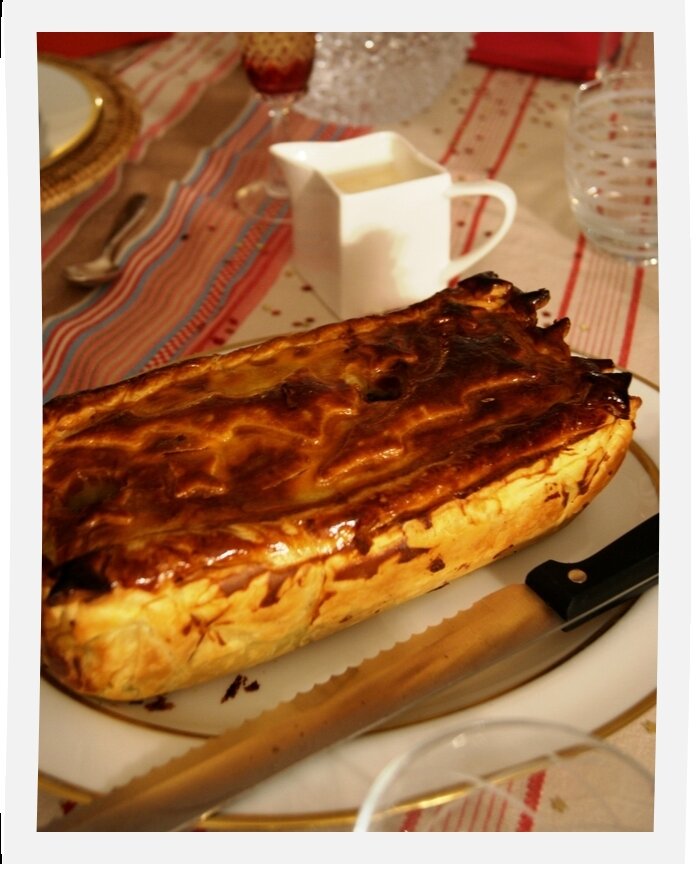 Coulibiac de saumon façon "paté en croute"
Pour 6 personnes
Pour le coulibiac :
2 pâtes feuilletées prêtes à dérouler (230 à 250g chacune)

600g (environ 4 pavés) de saumon frais ou surgelé. Si frais, retirer les arêtes et les parties marron. En surgelé, normalement, cela est déjà fait.

300g d'épinards frais ou surgelés (hachés)

300g de champignons de Paris frais ou surgelés, émincés

1 échalote ou 1 CàS d'échalotes surgelées

3 oeufs entiers + 2 jaunes

75g de riz basmati cuit
Pour la sauce (recette de Mercotte) :
1 échalote hachée

1 verre de vin blanc sec (20cl)

1 cube de bouillon de poule (pour moi 1/2 cube était largement assez, alors testez d'abord avec une moitié, sinon cela risque d'être trop salé)

20cl de crème liquide

Quelques gouttes de jus de citron
Conseil : Préparez les ingrédient suffisamment en avance pour les cuire et les laisser refroidir avant l'assemblage. Idéalement, le matin pour le soir ou 2 heures avant d'enfourner.
Faites cuire les oeufs pour obtenir des oeufs durs. Je les fais cuire 10 minutes. Laissez refroidir un peu, écalez sous l'eau froide et réservez. Faites cuire le riz.
Le saumon : s'il est surgelé, retirez les pavés des sachets plastique et faites cuire 10 minutes au micro-ondes, couverts. S'il est frais, faites-le cuire à la poêle, au micro-onde 5 minutes ou faites pocher, au choix. Disposez le saumon cuit dans un saladier, assaisonnez et mélangez bien. Laissez refroidir à température ambiante.
Les épinards : s'ils sont surgelés, disposer les cubes dans une poêle avec un petit fond d'eau, couvrez et mettez sur feu doux jusqu'à ce que les épinards soient cuits. S'ils sont frais, les laver, les équeuter et les blanchir une minute dans un grand volume d'eau salée. Dans les deux cas, égouttez bien les épinards (très important), disposez-les dans un grand bol et assaisonnez.
Les champignons : dans une poêle sur feu moyen, faites revenir les échalotes hachées avec une cuillère d'huile d'olive. Lorsqu'elles sont transparentes, ajoutez les champignons émincés (frais ou surgelés). Faites cuire jusqu'à ce que toute l'eau soit évaporée. Transférez dans un mixer et réduisez en purée. Égouttez, goûtez et assaisonnez.
Pendant que les ingrédients refroidissent, chacun dans son bol ou saladier, préparez la sauce : réduisez dans une petite casserole le vin blanc, l'échalote et le 1/2 bouillon cube (ou entier selon votre goût). Il faut qu'il reste juste un tout petit fond de liquide. Ajoutez la crème et le citron, faites bouillir quelques secondes et retirez du feu.
Lorsque tous les ingrédients du coulibiac sont refroidis, préchauffez le four à 220°C et procédez à l'assemblage :
Sortez la première pâte feuilletée du frigo. Foncez un moule à cake avec la pâte en laissant le papier cuisson (cela facilitera le démoulage). Commencez par tapisser le fond avec le riz cuit. Puis mettez la totalité des épinards. Alignez les oeufs durs l'un derrière l'autre, au centre. De part et d'autre des oeufs, disposez le saumon cuit puis par-dessus aussi. Finissez par la couche de champignons. Pensez à bien tasser et étaler de manière homogène les différentes couches. Recouvrez de la seconde pâte feuilletée. Découpez les surplus de pâte qui dépassent en en laissant suffisamment pour souder ensemble les deux pâtes en les enroulant sur les bords et en les collant avec de l'eau à l'aide d'un pinceau. Avec les chutes, découpez des petites formes à l'aide d'emporte-pièces et collez-les sur le dessus de la pâte en collant encore avec de l'eau (au pinceau). Une fois que tous les décors sont collés, badigeonnez le dessus de jaunes d'oeufs battus. Confectionnez deux petites cheminées en papier alu et enfoncez-les en deux endroits du coulibiac.
Enfournez pour 45 minutes. Si le dessus brunit trop vite, protégez avec du papier alu. A l'issue de la cuisson, retirez du four et vérifiez avec la pointe d'un couteau, qui doit ressortir sèche. Vérifiez, en l'écartant délicatement, que la pâte sur les côtés soit cuite aussi (pas nécessairement brune mais un peu dorée quand même).
Disposez la sauce dans une jolie saucière (au besoin, vous l'aurez réchauffée 30 secondes au micro-ondes). Servez de larges tranches de coulibiac (elles tiendront mieux que de fines tranches) avec une salade verte ou des légumes verts.
Salmon Coulibiac, my way (in a loaf pan)
Serves 6 people
For the coulibiac :
2 ready-rolled fresh puff pastries

1 1/4 lb (600g) fresh or frozen skinned salmon filets.

10 oz (300) fresh or frozen chopped spinach

10 oz (300g) fresh or frozen button or white mushrooms, minced

1 shallot or 1 tbsp frozen chopped shallots

3 eggs, hard-boiled (7 to 9 minutes) + 2 yolks

3 oz (75g) cooked basmati rice
For the sauce (recipe by Mercotte, a famous french foodblogger) :
1 shallot, chopped

1 cup (230 ml) white wine

1 bouillon cube (for me, only half a bouillon cube was enough. Beware as if you use more, the sauce can be too salted)

1 cup (230 ml) liquid heavy cream

Some drops of freshly squeezed lemon juice
Use a 9 1/4 x 5 1/4 x 2 3/4 in- loaf pan.
My little tip : Prepare all ingredients well in advance as they need to be cooled thoroughly before using them in the coulibiac. The best is to cook them in the morning for the evening, or at least two hours before baking the coulibiac.
Cook the basmati rice and the 3 eggs (separately, of course, about 10 minutes).
Salmon : if frozen, cook in the micro-wave, covered, for 10 minutes on high power. If fresh, cook it the way you like : in a skillet, poached in boiling water or in the micro-wave (5 minutes). Arrange in a large bowl, season to taste and mix well. Let cool at room temperature.
Spinach : If frozen, arrange them in a skillet with very little water and let cook on low heat until they are cooked thoroughly. If fresh, clean them in cold water, remove the stems and blanch them in salted boiling water for a minute. In both cases (frozen or fresh), lift into a colander to drain. It is important to drain well. Season to taste.
Mushrooms : in a skillet over medium heat, cook the chopped shallot with a tbsp olive oil, until it is translucent. Add mushrooms (frozen or fresh) and cook until all the water evaporates. Transfer to a mixer, process until mushrooms and shallots are puréed. Drain, taste and season.
While all ingredients are cooling, make the sauce : pour white wine, chopped shallot and bouillon cube in a sauce pan over medium-high heat. Let until almost all liquid evaporates (watch carefully). Add the heavy cream and two to three lemon juice drops, bring to a boil for a few seconds and remove from the heat. You will reheat that sauce in the micro-wave just before serving.
When all ingredients are cool, preheat the oven to 450°F (220°C) and start the assembling step : Line the loaf pan with parchment paper. Take the first puff pastry from the fridge and fold in half. Then unfold it into the mould, leaving a little space overlapping all round. Fit it to the inside of the mould, using scissors to snip it if necessary, until you have an even pastry case. First layer will be the rice : spread evenly on the bottom of the pastry. Then spoon the spinach on top of the rice and spread. Do not hesiatet to press the layers. Third layer will be the boiled eggs, one behind the other, centered. On both sides of the eggs, spread the salmon. If you have enough salmon, you can also cover the eggs with it. Last layer will be the mushroom mixture. Look at the top picture if the explanations are not clear enough.
Brush around the top of the pastry case with water. Roll out remaining pastry and place over coulibiac, pressing to seal. Trim any excess. From pastry trimmings, cut out decorations for top ( I made christmas trees and little stars). Using egg wash, stick onto pastry top. Cut 2 circles in top. Insert rolled-up parchment paper "chimneys" into holes for steam vents. Brush with egg wash. Bake in the oven for 45 minutes, covering with foil if necessary to prevent browning.
Remove from the oven and check with a knife (it should be dry). Also check (with your eyes) that pastry sides of the coulibiac are cooked (not necessarily brown but golden is a minimum).
Leave to rest for about 10 minutes then cut large slices and serve with the sauce and a crisp, lighly dressed green salad.