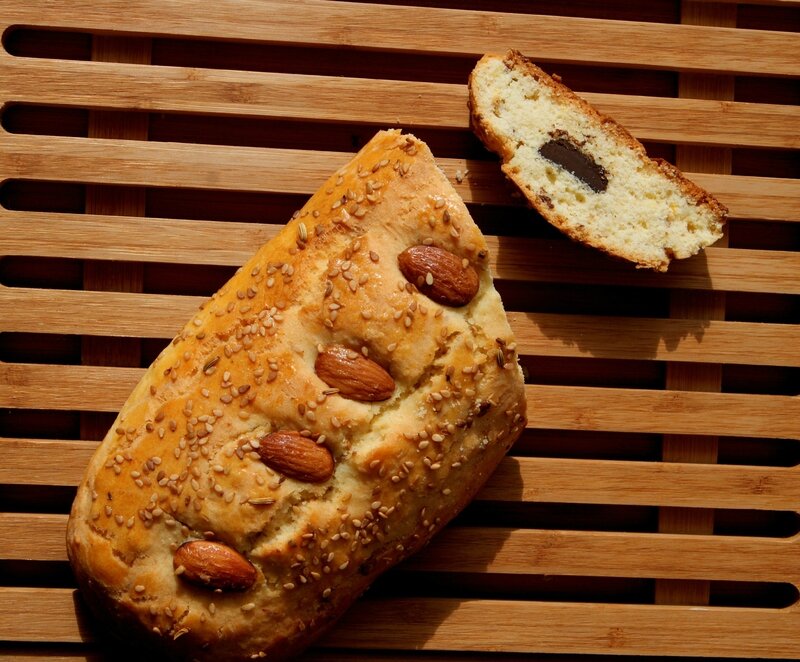 Je pense que quelques petites explications s'imposent, n'est-ce pas ? Tout d'abord, un boulou, qu'est-ce que c'est ? Je pourrais vous répondre, "c'est toute mon enfance", mais cela ne vous avancerait guère. En fait, ces biscuits qui se présentent comme des sortes de pains et qui se découpent en tranches (comme des cantucci italiens), se dégustent à la fin du Grand Pardon (le Yom Kippour), pour rompre le jeûne. On les sert avec de la citronnade, du sirop d'orgeat, parfois du café. On peut même tartiner de la confiture de coings dessus, c'est délicieux. Ma version est un mélange de trois recettes familiales : celles de ma belle-mère, de ma grand-tante et de ma belle-soeur. Après plusieurs essais, j'ai trouvé la version qui me convenait parfaitement car elle n'est pas trop sèche, elle est gourmande (je mets deux longs batons de chocolat noir par boulou, même si il n'y en a qu'un sur la photo) et la quantité me permet de réaliser 3 pains d'une vingtaine de centimètres : j'en garde deux et je donne le troisième à un membre de ma famille qui ne sait pas les faire (jamais le même d'une année sur l'autre). Seconde explication : je les ai nommés les "Happy Boulous" (en réference à la chanson de Pharrel Williams), car je peux vous assurer qu'après 24 heure de jeûne, on les dévore avec grand bonheur !! A vous de vous y mettre, maintenant !
I think a few explanations are needed here, aren't they ? First, you may wonder what on earth is a "boulou" (pronounce booloo) ? I could answer "it's my childhood all wrapped into a roll ," but that may not be of any help for you, right ? Actually, these sweet treats that look like bread rolls (before they are cut into slices, just like Italian cantucci ) are the first things that are eaten to break the Yom Kippur fast, in many sephardic families. They are often enjoyed with lemonade , orgeat syrup , sometimes coffee. You can even spread quince jam on top, it is delicious. My very own boulou version is a mix of three family recipes (my mother in law's , my great aunt's and my sister in law's) : I just wanted it to be easy to make and not too dry. I am fond of the chocolate bar version, but you can put raisins instead (or both !!). Another explanation : I have named them the "Happy Boulous " (in Reference to Pharrel Williams' song), because I can assure you that when we eat them after a 24-hour fast , we are in heaven !! Now, your turn to give them a try (and let me know how they turned).
Boulous de Kippour (pour 3 boulous)
1 belle orange, bien lavée et essuyée,

100g d'amandes émondées grossièrement concassées,

150g de sucre,

1 verre d'huile de tournesol (12cl),

de l'eau de fleur d'oranger (2 cuillères à soupe),

2 gros œufs (+ un jaune pour la dorure),

quelques grains de fenouil,

2 sachets de sucre vanillé,

1,5 sachet de levure chimique,

des barres de chocolat ou des raisins secs ré-hydratés,

quelques amandes entières pour la déco (environ 6 par pain)
Prélever les zestes de l'orange. La découper en deux et la presser.
Dans le bol d'un robot ou un saladier, mélanger la poudre d'amandes, les amandes concassées, le sucre, l'huile, la fleur d'oranger, le zeste et jus de l'orange, le fenouil, les œufs (sauf le jaune qui sera pour la dorure), le sucre vanillé et la levure chimique. Battre au crochet K du robot ou au batteur. Rajouter progressivement la farine, tout en battant. Si la pâte n'est pas très souple, rajouter un peu d'eau.Si elle est trop collante, rajoutez un peu de farine.
Laisser reposer cette pâte un quart d'heure, le temps de préchauffer le four à 180°C.
Fariner le plan de travail. S'huiler un peu les mains et former 3 "pains" de taille identique. Ouvrir en deux comme un sandwich et disposer les bâtons de chocolat (2 par pains). Bien refermer chaque pain, de façon que les barres de chocolat soient bien au milieu. Si le choix s'est porté sur le raisin, les incorporer à la pâte avant de laisser reposer.
Les disposer sur une plaque recouverte de papier cuisson en les espaçant bien. Enfoncer les amandes sur le dessus des pains, badigeonner au jaune d'œuf battu et parsemer de graines de sésame (et de pistaches concassées, c'est encore plus joli).
Faire cuire 30 à 35 minutes environ.
Yom Kippour "Boulous" (for 3 "Boulous")
1 large orange, carefully washed or organic

50g (1/2 cup) almond powder

100g (1 cup) blanched almonds, coarsely chopped.

150g (3/4 cup ) granulated sugar

12 cl (1/2 cup) sunflower oil

Orange blossom water (2 tablespoons)

2 large eggs + 1 yolk for the glaze

Some fennel seeds (a teaspoon)

2 little packs vanilla sugar (2 tablespoons)

1.5 packs baking powder (2 tablespoons)

500g (17 1/2 oz) all-purpose flour

Thin and long chocolate bars or rehydrated raisins (1 handful per bread)

a few whole almonds for the decoration (about 6 per roll)
Remove the zest from an orange. Cut this orange in halves and squeeze them.
In the bowl of a food processor or in a mixing bowl, assemble almond powder, chopped almonds, sugar, oil, orange blossom, orange zest and orange juice, fennel seeds, eggs (apart from the yolk you will use for the glaze), vanilla sugar and baking powder. Beat. Gradually add flour while beating. If the dough is too dry addsome water. It it is too sticky, add some flour.
Let the dough rest half an hour, while you heat the oven to 180 ° C (350°F).
Flour your working surface. Oil your hands to form 3 "rolls" about the same size. Open them in two, like a sandwich, and put the chocolate bars (2 per bread) in the middle. Close the rolls, so that the chocolate bars are right in the middle. If you choose raisins instead of chocolate, put them into the dough before letting it rest.
Arrange the 3 rolls on a baking sheet lined with parchment paper. Press whole almonds on top of each roll (see picture), brush with beaten egg yolk and sprinkle with sesame seeds (crushed unsalted pistachios are even prettier).
Bake 30 to 35 minutes.
Mes autres recettes de Kippour/Other traditional recipes for Yom Kippur :
Confiture de coings/Quince jam
Limonade maison/Home-made lemonade
Gâteau aux amandes/Almond Cake by Nigella Lawson