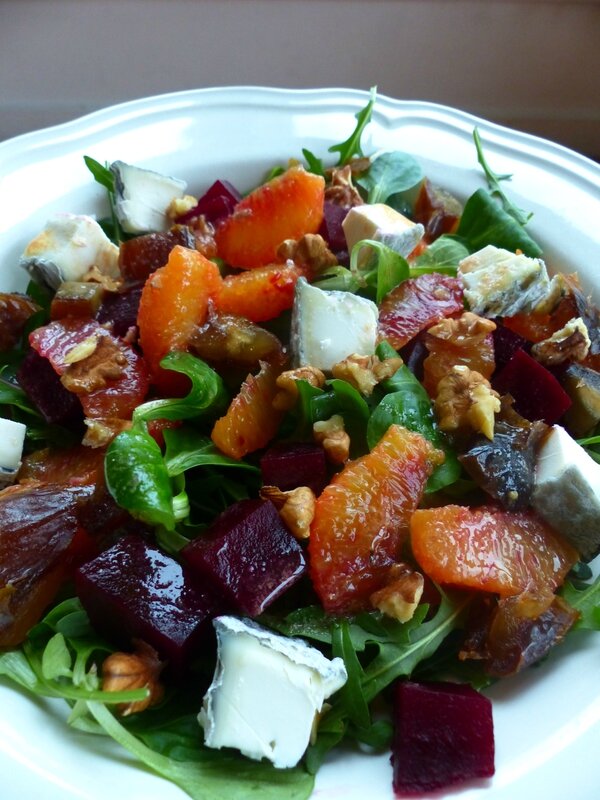 Je ne sais pas si c'est le soleil pris pendant ces quelques jours de vacances sous les tropiques qui m'a inspirée mais le résultat est bien là : après le très riche et reconfortant orgeotto d'Ottolenghi, je vous propose son opposé total (même si l'on reste clairement dans la Méditerranée) : une salade légère pleine de couleurs, ensoleillée et bonne pour la santé, oui tout cela en même temps ! Je l'ai complètement improvisée avec ce que j'avais sous la main et j'avoue que même moi, la seule fille au monde qui n'apprécie pas trop les salades, je me suis régalée. Il y avait du croquant avec les noix, du gourmand avec le chèvre, de la fraîcheur avec les oranges sanguines et le mesclun, de la bonne mine avec les betteraves et de la douceur avec les dattes. Une belle association d'ingrédients de saison pour une entrée, ma foi, très délicate. J'en profite pour faire un petit aparté sur les dattes Medjool : je n'en avais jamais goûtées auparavant mais ce fut une vraie révélation pour moi, elles sont mille fois plus fondantes et goûteuses que celles que l'on trouve plus facilement dans les supermarchés (la Nour, pour ne pas la nommer). Et en plus, elles sont pleines de glucides pour les sportives et d'anti-oxydants et de fibres pour les coquettes ! Alors, n'hésitez plus, même si il faut reconnaitre qu'elles sont hélas assez chères.
Is it the sunny weather I just had a few days ago while cruising in the Caribbeans that inspired me this recipe ? I don't know but what is sure is that we are far away from last post's comforting and rich barley risotto... What I would like to share with you today is a healthy salad which I totally improvised with the ingredients I had in my fridge and my pantry. I chose walnuts for their crunchiness, goat cheese for its tart flavor, blood oranges for both their color and freshness, red beetroot for its earthy taste and dates for a sweet little touch. All these ingredients worked well together which was no surprise for me since they all have a serious mediterranean identity ! As for the dates, I would like to add a little thing : it was the first time I found medjool dates in my local market and I now know that I will never, ever buy any other variety : these were a hundred time softer and tastier that all the others I had eaten before. Yes, they are, sadly, quite expensive but sooooo worth the price ! If you have an opportunity to taste them, please do not hesitate !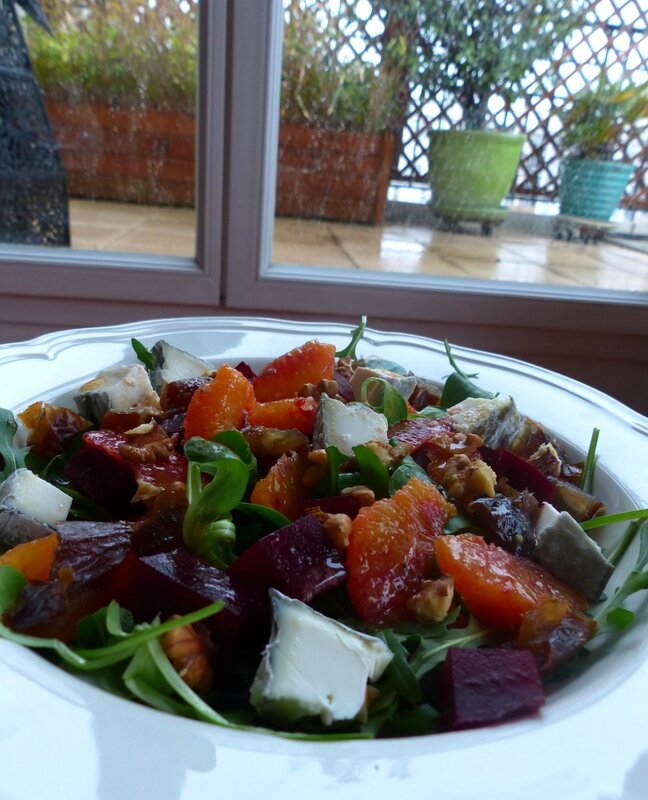 Salade de mesclun d'hiver, orange sanguine, betterave, chèvre cendré, dattes medjool et noix
(pour 1 personne, quantités à multiplier selon le nombre de convives)
1 grosse poignée de mesclun d'hiver (roquette, épinard, mâche), nettoyée

les suprêmes (quartiers coupés à vif) de 1 orange sanguine. Pensez à garder le jus pour la vinaigrette.

150g de betterave rouge cuite, coupée en dés

3 grosses dattes medjool, coupées en petits dés

du chèvre cendré (environ 40 g), coupé en dés

cinq cerneaux de noix, grossièrement concassés

Vinaigrette Orange Sanguine et Vinaigre Balsamique (un verre environ) :

3 cuillères à soupe de vinaigre balsamique

1 cuillère à café de moutarde forte de dijon

3 cuillères à soupe de jus d'orange sanguine

5 cuillères à soupe d'huile d'olive de qualité

Poivre du moulin (deux tours de moulin)
Faites la vinaigrette : dans un bol ou un verre, disposez la moutarde, le vinaigre balsamique, le sel et le poivre et mélangez bien. Ajoutez ensuite l'huile d'olive, mélangez puis finissez par le jus d'orange sanguine. Emulsionnez ou mélangez bien afin que la vinaigrette soit homogène. Corrigez l'assaisonnement si nécessaire.
Pour la salade, c'est très simple : dans chaque assiette, disposez tout d'abord le mesclun, puis répartissez harmonieusement les dés de betterave, ensuite les suprêmes d'orange sanguine, les dattes medjool et finissez par le chèvre et les noix. Disposez 3 cuillères à café de vinaigrette mais ne mélangez pas afin que l'assiette reste belle et que les ingrédients ne prennent pas les couleurs les uns des autres. Laissez vos invités mélanger eux-mêmes dans leur assiette.
Mes suggestions pour quelques variantes : vous pouvez ajouter des graines de grenade ou des graines de courge, remplacer tout ou partie du mesclun par de fines lamelles de fenouil frais ou des endives coupées en fins bâtonnets, remplacer les oranges sanguines par des clémentines ou des pamplemousses roses, faire gratiner le chèvre au four sur des petits toasts, etc. N'hésitez pas à me faire part de vos suggestions aussi. Bon appétit !
Winter greens, blood orange, beetroot, goat cheese, medjool date and walnut Salad
(For one person, multiply quantities by the number of guests)
1 large handful of winter greens (arugula, baby spinach, lamb's lettuce), cleaned

the skinless segments of 1 blood orange. Remember to keep the juice for the dressing.

150g (5 oz) cooked red beetroot, finely diced

3 large Medjool dates, diced

ash-coated goat cheese (about 40 g/1.5 oz), diced

5 walnut kernels, coarsely crushed

Blood Orange Vinaigrette and Balsamic Vinegar (about a glass) :

3 tablespoons balsamic vinegar

3 tablespoons blood orange juice

5 tablespoons extra virgin olive oil

Freshly ground pepper (to taste)
Make the dressing: In a bowl or glass, whisk mustard, balsamic vinegar, salt and pepper. Then stir in olive oil and orange juice. Whisk until emulsified. Adjust seasoning (salt and pepper) if necessary.
To make the salad, it's very simple: on each plate, first arrange the greens and harmoniously divide the beet cubes, the blood orange segments, Medjool dates and end up with the goat cheese dices and the walnuts. Sprinkle with 3 tsp dressing but do not toss in order to keep the colors of each ingredients (if you mix, the goat cheese will become pink because of the beetroot). Let your guests toss themselves on their plate.
My suggestions for some alternatives: You can add pomegranate or pumpkin seeds, replace all or part of the greens with thin slices of fresh fennel or endives, you can bake the goat cheese in the oven on good-quality bread slices, substitute oranges with clementines or pink grapefuit, and so on. Feel free to send me your suggestions too. Bon Appétit !