Nous sommes des croisiéristes convaincus et nous assumons tous les clichés liés à cette addiction : "Vacances pour retraités et/ou pour ringards, surpopulation, buffets dégueus, pas de vraie découverte du pays d'escale", etc... Il y a du vrai et du faux dans ces affirmations, j'y reviendrai, mais l'essentiel pour nous est que l'on s'y sent bien, et que l'on se repose VRAIMENT ! Pour moi, une semaine de croisière équivaut à 15 jours de vacances "classiques" en terme de détente et de relaxation. Rien à penser, rien à gérer, pas de valises à faire et défaire tout en "visitant" plein d'endroits différents. Moi l'insomniaque chronique, je dors super bien à bord. Bref, on adore et (plus surprenant), nos filles de 18 et 12 ans aussi !! Pour en revenir aux clichés : oui, la moyenne d'âge à bord est assez élévée, et pour nous cela n'a jamais été un problème : nous avons lié connaissance avec des couples charmants qui auraient pû être nos parents. Oui, on ne voyage pas forcément avec des aristocrates, mais là encore, halte aux idées reçues, on s'amuse beaucoup mieux avec des personnes qui ont la banane du matin au soir et qui profitent au maximum de leurs vacances. Quant à la restauration, si l'on veut éviter l'effet salle de réfectoire bruyante, il y a toujours des restaurants de spécialités plus intimes et croyez-le ou non, délicieux ! Quant aux escales, certes, quelques heures, c'est un peu court alors charge à nous d'en tirer le meilleur parti. C'est pourquoi, lors de notre dernière croisière dans les Caraïbes, je me suis inscrite à un cours de cuisine à Ocho Rios, en Jamaïque. Cuisiner local est quand même une belle approche d'un pays, n'est-ce pas ? Voici quelques images de ce moment privilégié dans une ancienne plantation du 18ème siècle sur les hauteurs d'Ocho Rios, avec vue imprenable sur la mer des Caraïbes.
We are addicted cruisers and we are fully aware of all the clichés attached to this passion, especially through european eyes (aka our friends eyes) : "only old people on board, disgusting buffet food, not enough time ashore to really discover a new city/island", and so on ... True or false, I will tell you what I think of these preconceived ideas in a minute but the most important for us is that this kind of vacation is soooo relaxing ! Nothing to think about, nothing to manage, no packing and unpacking while discovering a new place each day. A ship is the only place in the world where I don't suffer from my chronic insomnia : I sleep like a baby ! To make it short, we love to cruise and (more surprisingly) our 18 and 12 years old daughters also rave about it ! Now, let's go back to the clichés : Yes, the average age on board is quite high but for us this has never been a problem, we made friends with lovely couples who could have been our parents. Yes, the average cruiser doesn't always have the manners of a member of the Royal British Family (neither do I), but my, he/she knows how to have fun ! As for the food, if one wants to avoid the not-too-good and noisy main cafeteria, there is always a selection of more intimate specialty restaurants to choose from and, believe it or not,they are delicious (OK, not all of them, but you can't be disappointed with the italian, the sushi bar and the teppanyaki) ! Now, let's talk about the very short stays ashore : Yes, 5 or 6 hours is not very long but it is your responsability to make the most of them. That is why in our last Caribbean cruise, I took a cooking class in Ocho Rios, Jamaica. Cooking like the locals is an interesting way to learn more about a country right ? Here are some pictures of this special moment in a former 18th century plantation with stunning views of the Caribbean Sea.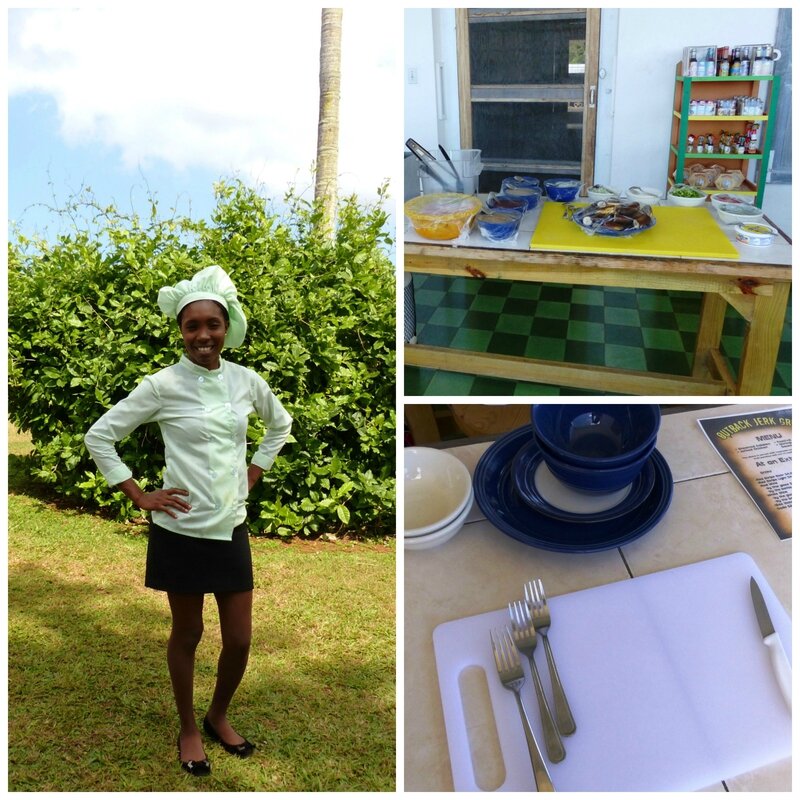 La charmante Chef/Son plan de travail/Le mien. The lovely Chef/Her workstation/My workstation
Le Callaloo est une sorte d'épinard des Caraïbes. Il est découpé en lanières puis cuit à la vapeur avec d'autres légumes (oignons, ail, ciboules, tomates, etc). Callaloo is the local spinach, it is first cut into long and thin strips then steamed with other vegetables (onions, garlic, scallions, tomatoes,...).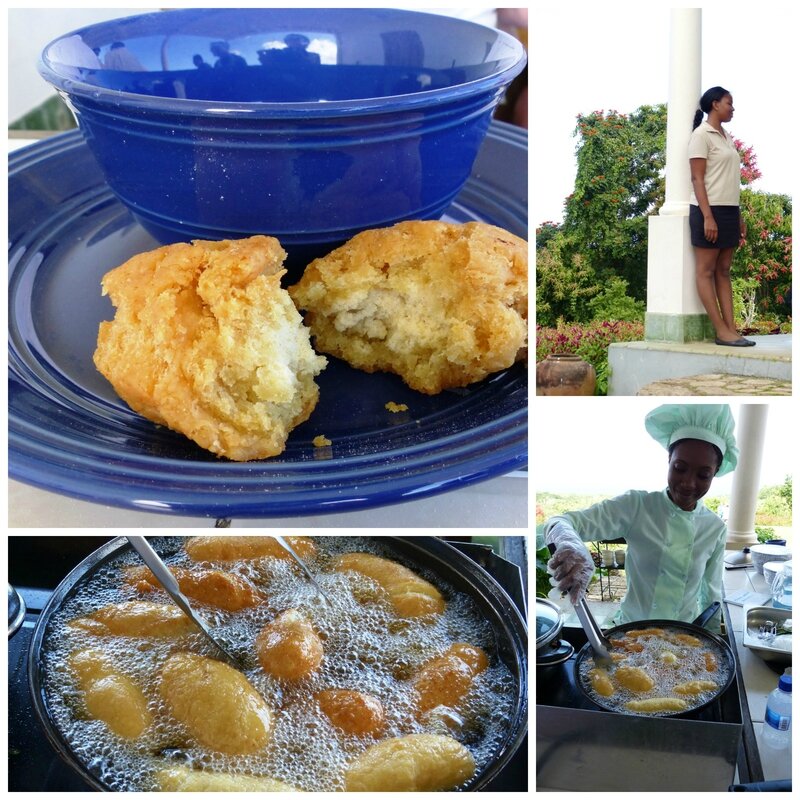 Le "Festival" est le pain local, il est à base de farine et de farine de maïs et il est frit ! La texture est assez dense, bref ce n'est pas très léger mais très bon ! Festival is a local cornmeal based bread and it is fried ! Not really healthy but very good ! It has a dense texture, too.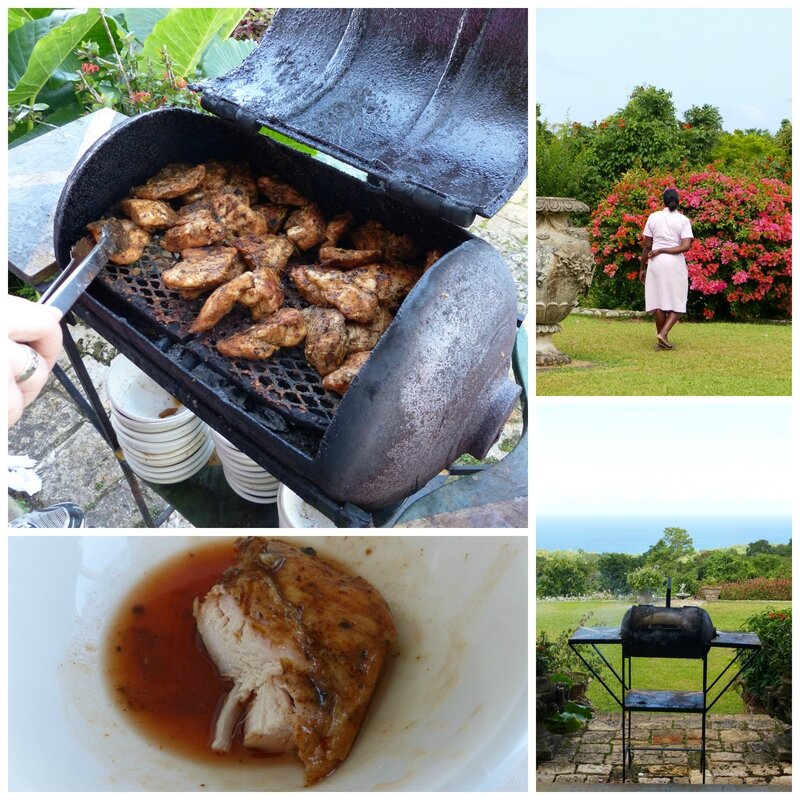 Le Jerk Chicken est le plat-star de la Jamaique, on en trouve dans tous les restaurants, à la plage et dans les petites carioles de street food. Le Jerk est un mélange d'épices tout prêt qui contient du quatre-épices, du piment (indispensable dans le pays de Bob Marley), de la cannelle, du gingembre, de la muscade, de l'ail et bien d'autres. On laisse mariner le poulet (ou le porc, le poisson, les crevettes) et ensuite on grille au Barbecue, c'est nettement meilleur ! Jerk Chicken is the national dish in Jamaica, it is everywhere : in each and every restaurant, on the beach and in the street food carts. Jerk is a spice blend which is made of all-spice, scoth bonnet pepper (a must eat in Bob Marley's country), cinnamon, ginger, nutmeg, garlic and many others. The chicken (or pork, or fish, or shrimp) needs to marinate in this blend before being grilled on the BBQ (much better).
Comme si tout cela ne suffisait pas, nous avons également cuisiné des crevettes au lait de coco et du riz blanc (non photoraphié). Like if it was not enough, we also cooked shrimps in a coconut milk sauce with vegetables and some steamed rice (not photographed).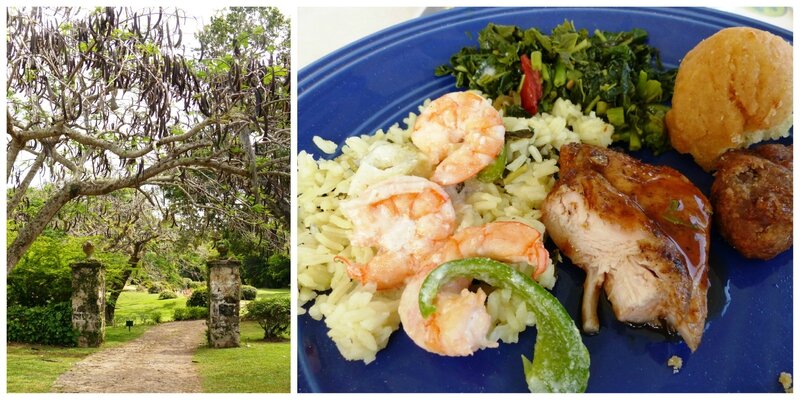 Prêts à déguster le fruit de notre labeur ! Now time to enjoy the fruits of our labour !