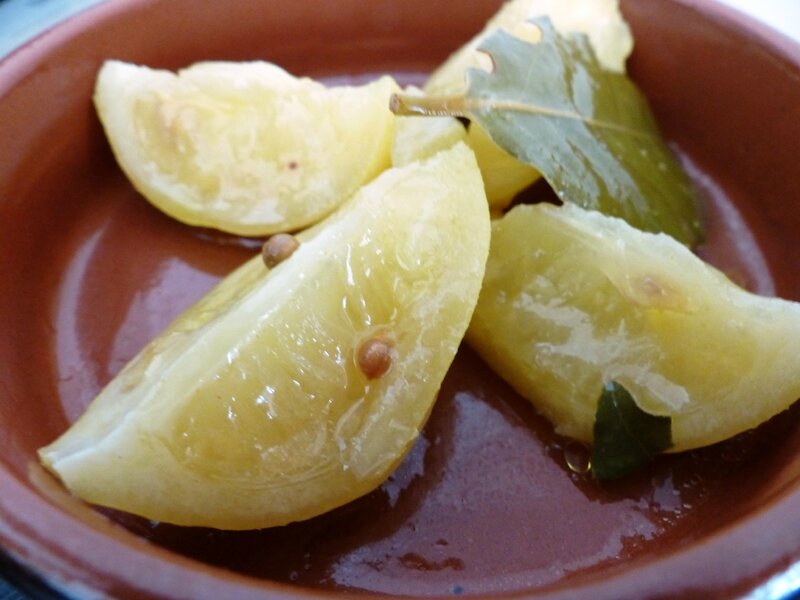 Etant d'origine nord-africaine, les citrons confits ont toujours fait partie de mon "environnement" culinaire. L'utilisation la plus emblématique reste pour moi le "thon beldi" (une tartinade mixée à base de thon en boîte et de citron confit) que ma mère nous étalait dans les sandwiches que nous dévorions sur les aires d'autoroute lors de notre transhumance estivale vers le Sud de la France. Une fois adulte, j'avais pris l'habitude de les acheter en bocaux dans les épiceries cachères et cela me convenait parfaitement...jusqu'au jour où ma belle-soeur me ramena une bonne douzaine de petits citrons de sa maison du Sud. A cette époque, j'étais (et suis toujours) en pleine lune de miel amoureuse avec le livre "Jerusalem" de Yotam Ottolenghi. L'évidence s'imposa : j'allais enfin pouvoir réaliser sa recette de citrons confits maison ! N'ayant pas tous les ingrédients, je les ai remplacés par ce que j'avais sous la main et le résultat (un mois plus tard) a été carrément bluffant : entre ça et les citrons confits de mon épicerie, il n'y avait pas photo ! Je vous laisse libre de suivre la version d'Ottolenghi ou la mienne, c'est comme vous voulez !
Being of North African origins, preserved lemons have always been part of my culinary "background". I still remember very well my mother's sandwiches made with "beldi tuna" (a spread obtained by processing canned tuna and preserved lemons) that we were eating in the car while driving to the South of France every summer ! As an adult, I used to buy preserved lemons in jars at my local kosher grocery shop... until my sister-in law brought me a dozen small lemons from her vacation home. At that time (last february), I was totally addicted toYotam Ottolenghi's cookbook : Jerusalem. I immediately knew I was going to make his preserved lemon recipe. The only problem was that I did not have all ingredients on hands but I made some substitutions and it worked like a charm. A month later, when my jar was ready, I was amazed by the result : home-made preserved lemons are so much better than the "industrial" ones ! Please feel free to follow Yotam's version or mine and give me your impressions !
Citrons confits maison
Recette revue et corrigée par mes soins du livre Jérusalem de Yotam Ottolenghi
(Pour un grand bocal)
6 à 8 petits citrons non traités ou bios
6 autres citrons dont vous n'utiliserez que le jus (1 semaine plus tard, lire la recette)
6 CàS de gros sel (rose d'Himalaya pour moi)
2 brins de romarins (3 feuilles de laurier pour moi)
1 gros piment (1 càc de poivre de Madagascar et 1 càc de graines de coriandre pour moi)
Huile d'olive
Avant toute chose, choisissez un grand bocal et stérilisez-le en le remplissant d'eau bouillante et en le laissant comme cela pendant une minute. Ensuite, videz-le et laissez-le sécher à l'air libre sans l'essuyer afin qu'il reste stérilisé.
Lavez les citrons et découpez une incision profonde en forme de croix en partant du haut (mais sans aller jusqu'au bout bien sûr, les parties doivent rester solidaires). Remplissez chaque citron avec une cuillère à soupe de gros sel et placez-les tous dans le bocal. N'hésitez pas à bien les serrer les uns contre les autres pour que tout rentre. Fermez bien le bocal et laissez-le ainsi à température ambiante pendant une semaine.
Au bout d'une semaine, ouvrez le bocal et appuyez bien sur l'ensemble des citrons afin d'en extraire le maximum de jus. Ajoutez à ce moment-là les assaisonnements choisis (romarin et piment pour Ottolenghi/laurier, poivre de madagascar et graines de coriandre pour moi) et le jus de 6 citrons. Complétez avec l'huile d'olive jusqu'en haut du bocal.
Refermez bien le bocal et laissez à température ambiante pendant 4 semaines. (j'avais pris soin de mettre une étiquette sur le bocal, indiquant la date de fin). Et voilà, c'est prêt ! Une fois ouvert, le bocal doit être conservé au frais.

Home-made preserved lemons
Recipe by Yotam Ottolenghi, in his cookbook jerusalem but I have changed many ingredients according to what I had on hand.
(For a large jar )
6 to 8 small unwaxed lemons
juice of 6 additional lemons (so you need a total of 12 to 14 small lemons)
6 tablespoons coarse sea salt or kosher salt (Himalayan Coarse salt crystals for me)
2 rosemary sprigs (3 laurel leaves for me)
1 large red chile (1 tsp Madagascar whole black peppercorns and 1 tsp coriander seeds for me)
olive oil
Before starting, find a jar large enough to accommodate all of the lemons snugly. To sterilize it, fill it with boiling water, leave for a minute, and then empty it. Allow it to dry out naturally without wiping it so it remains sterilized.
Wash the lemons and cut a deep cross all the way from the top to within 3/4 inch from the base. Stuff each lemon with 1 tablespoon of the salt and place in the jar. Push the lemons in tightly so they are squeezed together snugly. Seal the jar and leave in a cool spot for at least a week.
After the initial period, remove the lid and press the lemons as hard as you can to squeeze out as much of the juice as possible. Add the rosemary, chile (laurel, peppercorn and coriander for me) and lemon juice and cover with a thin layer of olive oil. Seal the jar and leave in a cool place for at least 4 weeks. It's ready, yeah ! Once open, keep the jar in the fridge.